The Road Taster Chimes In from the Pinto Bean in Victoria, Texas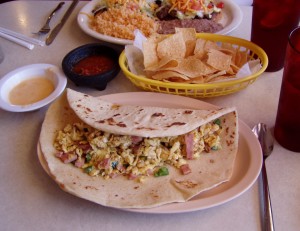 202 East Rio Grande, Victoria, Texas • 361-576-0112
Thanks for the recent issues of TacoTopia: the one today made us hungry, so we went into town and tasted with my new TacoTopia shirt.  I'm not a big breakfast person, but the fresh regular breakfast tacos go all day for $2.50, and one's a meal.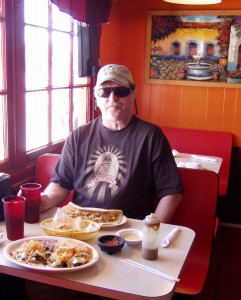 Sorry, no "Carny Grease-ada" taco to show….the're in the premium price range… see menu.
Here's a few shots of me "Tasting" at Pinto Bean, Victoria, with the Tacotopia Shirt.
This is my usual lunch- Caldo de Pollo spot; Great Specials (w/free iced Tea) under $6.25, but they have monster Breakfast Tacos- too!  All table service comes with Tostaditas, fresh spicy Red Salsa  and Chile con Queso.
S. had the Chalupas Al Carbon and Tea for $5.25.
The Ham & Egg and Jalapeno was $2.79.  I recommend it when travelling outside the 'TopiaZone.