Taqueria Jalisco 12 – Two Poles Walk Into a Taqueria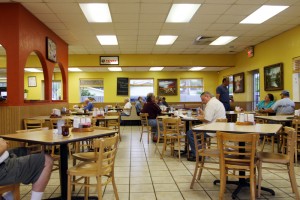 We live in a time and place where agents of evil have endeavored to divide us. Independent and critical thought is squelched by a bilateral conspiracy to manipulate us. We are like iron filings and there's a ginormous magnet right under the earth's crust; we're pulled between the two poles and if you can manage not to succumb to the attraction of one or the other you're nearly pulled apart by the effort.
Politics is consumed with it, like a cancer, but polarization is all around us. Take the Memorial Coliseum for example. 'You're with us or against us.' I unfriended someone on facebook this week because that person was painting a less-than-unfavorable picture of another US civil war. The benefits vs the inevitable horrors of such a thing fall outside the scope of a blog about tacos, but WTF!
Then there's BP. Almost everyone is unified in the understanding that this is a terrible catastrophe, but the machine has turned this into grist for the mill, another argument for whatever the people already believe, one way or the other. Rand Paul says accidents happen in a free market. Rahm Emanuel says not to waste a crisis. I have some ideas of things we could put in that well to plug it. I bet you do too.
There is a local chain of restaurants in Corpus Christi, arguably the Exxon/Mobile of local taquerias, that polarizes local tacothusiasts. You know which one I'm talking about: Jalisco. The mention of the name in a roomful of people will illicit strong statements condemning or praising them. The criticism is usually for the chain as a whole, and the praise tends toward individual restaurants. I have never weighed in on the controversy, as I have not eaten enough of the many locations to make an informed judgement, even as vast as my experience with local tacos is – and as my straining belt can tell you, it is vast.
So this morning we moved one step forward in the quest to understand the nature of this argument by eating at Jalisco #12 on Staples at Weber. The Hat and I fought for the turn lane on the way into Jalisco's lot, but reconciled. Can't we all just get along? Once inside we ordered, and in a show of bipartisanship the Hat ordered chorizo & egg just as I always do. In my fashion, I also got a carne guisada. The food came to the table and was presented in a polite formality, but not before our coffee had been refilled three or four times in as many minutes. The red I expect in chorizo & egg had jumped from one side of the plate to the other – the carne g looked like it was on fire, and the other taco was a mellow yellow.
From the Hat
Taco Blanca and I attended the Star Wars Orchestra Concert last night and man, what a blast!  There were people of all shapes, sizes, and colors in attendance.  There was no arguing, no bickering, no complaining about the current political scene, or a peep about the gushing gaff in the Gulf.  We laughed, cried, celebrating in solidarity the sonic wonders of Lucas's amazing movies.  If you can't tell, I loved it.  It was one of those rare times where no matter who you listened to, there was no rancor.  No "Them", only "Us".
Refreshing in a world where no matter what the issue, there are always two diametrically opposed factions that pass on promoting the good of The People to promote their own version of "Us".  Finding an angle at every instance to make "Them" look like devils and "Us" like saints.  It's normal.  I understand it.  And the mechanism probably worked great when we were hunting, gathering tribes.  But now the only thing I'm really hunting is the next great barbacoa.  I don't need a "Them" to set up as the enemy so I can gather a good guisada.  And maybe we can take a lesson from that.  I'm not getting all Cumbaya on you.  We have real, deadly enemies in the world who view us as devils, literally.  And we should make every effort to protect "Us".  But that enemy is not those who have different opinions, or wear different kinds of clothing or hairstyles, or tattoos, or Liberals, or Conservatives.  And they're not across the breakfast table – no matter how we might disagree about the quality of the tortillas.  Which by the way were damn good.
And the torts weren't the only thing good at breakfast this morning.  We went to our third Jalisco this morning and I was pleasantly surprised.  I ordered a barbacoa classico (with cilantro and onions on corn) and a chorizo and egg.  The barbacoa was tender – moist, but not greasy.  Usually I would be crying "Fat is flavor."  But this "lean" barbacoa was packed with flavor of cow head and spices.  It was served on a very corny tarpolean.  All-in-all a successful breakfast package.  The choizo and egg, usually TSH's purview, was very good.  Different from most in that it was distinctively not-orange and not-greasy.  I'm ashamed that I could not identify a very tasty seasoning in the mix.  I'll definitely have to go back and try again to determine the mystery spice.  A query verified that the chorizo was made on-site, but I'll leave the details to an expert.  The flour tarpolean was fluffy, with a light coating of flour.  I like the brush of flour as long as the flour is cooked.  I'm not a big fan of raw flour.  These were to my liking.  Both salsas, red and green were fresh and tasty.  The green had a good taste of fresh peppers and the red had a pica that pleased the palate.  Definitely the best of the Jaliscos reviewed so far.
Salud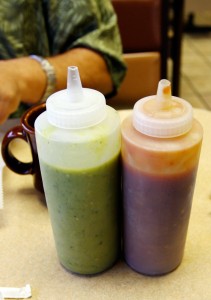 The tortillas were good, fresh, and warm with a light sprinkling of flour. This doesn't bother me, but many find it inexcusable. The chorizo & egg is difficult to wrap my head around: it was quite good, but not with a strong flavor. There was almost no grease which usually means the taco will have almost no flavor, but it was not the case. The flavor was strong, but I couldn't place it. I didn't need to salt the taco. The mixture was fairly homogenous, but not in a bad way. With some of the salsa verde it was quite good, but a taco of nothing but their delicious green salsa would be delici0us by itself with a subtle and complex avocado pepper flavor. The red salsa was nearly as good, and tasted of smoky dried chilis.
The carne guisada was also fairly lean, but not on flavor. It was an assault on the mouth, but I liked it. I couldn't identify what the flavor was coming from, it was beefy but sharp and not hot. The taste was one dimensional but it's a good dimension. After another 20 or 30 cups of coffee we emerged into the light of day, ready to try and navigate a path toward unity and the common good, and that path was written on the front of a custom goldwing.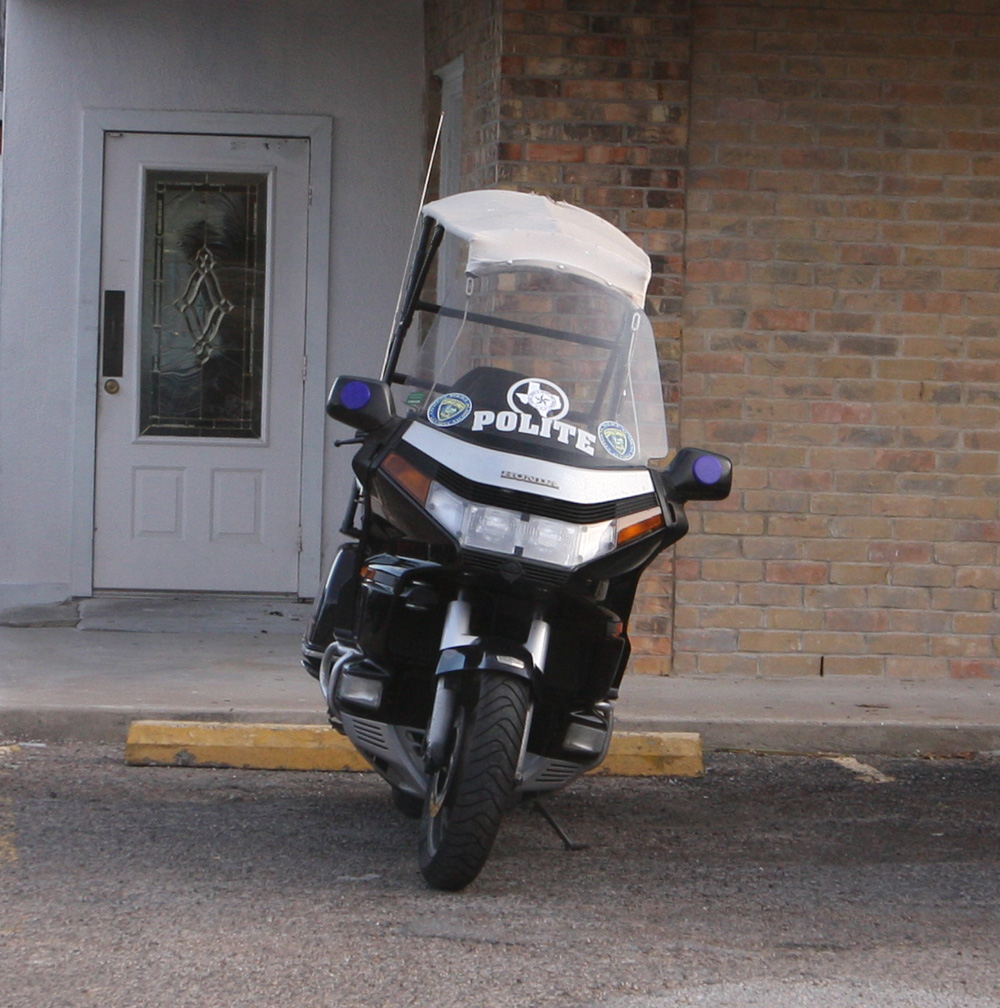 Our Taco Award Winner for this week is:
Ornella Muti
I know very little about Ornella, but I do know she played Aura in Flash Gordon. Really, what else do you need to know? By the way, the picture on the left was taken last year, 30 years after the one on the right.
Offer includes 2 tacos, an audience with the 'tacoteurs,' and a free tacotopia t-shirt. Please redeem this offer at Whetstone Graphics on a Friday morning of your choice. Offer subject to cancellation by order of the wives of the tacoteurs.  Enter to win by emailing your name on the back of an vinyl copy of Queen's Flash Gordon Soundtrack to tacos@tacotopia.net.