Los Laureles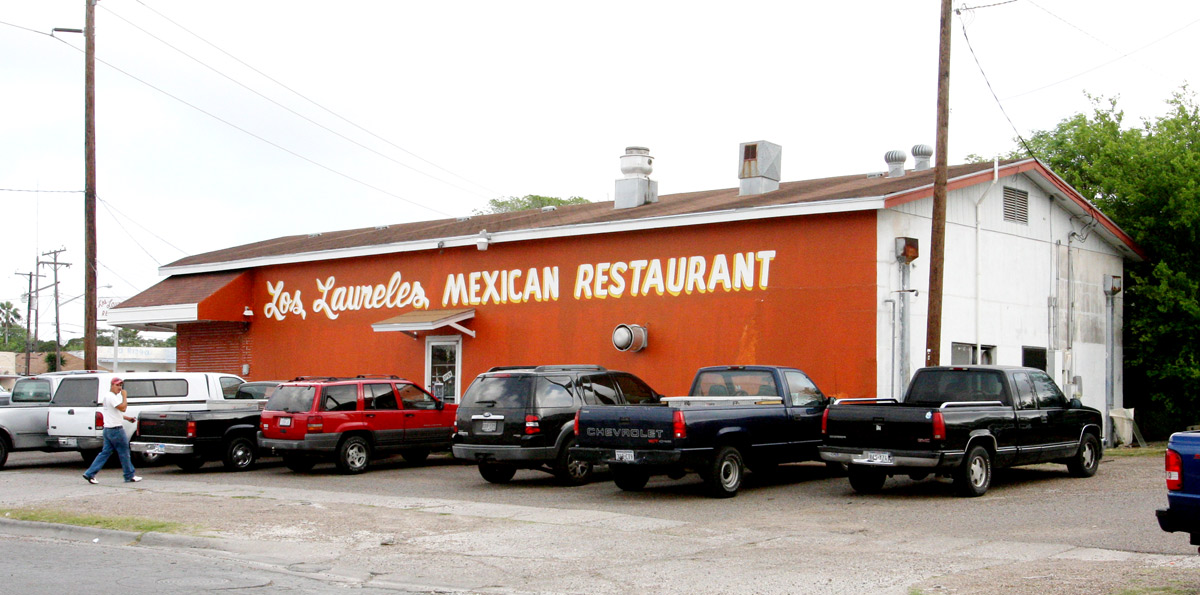 2754 Port Ave • Corpus Christi, Texas • 361-884-7010
Los Laureles is a little old cinder block building on Port. You can drive down Port on any given Saturday morning and you will likely find at least one new taqueria, or taco trailer. This is not tourist food, it it intensely local. So much so that I, the taco show host, with my intimate knowledge of the breakfast taco world, often feel profoundly caucasian with my pronounced arctic complexion and rudimentary Spanish.
A few months ago a took a drive down Port and made a list of new places to try out. Then a few weeks ago I was contacted by the catering manager for a touring country solo act whose name rhymes with Tim McGraw and called upon for assistance in finding a taco truck. Sure enough, I did find a few trailers, and one of them was on Port (though they expressed no interest in working a private event). In all this, I had noticed Los Laureles sitting humbly, and set out to pry loose its secrets.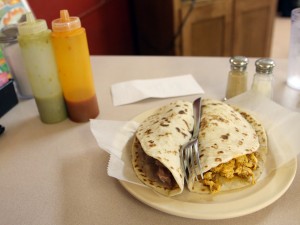 I ordered a chorizo and egg, and a carne guisada, both on flour. The tacos came out before long and I went about tasting them. The chorizo & egg was good, and greasy. Some people don't appreciate the grease but I do, depending on the grease. This was bright red and flowed out the back of the taco like a garden hose in spite of my pinching off the end. The napkins began to come in to play at this point. The carne guisada was like a burlesque performer: a little fat around the edges and more delicious than what is held out by the mainstream as ideal. It was fantastic. I got two different salsas. The red was nearly tasteless until it contacts air at which point it gets dusky and fiery. The green, on the other hand, entered with fanfare and stole the show. Both were really good, as were the flour tortillas.
The waitresses were cute, and not to be trifled with. The coffee came quickly in an impossibly small cup. I was the only guerro there, and crews of mexicanos were joking with each other before their day's work while eating and reading the paper. This place gives off the feel of a restaurant that is steady, and not going anywhere, like Bill H, the guy downtown who drives the little vacuum cart. There's nothing you could throw at him that he can't handle, and then not bother to talk about with his crew at Cheers. If we could all only have that kind of conviction. I'll be back to this place with friends in tow.
Our Taco Award Winner for this week is:
Carla Gugino
Carla Gugino is a chameleon, playing old and young, modern and retro, light and tragic. She was the redemption of Watchmen as Silk Spectre the elder though she was just seven years older than Malin Ackerman who played her daughter. You can see her in theaters now in Sucker Punch. She is a regular on Californication, as well as Entourage, Spin City (as well as R. Rodriguez's Sin City), Chicago Hope, and the show she led, Karen Cisco.  She has aslo been in American Gangster, This Boy's Life… the list goes on. She's just a little younger and a little hotter than the girl I confused her for at first, Rachel Weisz, who is hot enough herself to trigger smoke alarms, but there's no mistaking Carla for long.

Offer includes 2 tacos, an audience with the 'tacoteurs,' and a free tacotopia t-shirt. Please redeem this offer at Whetstone Graphics on a Friday morning of your choice. Offer subject to cancellation by order of the wives of the tacoteurs. Enter to win by emailing your name on the back of the Box Set of Battlestar Galactica to tacos@tacotopia.net.