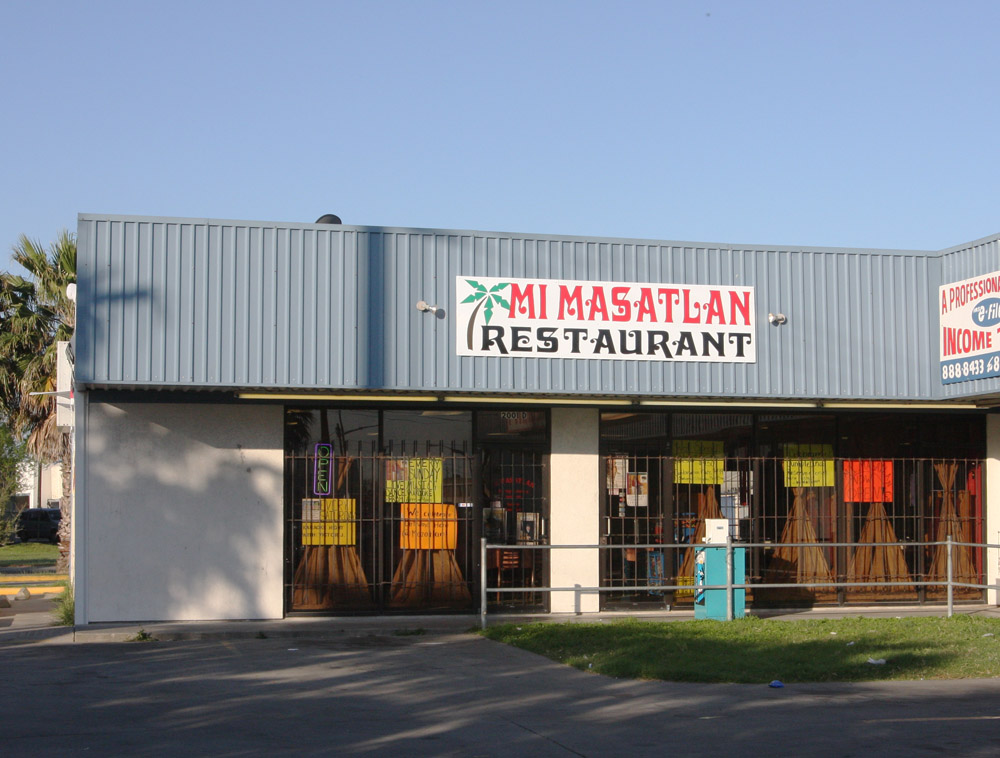 2000 Ayers, Corpus Christi, Texas
Everything changes. What's that hackneyed joke about weather in Texas? 'If you don't like it, wait a minute, it'll change.' The climate is changing. Hardly anyone smokes cigarettes anymore. Fully electric non-hybrid cars are starting to show up on our roads. My stepson last night was confused at the sight of my wife and I sending invitations to a party through the US Mail. Politicians are still in the wholesale business of trading influence for campaign money – but the scale is changing with record spending and decreased oversight each election cycle. It's enough to make me want to crawl into a bunker and shut the rest of the world out. There is one problem with that – no good source of tacos.
And good tacos are one thing that stays the same here in Tacotopia. While cities to the North with more energetic economies and less regressive attitudes are trotting out Pad Thai Burritos and Kimchee and Cheese Quesadillas, Corpus Christi is making the same world class tacos they've been making for generations. I think we are a society in which there is room for everything, and there is a place for these novel tacos. In another week I will be chowing down on some McMexican Corned Beef Tacos to try and beat my hangover from my St. Patrick's day party. There are some things, however, that can't be improved upon: The Zippo lighter, the Godfather, Prince when he was with The Revolution, and Corpus Christi's breakfast tacos.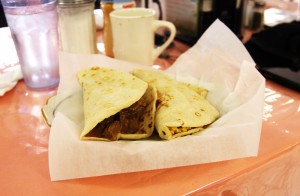 Some time ago we reviewed a place called Alma's which is now Mi Masatlan. I'd been there before that, when it was yet another taqueria. This place is not the most attractive taco shop around, with utilitarian steel building architecture and well used but sturdy booths. There are no frills here. It was fair the last two times I was there and I expected in its new incarnation would stay true to form. I was wrong, and it was a welcome change. I ordered a chorizo & egg, and a carne guisada. It came to the table almost too hot to hold. The carne guisada must have been made in-house, and was perfectly cooked with big square chunks of good beef. It was not too fat, but not too lean. The tortillas were handmade, with artisanal angular edges. The chorizo was excellent with a hint of cinnamon. The salsa verde was fresh and hot, and distinctive – not tasting like any other I've had. Everything we ate this morning was really good.
One thing you find in taco shops here in Corpus is that the servers are always women. Having a man refill our coffee was unusual, and he looked familiar. When I asked him he said his name was Raul Fuentes, and that he'd worked at another spot called Rinconcito del Jalisco, which I had tried to write up before my attempt turned into a two month tacotopia dry spell a la Francis Coppola during Apocalypse Now. One thing that would have come out with the review was that the tacos there were delicious. I asked Fuentes if he was the owner, or the manager, and for whatever reason he didn't really give me a straight answer. I imagine he's a turnaround specialist; that he takes ailing taquerias and makes them into shining stars. This would explain why he is out in the trenches in spite of his gender, pouring coffee and serving up truly wonderful tacos.
Our Taco Award Winner for this week is:

Lucy Lawless
I never watched more than one or two episodes of Xena, Warrior Princess because I took issue with their use of the letter X instead of Z, and the fact that I didn't have cable for much of the run of the show. What I did see of it, though, I liked – but more for the hotness of Zena and her ambiguously gay relationship with her sidekick Gabrielle, than for the story from which I was distracted. Recently I watched Spartacus: Gods of the Arena and was knocked out upon watching a lot of Lucy Lawless (and I mean a whole lot). She is stunning, and brings some real acting chops to the show as well as physicality that while not exertive is as impressive as those of the gladiators. A native of New Zealand, Lawless was awarded the Order of Merit, which is like being knighted by New Zealand. This makes her practically a hot lady Aragorn. She's one more really good reason New Zealand is not to be confused with Australia.

Offer includes 2 tacos, an audience with the 'tacoteurs,' and a free tacotopia t-shirt. Please redeem this offer at Whetstone Graphics on a Friday morning of your choice. Offer subject to cancellation by order of the wives of the tacoteurs. Enter to win by emailing your name on the back of the Box Set of Battlestar Galactica to tacos@tacotopia.net.