3942 Leopard St., Corpus Christi, Texas
361-884-9384 6:00 am – 2:00 pm, Mon – Sat • 7:00 am – 2:00 pm Sun
I have been out of sorts lately. The work I've been doing is frustrating, and I've had many obstacles come up to impede it's progress. Machines breaking down, employee drama, scheduling problems, and on and on. That's why it's called work.  I have moved back and forth between working long hours and taking brief trips into the heaven of my wife's great cooking, and perhaps a little irish whiskey now and then. I have, in fact, been so busy that I've been unable to put together a post for a while. The Hat has been picking up the slack. It's not for lack of trying, though. I've been to one taqueria in particular three times trying to put together a post, but it hasn't materialized yet.
I did, though, have a little time this morning to get my taco on so the Hat, his better half, and myself all converged near the Saxet Hall on Leopard this morning. Saxet is Texas spelled backwards for those who don't know. It's a tough little shopping center that has seen better days but is still kicking. The hall bears witness to the Hurricane Alley Roller Derby about every month. It also hosts countless quinceañeras, to which I have dropped off my stepson many times. Some of these quinces have bikers working security so there's little to worry about in this neighborhood. Not your weekend bikers either, but bikers who couldn't hide their colors if they wanted to, and they don't want to.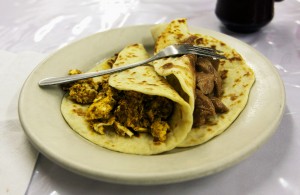 The first thing we tasted was the coffee – which was a good deal stronger than most. The lady bringing out the coffee was Lila herself, the namesake of the restaurant. She was polite and dignified with perfect english. Hold on – before you get bent about that last bit – let me explain. I don't assume she speaks Spanish, I know because she was cracking the whips with the other waitress and the kitchen crew in Spanish. I would guess this was her first language, and when people live in a country where they have to speak in a foreign tongue much of the time  they usually end up in one of three groups. The first is people who have a thick accent whose speech never grows closer to that of the host country (think of the governator). The second are people who assimilate perfectly into the host country so that by listening they could only be identified as non-native by a finely tuned ear. The third group are people who are able to speak as well if not better than the locals, but choose to retain a flavor of their first language out of respect for their own culture. Lila falls into the third group.
I ordered a chorizo & egg, and a carne guisada. Lila brought them out and they looked pretty typical of the taquerias in the area. The tortillas were the star of the meal, both flour and corn on a level with the best in town. The salsa, too, was distinctive: very hot, and pretty fresh. The carne guisada was subtle but good. The chorizo & egg was sharp and delicious, bringing me back to the first time I tried C&E as a child. It tastes exactly how it's supposed to. I've had better, but not very often.
I asked Lila how long they'd been there, and she said 12 years – but that's after 5 years as another location. Cesar, the co-owner was there too, dressed in a uniform shirt for another job. Do yourself a favor, like the numerous police who were eating there this morning, and drop in for a taco. You won't be sorry. Watch the parking lot though, it's hungry too, for cars.
Our Taco Award Winner for this week is:
Aria Giovanni is one of the three most beautiful women in the world. Period. The other two are Salma Hayek, and my wife. I'm not going to reveal what order they're in but you should note they all have black hair and brown skin, and they all have curves. If you look up cleavage in wikipedia, they have a picture of Ms. Giovanni. A compelling argument for blended marriage, she is Italian Yugoslavian French German Irish and Native American. Aria is a model, meaning she's pretty much hot for a living.  She was briefly married to Marilyn Manson guitarist John 5. This makes him barely the winner of the 'I divorced the hottest pinup girl in the world' contest he had with Marilyn Manson himself who divorced Dita von Teese. A frequent guest at comic book conventions, she has served as a surrogate imaginary girlfriend for a generation of nerdcore fanboys. Be careful for the NSFW if you google her.

Offer includes 2 tacos, an audience with the 'tacoteurs,' and a free tacotopia t-shirt. Please redeem this offer at Whetstone Graphics on a Friday morning of your choice. Offer subject to cancellation by order of the wives of the tacoteurs.  Enter to win by emailing your name on the back of the September 2000 issue of Penthouse to tacos@tacotopia.net.