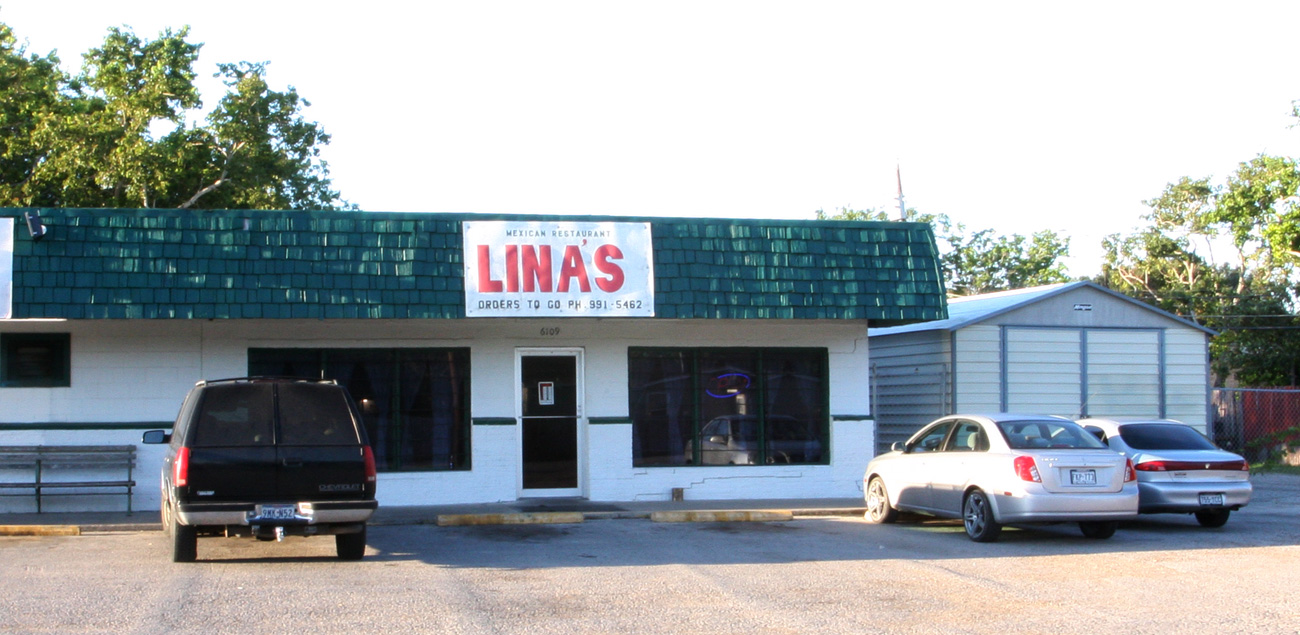 Lina's Mexican Restaurant • 6109 Mcardle Rd • Corpus Christi, TX 78412-3618 • (361) 991-5462
From the Hat
This is the second time that the Taco Show Host and I have chosen the weekly taco research site based primarily on the fact that the shop is closing.  Although I'd never been to Lina's before, I found myself saddened that she was closing shop.  It's like The Green Lantern, formerly of Yorktown, TX.  My memory of the Lantern is of a true cafe.  Not one of these pied, glass and chrome places that pass for a diner in the more urban areas of the state, but a cozy, comfortable place with well worn booths, and The Real Thing served up in that curvy glass with a maraschino cherry nestled in the ice.  I can't drive down the quiet Main St. without thinking about it.  It long ago ceased to exist anywhere but in my thoughts.
Or Mr. Burger, a 4-table dive on the edge of Brady, TX that best I could figure did mostly a drive through or take out business. They had video games inside…a sit-down knock-off of the original Space Invaders and a pinball machine called "The Black Knight". I spent many an hour keeping Earth safe from invaders and doing battle with the Black Knight in his two-level, multi-ball demesne until he had exhausted my coin. I seem to remember getting burgers to go there a few times – more often though it was a vanilla coke, or some other drink that would make the Twin Sisters Charcoal Filtered Vodka more palatable as we toured Brady in endless circles, identifying others on The Drag by their headlights alone.
Or Milan's, man I wish this place was still open. This place was hidden in a strip center on the south side of Corpus. Milan and her partner offered up a clever, southwestern-style menu. Shell and I spent many an evening there during our engagement. Quiet, Dark, Romantic, and Great Food – this place and the company were perfect. We heard some vague rumors about taxes…whatever. The bottom line is that it is another example of the transience of things. One day here, the next – memories. And even those are fleeting, reduced now to their emotional content. But I'll take it.
I'm sure that Lina's is the kind of place that people will later remember with fondness. Lina, spry and smiling, sat and ate breakfast in the restaurant while we were there. Accompanied by others, the event looked like it had happened a million times. After having a bite of her tortillas, I wished I'd eaten there a million times.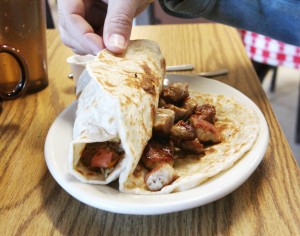 I had a carnitas taco, and a beef super taco, both on flour. The carnitas were served alone in the taco, and needed nothing. I added some of the excellent, very hot salsa about half-way through. The two played well together. The beef super taco was ground beef in the tradition of taco meat. It was richly seasoned with a satisfying amount of salt. Served with fresh iceberg, tomatoes, and a good cheddar – very good. The stars were the great flour tarpoleans. I've left the technical analysis of the torts to Ian. The coffee was not as strong as I like it, but flavorful. I plan on creating a few more memories of the place before they close at the end of the month.
From the Taco Show Host
I like things that are a little rough around the edges, a little less than perfect.  Things that shine through in spite of their problems can sometimes be better than things with no flaws.  Perfection, after all, can be embodied in very few things.  The shakers thought they could do it, we see where it landed them.  Persian rugmakers incorporate an intentional flaw in their design so as not to offend god by creating something perfect.  What does this have to do with the price of China in East Westchester? In spite of a few shortcomings to be described in the paragraphs to follow, Lina's makes tortillas that approach perfection.  I've had some good ones in my day, but not this good.  Not to sound like Goldilocks, but they were soft but not too soft, they were big but not too big, they were toasty but not charlie brown.  They are larger than a typical tortilla, about the same thickness, but there is something unique about them that you can't quite put your finger on.  The texture is unusual, as if there were a thin skin pulled over the body of the tortilla, that is separated from it in most places.  They are of a quality that defies description, the best you can do is to show up before they close at the end of this month and behold the glory that is a Lina's tortilla.
No homemade corn though, and that's what I was saying – sometime the flaws make the qualities stand out in greater contrast.  The taco shop in question was old, a little dingy, and the cook looked like he'd been in a fistfight the night before.  The chorizo & egg, though, was heavenly.  I picked it up and juice started pouring out before I could even get a first bite.  So much, in fact, of the bright red juice (yeah, okay, chorizo grease) that I had to put a paper towel on the plate as a dam to keep my carne guisada from being compromised.  I say the redder the better.  Fortunately there was a paper towel dispenser on the table.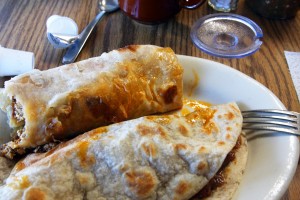 The Carne G was something else too – so concentrated was the flavor it needed no salt.  Like Wonka's Meal Gum, it was as if I were eating a whole side of beef in this not so little taquito.
Shout out to Loring, who gave us the official recommendation for this place – though it'd been on our radar for some time, we wouldn't have known it was closing and would have missed out without her comment.  I know I'll be back at least once before the bitter end.