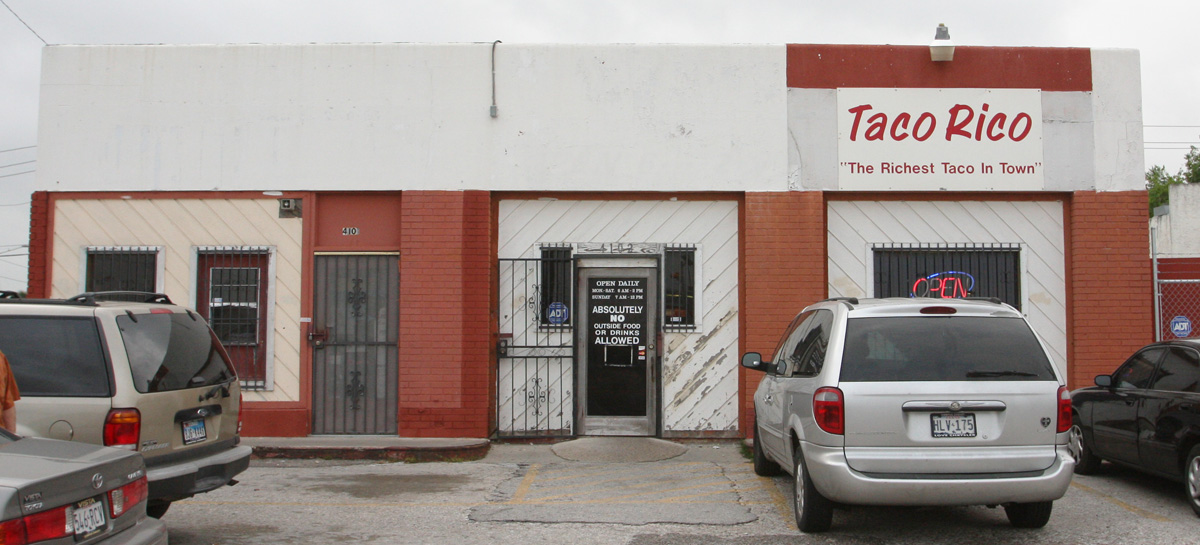 4101 Greenwood Drive, Corpus Christi, Texas 78416 • 361-851-0612
How will the Apple iPad affect the breakfast taco industry? That's the question we asked patrons and employees of Taco Rico on Greenwood. Our responses consisted mostly of "what is an iPad?" and "is this going to be together or separate?" It would appear, at least at this taco shop, that there has been little preparation for the coming of the fabled fifth screen, and employees of taco rico are ill equipped to take advantage of the remaking of the taco landscape that will inevitably follow tomorrow's product launch.
Charles "Chepe" Martinez, longtime eater of tacos, responded to Tacotopia's question of how he would use an iPad while ordering and eating tacos saying, "is that that kindle thing?" Representatives from Apple were unavailable for comment. Phillip Haagenschtütenvergeshtugult, who has been camped out in line for the iPad outside the Apple Store at La Cantera Mall in San Antonio for the last three days, felt the iPad would bring a sea change to taquerias. "People don't know how much easier this will make eating tacos, but once they have a taco and an iPad together they'll see how limitless the possibilities are," said Haagenschtütenvergeshtugult, though he admits he isn't purchasing the tablet primarily for use in consumption of tortilla related food.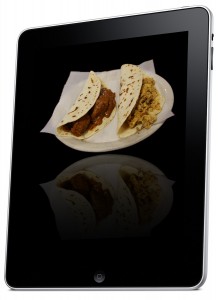 We couldn't find any of the technorati with advance production units in attendance at Taco Rico on Greenwood and Horne this morning, but we did find tacos. I had a chorizo and egg, and a carne guisada. The layout of Taco Rico is a bit unusual, with a cafeteria style steam table facing out into the dining area from which all the prepared fillings are dispensed into fresh tortillas plucked from a seemingly endless stack, wrapped in foil. I've been here a few times before, and each time the same elderly woman has manned the cash register. When asked if she planned on replacing her register with an iPad-based Point of Sale app, she offered us salsa. The salsa was verde, with a crisp and hot finish. It was good enough that it'd be hard to imagine any improvement could be made by utilizing Steven Colbert's iPad Salsa making techniques. The tortillas, also, were very fresh and well made, with one being on the dark edge of charlie brown.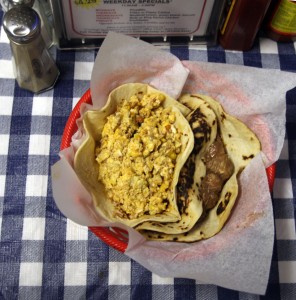 From the Hat
Oh the best-laid plans of mice and Tacotuers.  TSH had sent the self-destructing tape the day before and I was primed for a new adventure.  However the gods where having none of it.  "Closed" said the sign.  Since I had arrived early, I decided take a drive and see if the closure was a Good Friday thing.  The HiHo was chock-o-block, as was Soliz #1 so I knew we'd find a taco.  A FB fan had recently posted about Taco Rico, so I headed there.  Great minds think alike and as I pulled into the parking lot, I got the text instructing me to meet there.  I'd eaten at the "Richest Taco in Town" many, many, times.  A decade ago, it was an every-morning stop on my way to work.  I wasn't surprised to see the same abuelita running the register.  In the day, she would add up the order and taxes on an LED calculator as they were called out by the taco-ista.  Today, she uses a cash register and she's bent from the years.  We exchanged pleasantries, but I never caught her eye.  Not that she'd remember me after all this time.
There are two basic construction methods in taco preparation.  Some things are made ahead of time, like Carne G, or barbacoa and must be stored in some sort of warmer until served.  But other things lend themselves to be prepared at the time of order, like anything with eggs.  Taco Rico prepares everything ahead of time and keeps it in a steam tray until time to dose a tortilla.  This is not uncommon, think Laredo Taco Co, and is not necessarily a bad thing.  There is some benefit to seeing what you're gonna get.  I generally prefer my eggs cooked for me, and me alone, mostly because I like the quest for the perfect mix of ingredients.  But the big pile of papas con chorizo looked good and the blue-collar, assembly line nature of the steam station seems to fit Taco Rico.  I thought briefly of ordering  my historical favorites, a chorizo and egg, and a carne guisada with cheese.  But the chorizo con papas looked good so I opted for them and the carne guisada (sans cheese).  Both were amply-filled with the goods.  The chorizo and potato had a sharp, vinegary chorizo flavor.  It worked well with the papas which were cooked to the perfect consistency.  With a bit of excellent salsa verde and wrapped in a very good tortilla, I snapped it up quick.  The guisada was a bit bland, but responded well to a bit of table salt and some salsa.  (I think that salsa would be good on a sneaker.)  The meat was tender and in big chunks.  There was plenty of thick gravy, but not enough to run out of the end when you take a bite.  Not a bad offering, but I think Ian will have more to say.
All in all, it was good to be back.  The humble kitchen of Taco Rico brought memories of a different life, and for that, I thank them.  I'll return.
Salud
The chorizo & egg was less than inspiring, with very little chorizo and tasting a bit mealy but still edible. It was huge, though, and nearly crowded the other taco off the plate. The carne guisada was goldilocks, not too good, not too bad. The coffee had a touch of burn, but served its purpose – though only after it was self served from the coffee station. What this place lacks in straight up good food it makes up for in quirky atmosphere: The little old lady, the steam tray, etc… I'd swear there was a piece of sausage hanging from the ceiling behind the counter. And while Taco Rico is not the best taqueria I've been to, it's worth a visit if you're near the intersection of Horne and Greenwood, and you're craving a taco, and you like funky little taco shops, and the taqueria you were planning on going to is closed.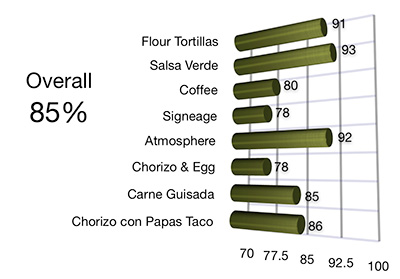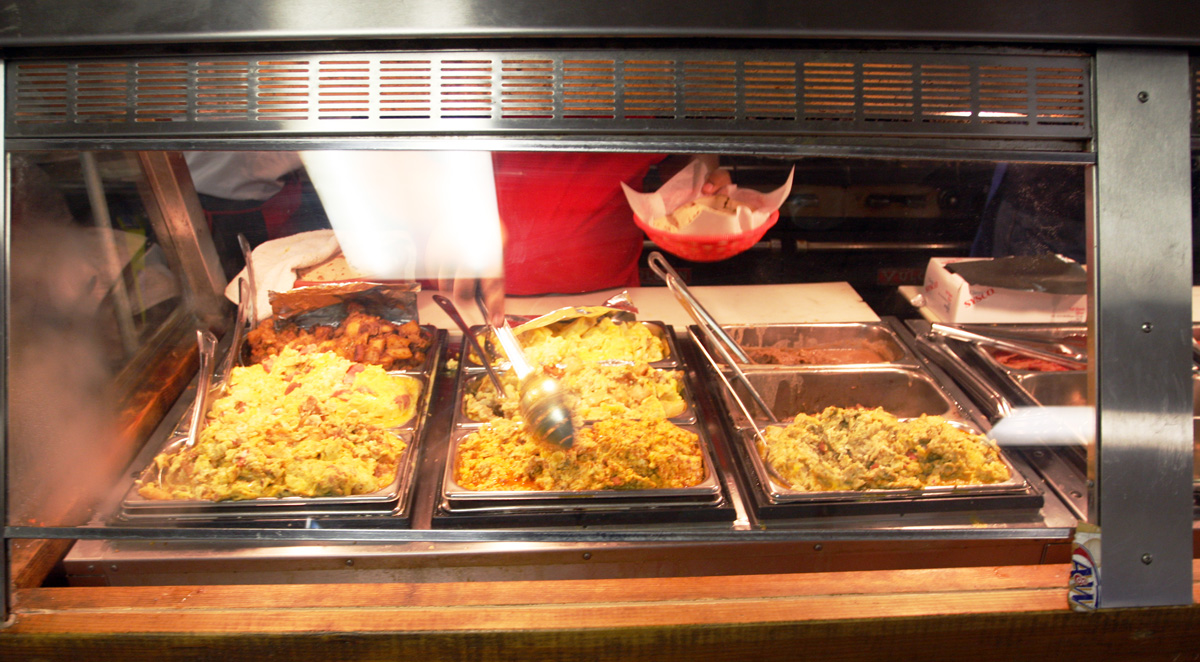 Our free taco winner for this week is:
Corpus Christi's own Busty Biltwell is a member of the After Dark Burlesque Review, a local group promoting arts and culture, and apparently a fan of Jean Claude Van Damme (who isn't?). Ms. Biltwell's ample talent has been presented most recently at the House of Rock, as well as shows in San Antonio and Austin. She brings classical grace and style to the oft maligned and under-appreciated art of moneymaker-shaking.  As is obvious from the tattoo on her thigh, she is a supporter of the Navy, and sailors everywhere. And while we don't stock shirts that are made to accommodate her unique endowment, our jersey knit tees are stretchy. Thanks, Busty, for helping keep Corpus Christi beautiful and making infants hungry in your wake.
Offer includes 2 tacos, an audience with the 'tacoteurs,' and a free tacotopia t-shirt. Please redeem this offer at Whetstone Graphics on a Friday morning of your choice. Offer subject to cancellation by order of the wives of the tacoteurs.  Enter to win by emailing your name on the dvd case of a copy of JCVD to tacos@tacotopia.net.