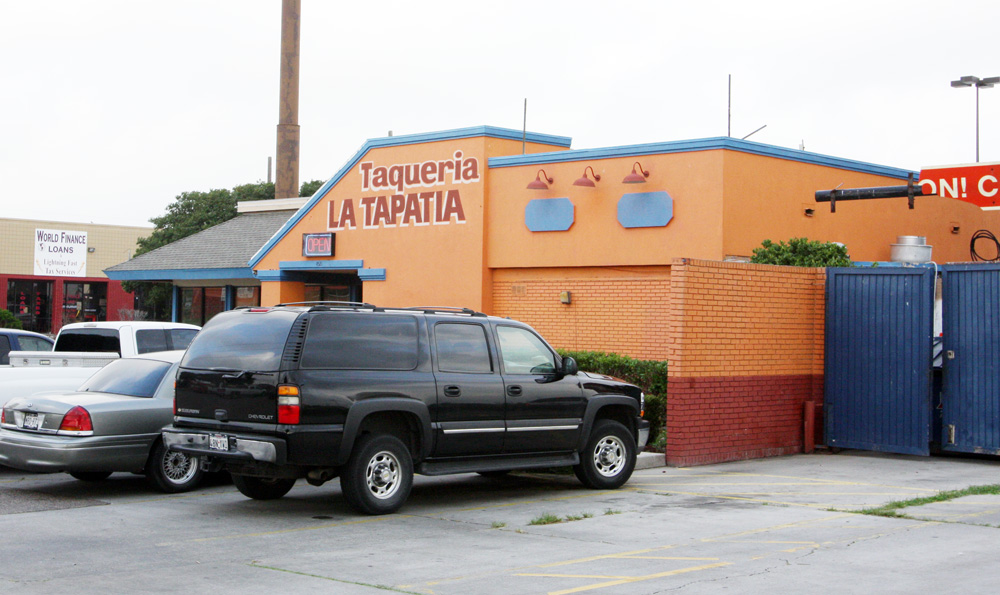 4521 Ayers Street, Corpus Christi, Texas 78415
361-814-0003 Chorizo & Egg $1.49 • Carne Guisada $1.79 • Bottomless Coffee $1.25
We live in a world where our reach is constantly expanding and at the same time diminishing. I can tweet to people all over the world and hear back in seconds, but only in 140 characters. Like Pink said in the Wall, "I've got 13 channels of shit on the TV to choose from," only now it's hundreds, plus vod & tivo. Choosing something can take longer than watching it. Hazel Rose Markus, Professor of Psychology at Stanford, says "Choice can also produce a numbing uncertainty, depression, and selfishness." We hold choice to be sacred in this country, as the cornerstone of our most cherished value – freedom. With this American birthright we choose to enslave ourselves to our jobs, to the hope of financial security, to the hapless devotion to a system of government that often resembles theater, to put it charitably.
A little band from the 80's had a great song that captures the essence of this issue –
"In ancient rome,
there was a poem
about a dog
who had two bones.
He picked at one.
He licked the other.
He went in circles
and he dropped dead."
I was setting up an account with a vendor this morning, and had to spend 45 minutes, call three numbers, and navigate through countless voice prompts just to find the name of an actual person at my bank to put down on the application. It's enough to make a man want to sign up for a lobotomy.  I'll take mine in the form of two breakfast tacos, thank you very much.
And here in Tacotopia, we have many trained master taco surgeons ready to oblige. For the cure to this morning's psychotic break I checked myself in to Hospital la Tapatia, located on Ayers near Golihar in what can only have been a Burger King in a past life (I know the layout, BK was my first job). The Hat and I had been to La Tapatia #2, and to date it got the worst rating we've given so we didn't quite know what to expect. The quality of a taqueria can vary from day to day, so comparing one restaurant to another with the same name can be like comparing an apple to something that's unlike an apple.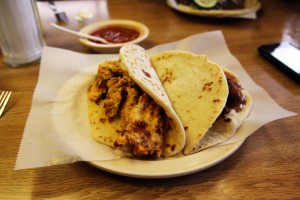 I like to sit in a booth, and these booths were still intact. The interior was clean, bright, and filled with a heady enthusiasm for the biggest sporting event in the world crackling out of the TV. I was rooting for the carne guisada, but in the end the chorizo and egg won. My carne g came out with huge chunks of beef, the biggest I've seen in this type of taco, but the flavor was pretty neutral and the gravy tasted just a bit of Sysco. The chorizo and egg was better, though the flavor of the chorizo was not that distinctive. The three red salsas were all excellent, and the handmade flour tortillas as well. The coffee as well was good and constantly replenished.
That's the thing about Corpus Christi, we are presented with so many choices of incredibly good breakfast tacos we forget what it's like in places like Austin, where you can't get fresh tortillas at five places in a three block radius at 6:30 in the morning in just about every working neighborhood. That's why our ratings look like they never change. Corpus operates on such a high level that almost anywhere you go is going to be at least a high B, and probably an A. Throw on top of that the incredible value of these taco shops, where you can feed two people breakfast for less than it costs to buy a coffee at Starbucks and my newly lobotomized mind boggles. It is really like a little slice of heaven to be able to be surrounded by such a bounty of taco goodness here in South Texas.
So La Tapatia was serviceable, pleasant, satisfying, and I'd even say fun. The waitress' enthusiasm for team Mexico was infectious. Now we'll have to go back and try Tapatia #2.
From the Hat
So today starts the most watched sports tournament in the world – the World Cup.  I'd like to be clever and use all sorts of soccer (futbol) – related references, but in reality, I'd be guessing if you asked me how many players are the field at a time.  And what are those guys in the big nets doing anyway?  I'm sure it has something to do with the extended "Gooooaalll" when someone scores.  I understand the excitement.   The announcers get to perform their yells, what, maybe five times in the whole tournament.  I'd make it last too.
Sure, I'll participate in the hype. How can I avoid it? Already I've found myself talking shit about kickin' the Brit's asses and I don't have a clue about either team. But it doesn't matter. That's part of the fun. People are social animals. Theodore K-types aside, we like to be part of groups. We find strength in numbers and enjoy the comfort that comes from being in the company of like-minded people.  So I find myself enjoying the good-natured ribbing with a small crowd of friends at the expense of a friendly Brit. And I say she held up well to the barrage, dosing us with an across-the-pond version of the same business we were giving her – but with an accent. Get 'em Cat.
Sure, I couldn't tell you who has the best chance of winning, who the stars are, why the keepers get to wear fancier clothing. Nor do I have the answer to many other soccer mysteries, but I don't have to. I'll be like many others, enjoying the spectacle and unless I catch some on a public TV, I won't see a game. Speaking of public TV, the World Cup opening ceremonies were playing at Tapatia while TSH and I had our Friday morning taco repast and in the midst of colorful costumes, dancing, singing, and a human-powered dung beetle butt-up to a minivan-sized soccer ball – there were tacos.
I had a lengua taco, and uno de mollejas, both on flour torts.  The tortillas were very good, toothy, dense, and cooked to that perfect Holstein look. Both were stuffed amply with the goods. The pale, grey lengua looked steamed, not the guisada I prefer. But it was tender and with the addition of salt and salsas, and onions, and cilantro, good. The mollejas were better. Fried crisp, but not quite that perfect fried oyster consistency and served with pico de gallo. They also suffered from a paucity of seasoning, which I made up for with a couple of excellent salsas. One was surface-of-the-sun HOT!  It was offered in a squeeze bottle with a color scheme reminiscent of hornet.  There was a slightly fermented taste that I haven't decided was purposeful. With purpose or not, it added a pleasant sourness that one doesn't find in typical Mexican sauces. The second salsa was a rich brown-red color with a deep, smoky flavor and mild heat. I couldn't get enough of the stuff. The coffee was cafe good and served in an IV drip by a diligent waitress who was definitely rooting for Mexico.  To her I say, "Go Dallas Cowboys!!"
Salud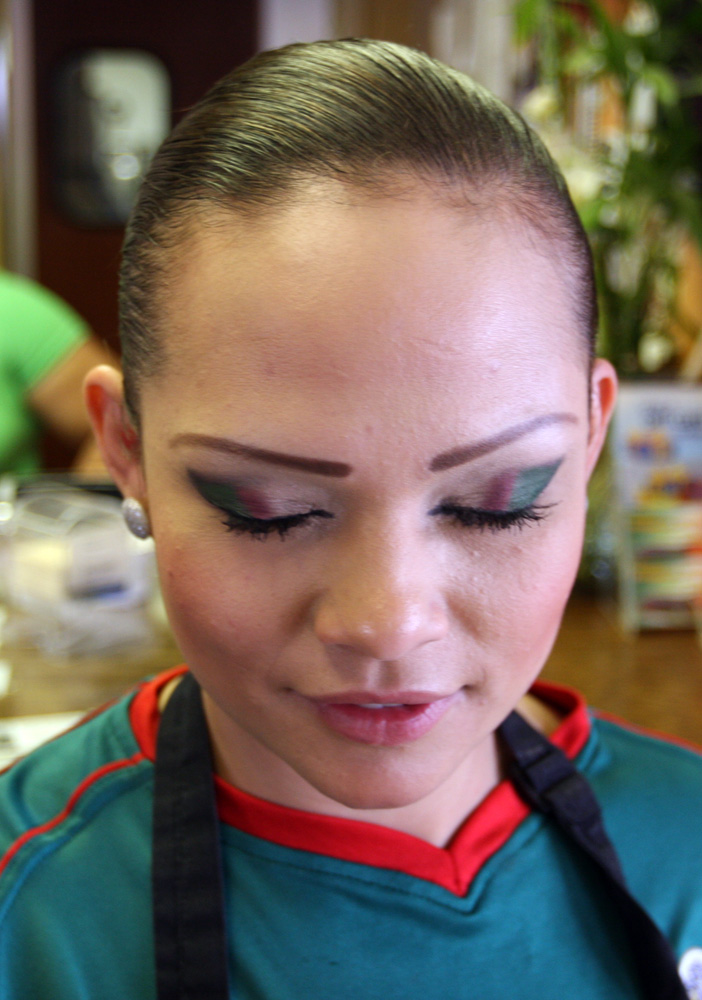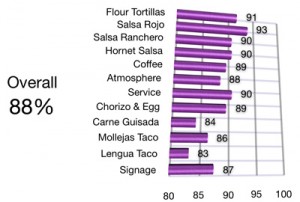 Our Taco Award Winner for this week is:
The other half of the compelling couplette in 'Bound,' Gershon – 48 – seems not to have aged since starting her career in film in the late 80's. Appearing in classics like the Player, Showgirls, and Cocktail, this valley girl has also done singing on broadway.  Gina was pictured on the cover of Cigar Aficionado, but denies that she has been involved with fellow cigar lover Bill Clinton. She has been quoted saying she doesn't trust people who don't like to eat, and we agree. Gina, if you're reading this – we would very much like to earn your trust over a taco or two.
Offer includes 2 tacos, an audience with the 'tacoteurs,' and a free tacotopia t-shirt. Please redeem this offer at Whetstone Graphics on a Friday morning of your choice. Offer subject to cancellation by order of the wives of the tacoteurs.  Enter to win by emailing your name on the back of Gina's Sarah Palin Bikini to tacos@tacotopia.net.