410 Highway 181 • Gregory, Texas • 361-643-5717
Mon-Sat 6am–8pm • Sun 7am–3pm
New restaurants serve food that can be misleading. It's like when a guy first goes on a date with a girl (or vice versa). He puts his best foot forward, dresses nice, shaves, makes sure he doesn't smell, and tries to fool her into thinking he's not an animal. She sometimes pretends to be fooled. It's a game we play, a protocol, a dance, until interface has been established. Until they know who the other is, and how to communicate and what to expect. Eventually the dance turns into routine. Routine is comfortable, though not exciting. With people this means each knows what they contribute, and does that in an efficient way. Things get taken care of, and a foundation of memory is built.
It's the same with a restaurant. San Luis in Gregory is brand new, with a grand opening banner flapping in the parking lot. The smells of musty ceiling tiles, grease, and years of great food haven't had time to season the place yet. The staff is still working out responsibilities, and everyone is on their best behavior. Their food may be different a year from now, but I couldn't wait to try this spot with the storied name of San Luis, so close to my house in Portland, and it didn't disappoint as it's brother in Corpus Christi has. The place is a steel building, and the interior walls are finished out with varnished pine, floor to ceiling. It is cavernous, with an adjoining bar and a drive-through. The obligatory photos of Pancho Villa hang next to garish flat screens showing not Univision, but Kelly Ripa. Spanish and English were both spoken by the staff, depending on the complexion of the table. The common thread holding together the theme of the place seems to be the cowboy myth, alive and well here minus the cows. It wouldn't surprise me to show up one night and find the tables moved to make way for a dance floor, and locals two-stepping in creased, starched jeans and cowboy boots.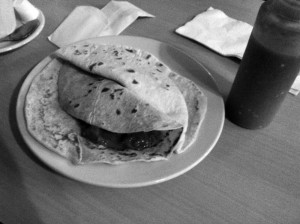 I ordered a chorizo and egg, and a carne guisada. The chorizo and egg was fair, heavy on the egg and light on the chorizo. The carne guisada was good, and the meat was choice and fresh. The gravy had a bit of a black-pepper finish. The tortillas were bigger than average and couldn't have been made too long before they hit my plate. They were substantial, fresh enough to be soft, but heavy enough to defy their contents to escape, including drippings. The coffee was the weak spot, literally, but served its purpose, and the salsa was better than most, a color hard to make out in the dim lights, greenish-red, thick and too fresh to have had time to separate into clumps of pepper and spicy water.
The other taco places directly North of the Nueces Bay Causeway leave a little to be desired, and this place is new blood – but I think it may even be better than that. It may be able to compete with places in Corpus Christi proper. I'll know better after we get to know each other better.
Our Taco Award Winner for this week is:
Not a lot can be gleaned on the interwebs about Anna Gunn. She's from Santa Fe, she's done stage work, she is 43 and she's smoking hot. Other than that, one could infer she's a private person. That's all I've got, but she's the main reason Walter White does what he does in AMC's Breaking Bad, which premieres its new season July 15th.
Offer includes 2 tacos, an audience with the 'tacoteurs,' and a free tacotopia t-shirt. Please redeem this offer at Whetstone Graphics on a Friday morning of your choice. Offer subject to cancellation by order of the wives of the tacoteurs. Enter to win by emailing your name on the back of an eightball of blue sky to tacos@tacotopia.net.