4301 S. Staples St, Corpus Christi, Texas • 361-994-6530
I make my way down staples to go from North to South if I have the time, and if my pickup's suspension is up to the task, and if schools aren't letting out, because I like the way it looks. My GPS tells me to take Crosstown to SPID. My wife will always take Ocean. I, however prefer Staples which is like a woman with Borderline Personality Disorder: often rude and ugly, people say bad things about her, but she is always being used. I have a morbid affection for the sad and broken. I often stop at the Sunrise Mall, located on Staples, so that I can pay my respects before it gives up the ghost.
For those of you who don't live here, Staples was once a main artery that is now old and hardened. Littered with decrepit buildings and people who have no illusions about the difficulty of this world, Staples grudges ahead in admirable fashion, dragging the broken pieces of it's history behind it. If you're from Austin, think Lamar in the 80s. Here there is no irony, what you see is what you get. Vestiges of the glory of the 50s and 60s are barely visible, as a Wal Mart is built upon the grave of Parkdale Village like the housing development in Poltergeist. "You moved the cemetery, but you left the bodies, didn't you? You son of a bitch, you left the bodies and you only moved the headstones! You-only-moved-the-headstones! Why? Why?"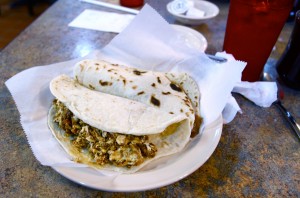 Located toward the less abject end of Staples is Hacienda Vieja, 'Old Plantation.' You don't have to look to closely at the Hacienda Vieja to recognize the signature 'architecture' that says "I was once a Bill Miller." Freshly, if barely, remodeled, it doesn't smell like a taqueria, but you acclimate quickly. I was greeted by the Hat, and friend of Tacotopia Joe Hilliard. The company was great. The tacos, slightly less than great but good at least. The chorizo and egg was unobtrusive, a bit too polite for my taste but well dressed with a hint of cinnamon. The carne guisada consisted of nearly perfect cubes of beef whose texture was almost as ideal as their shape. The sauce was not bad, definitely a house recipe, no food service here (I'd guess). The tortillas were fresh and good, maybe a tad doughy. The salsa roja was sloppy and hot, heavy on the chiles with a dry finish. The coffee came in tiny brown coffee cups that, though we tried, we could not empty without a pretty waitress refilling them. We observed that they have a full bar but I didn't order anything that would muscle out the 20 cups of coffee. I'll be back.
As we emerged, we saw El Aleño a block away with a new paint job since we reviewed it nearly 2 years ago. Another new face on an old character.
Our Taco Award Winner for this week is:
Marcia Gay Harden

A Navy brat, Marcia Gay Harden has been around the world. She has acted on stage and screen, winning an Oscar and a Tony. She graduated from UT Austin, and then NYU, and is often cast as an uptight mother as in Whip-It (damn she wore that postal uniform well though) but I fixated on her when I first saw her in 1991's Crush. Since then she's turned some stellar performances in a ton of movies such as Miller's Crossing, the Spitfire Grill, Pollock (for which she won an Oscar for playing the too-ugly-for-Marcia-to-portray Lee Krasner), Spy Hard, Mystic River, and Into the Wild. At 51, she is as beautiful as she was at 21, and is in my opinion one of the best actors around.

Offer includes 2 tacos, an audience with the 'tacoteurs,' and a free tacotopia t-shirt. Please redeem this offer at Whetstone Graphics on a Friday morning of your choice. Offer subject to cancellation by order of the wives of the tacoteurs. Enter to win by emailing your name on the back of Miller's Crossing to tacos@tacotopia.net.