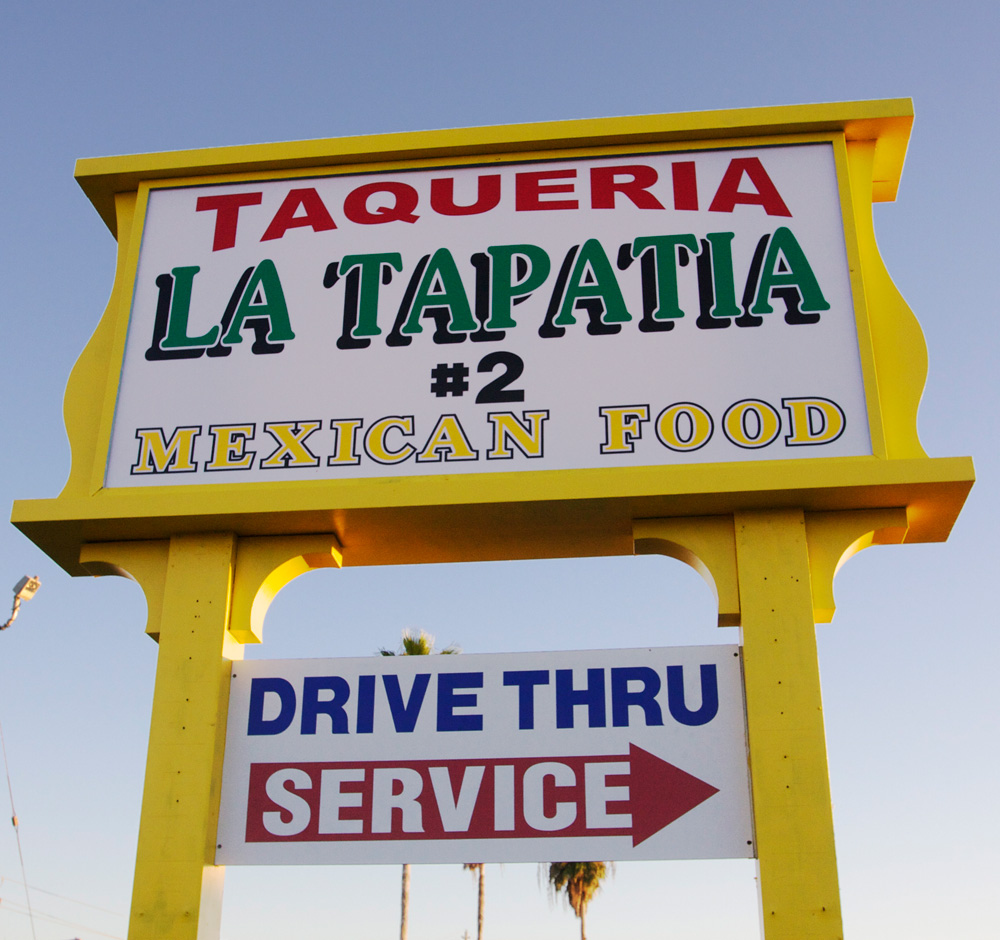 5212 Weber Road, Corpus Christi, Texas • 361-852-6272 •
www.taquerialatapatia.net
Chorizo & Egg $1.49 • Carne Guisada $1.79 • Bottomless Coffee $1.25
Everyone deserves a second chance. La Tapatia #2 got a bad review a year ago due to some bad onions, and I wanted to revisit this place to see if the onions were an indicator of a more serious problem or just a fluke. Four of us converged this morning to get to the bottom of it, and in doing so we left unsure of what to think.
I arrived first, and seated myself in one of the aged brown vinyl button upholstered booths. It was surely intended to look old when it was new, but after 20 or 30 years of wear by derriere the booths here look like I might have seen them in someone's yard on Hoarders. Also, there's a hole in the drop ceiling surrounded by rusting trim; evidence of years of leakage. I have a similar situation to deal with at my business, and I know how hard it is to get a flat roof fixed. I parked in the corner so I could see any attackers coming, and had good coffee inside 60 seconds.One of the waitresses was singing to herself behind the counter until regulars showed up, speaking tex-mex in a familiar fashion with her.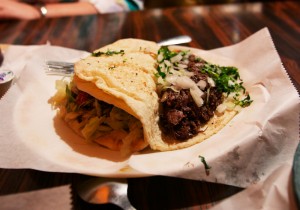 The rest of the crew filed in, and we ordered. As our food arrived we all eyed it with some suspicion. I had no onions on my two tacos, but the Hat got barbacoa on corn con cebollas y cilantro and we all examined the chopped onions. They looked harmless, but it's hard to tell from a chopped onion. They weren't as translucent as you'd think they would be if they'd gone over. The Hat fearlessly took a big bite and after a few seconds of considered mastication gave us the thumbs up.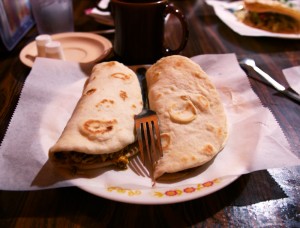 I started in on my tacos, served up on excellent handmade flour tortillas in the double D formation. On the left we have the staple of breakfast tacos – the chorizo & egg. The c&e was serviceable. Not the best I've had, but better than many. To the right was the carne guisada, technically not a breakfast taco. While it's usually found on the lunch/dinner section of the menu, I find it is a good litmus test of the quality of the taqueria, and it's usually delicious. This carne g in particular was much less soupy than most. It'd be hard to say if it was intentional, or if it had just sat in the steam tray for too long, but the extra toothiness complemented the beef.
There was one thing about the meal that left us confused – the salsa. It had a tangy flavor, and smelled like a bowl of salad left in the sink for a few days. I bought a refrigerated salsa back in the early 90s from HEB's Central Market around 35th street in Austin that was fresh and filled with cilantro and onions. Then one day I got a jar that had gone sour, and I realized this after I had chewed and swallowed a big heaping chip of it.  I could never eat that salsa again without tasting it. This salsa had a flavor reminiscent of that, but I have heard of lacto-fermented salsa. Perhaps this is how it was supposed to taste. It did have some nice heat, and it wasn't so bad that I didn't put it on both of my tacos.
In the end we don't know if there's a freshness problem here. Maybe in another year we'll come back and do a third sampling (and ask them). Then again, maybe not.
Our Taco Award Winner for this week is:
Elizabeth Hurley
Perhaps you remember her from Austin Powers or Bedazzled. Maybe you saw her representing Estée Lauder. You might recall her from the scandal with her stupid ex-husband and a certain 'professional'. She weathered the press and humiliation, not divorcing Grant until 2000 – 5 years after the incident. She was given away at her wedding to Arun Nayar by Elton John. If I were Hugh, I'd be sorry if I saw her in this sari.
Offer includes 2 tacos, an audience with the 'tacoteurs,' and a free tacotopia t-shirt. Please redeem this offer at  to tacos@tacotopia.net. on a Friday morning of your choice. Offer subject to cancellation by order of the wives of the tacoteurs.  Enter to win by emailing your name on the back of a dvd of 'Aria'