I've been to the edge and I've looked deep into they eyes of the abyss.  I spit over the side and listened to hear it hit bottom, and it didn't.  The gaping maw of which I speak is, in taco terms, the valley of death – a desert I drove across knowing there would be satisfaction if I made it out alive.  There is no way of knowing when you're traveling in the north where you'll find a good taco.  While I was born in Texas I have no particular problem with yankees, or even the yankee rednecks you find in the midwest.  The food in Ohio, however, was deeply troubling.  Aside from the meals where my family was involved in the preparation I don't think I had a single tasty meal for a week.  Life can be so cruel.
So upon returning to Tacotopia, I got a taco first thing Monday morning (Garibaldi) and then again on Wednesday (Banda's).  I couldn't help myself – I wanted coffee and you can get a large coffee and a taco at world class taquerias blocks away from my job for the price of a coffee alone at Aqua Java or Starbucks.  Okay, the coffee is not as good as Aqua Java's but it serves its purpose and the tacos rock.  So this morning the Hat, the Matt, and myself all met up on Airline at Acapulco Taqueria #1.  It's in the 30s outside and wet.  The weather, in a word, sucks.  My heater core needs replacing in my truck so in the cold the windshield fogs up.  I'm driving down the road with one hand on the wheel and one hand wiping down the inside of the windshield.  Plus I have a toothache.  All of this in addition to the seasonal increase in my workload and the stress of the upcoming holiday.  It's enough to make a man plow their vehicle into a fireworks stand while lighting a cigarette.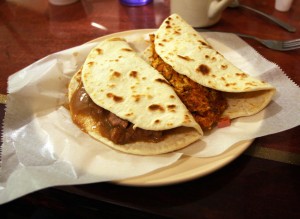 Good tacos, at least in this case, are the best medicine – well maybe some zoloft and a root canal, but who can afford it without health insurance? We sat down at the table and started drinking the excellent coffee, and I could feel the trouble being extinguished. Could it be things will all work out? Could the recession really be over? Could we exist in a world without poverty, war, and reality TV? I doubt it but at least I can take solace in one of the most perfect foods in existence, and I don't mean the fabled eggnog custard pie.
Acapulco Taqueria is right near the two malls in Corpus Christi.  We'd heard about it for some time.  The place is hospital-clean the service is great.  There were a mix of cops and used car salesmen in attendance today, not a bad sign.  My carne guisada was good – nothing unusual about it but well made and very tender, no small relief to my aching jaw.  All this on good, thick, fresh flour tortillas.  I finished the carne g and moved on to the chorizo & egg, and it was exceptional: a perfect balance of grease, egg and sausage.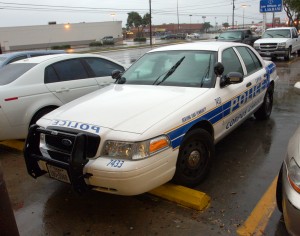 After 5 or 6 more cups of coffee and the exchange of weeks worth of tall tales the three of us lit out into the dim and dismal daylight, each one feeling a little bit better about what lay in store.
From the Hat
Hello, I'm The Hat and it's been two weeks since my last breakfast taco.  I've long passed the grippin' and jonesin', and am beginning to get that attitude of superiority of one recently on the wagon.  Sure, you can do it the easy way, exiling yourself in a foreign land, like Ohio where they can't even spell tako.  You couldn't get a taquito if you wanted one.  Not me boy-o.  I did it the hard way, cold turkey, in the epicenter of taco activity.  Just me and my will power… and deep-fried turkey… and mince pie… and cornbread dressing.
I have to admit, on more than one occasion I found myself thinking about tacos, though.  Rehearsing in my mind that little peek inside the taco when it arrives at the table; watching my hands work on kinesthetic memory alone as they spoon a line of salsa down the middle and tuck it all back together; the prep finally complete.  Glad to be in company with fellow tacoteurs, but not really willing to share.
Relapse was but a text message away.  Two words:  "Taqueria Acapulco".  I needed to call my sponsor, but it was from my sponsor.  I was lost.  I knew better than to put myself in that environment… the smell of tacos cooking, and of coffee, that easily obtainable breakfast gateway that always seems to lead down the path… to tacos.
Acapulco was a warm, dry place on a wet, cold morning.  It was brightly lit and smelled of cooking.  The Taco Show Host and M. were already there and had facilitated my breakfast with a cup of coffee.  After a look at the menu, I had decided.  But M. had noticed they were having a tripas special and ordered accordingly.  Not to be out-tacoed, I did the same.  Along with the tripas, I ordered a chicharrón con huevos a la Mexicana.  While we waited, we drank very good never-ending coffee and talked of the poor state of food in the Buckeye State.
When the tacos arrived, my tripas taco was splayed on the plate, guts spilled out like some breakfast tauntaun sacrificed for the nourishment of my body.  The tripas were perfect, clean and crispy.  Cut into lengths of an inch or so made them bite-sized and easy to manage.  They could only have been better with a fresh-made corn tortilla.  The flour torts were very good, though.  A bit of salsa, some cebollas y cilantro, and the taco had me wishing I'd another.  The second offering was good, but not a home run.  The chicharrones were the crunchy, bag-type and had plenty of bite to them.  There were plenty of them in the well-stuffed taco.  Both the spicy salsa, and the Ranchero sauce were good and added positively to the tacos.
As I look at the empty plate, I'm hoping to find just a little morsel that might have fallen out of the taco.  Surely I haven't eaten them both already.  But I have and I'm left with nothing but the shame at having succumbed to the taco's call once again.  I could see people looking down their noses at me already, and I'm uneasy at sight of the police car at the door when we exit.  What will my friends and family say about my return to the taco lifestyle?  Should I tell them?  But of course, this is a taco blog.
– Salud
1133 Airline • Corpus Christi, Texas • 361-994-7274 6:00am – 11:00pm every day Bottomless Coffee: $0.99 Chorizo & Egg: $1.35 Carne Guisada: $1.45