901 Navigation Blvd., Corpus Christi, Texas 361-904-0815 5:30 am – 9:00 pm, Mon – Sat • 6:00 am – 3:00 pm Sun
We come to my favorite time of year.  Sure, there's not a pronounced difference in the seasons of Sur de Tejas, but at least the heat doesn't beat you over the head.  I enjoy the Fall festivals, Halloween, and the general celebration of things harvest-related.  Up north, they're enjoying the wonderful colors of the changing leaves – from green to shades of yellow, and red, and orange.  We notice a change in the season's color here too, but our shades of orange and yellow show up in the decorations of the various retail establishments.  Still, we'll see a welcome drop in the humidity.
I took note of Moon in her fullness this month.  A good time to do it because it was a special moon.   The full moon nearest the equinox, the Harvest Moon, fell on the equinox this year (making it the Harvest-est Moon) – an event that hasn't happened in twenty-five  years and won't happen again for a two decades.  That's about as often as I've hit the gym.  Not something to be crowing about.  So with the appearance of the Super Harvest Moon, I went to the gym.  It was sobering. . .I had a fitness assessment so that I could start a wellness plan.  They assessed me, but there was no fitness to be found.  Now don't get me wrong.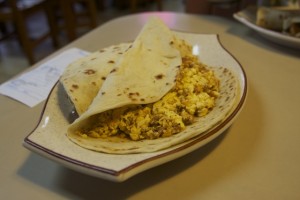 It wasn't all bad.  But there's certainly ample room for improvement.  I don't want to compete in the Iron Man, or the Mr. Universe competition, but I would like to have the speed and endurance to go birding all day  and the strength to wrestle a flat tire without busting a gut.  Modest goals…attainable goals.  Already I've cut my taco consumption to Breakfast Taco Friday's, tacos in foreign cities, and the occasional taco for verification or ground-truthing.
And so in celebration of Breakfast Taco Friday, Taco Show Host and I met at Las Milpas on Navigation near the Interstate.  I had a chorizo con papas en maiz, and the daily special:  a breakfast sausage with scrambled eggs on flour.  We had a bit of discussion as to why I've been on the chorizo and potatoes kick lately and I think the reason is chorizo.  Usually, and today was no exception, the chorizo is sauteed with already cooked potatoes so it doesn't permeate the potato, but covers it generously.  I get to taste both separately, and together and this morning it was very good.  The corn tarp was a bit dry and had a not-all-too-unpleasant crunchiness to the edges.  The taco was large and adequately filled with goods.  The special was good.  Nothing special if you know what I mean.  It was a generous portion of sausage and egg scramble in need of salt.  The tortilla was an off-round saddle blanket with quite a bit of hand-made non-uniformity.  A hunger-buster for sure.  The thing I found funny was that there was no salsa.  Our waitress delivered a Ranchero sauce, but nothing more traditional.  Later she asked if we wanted some hot sauce and when she delivered, she mentioned that it was habanero.  And it was.  It came in a squirt bottle as well it should because you'd have to be pretty dedicated to dip a chip in it.  Taco Show Host and I thought that the day's version might just have been the hottest we've seen in a taqueria.  The coffee was good and happily delivered by a doting waitress.  The building was clean on the inside, if a bit run-down out.  Pretty good and worth a try.
Salud
Our Taco Award Winner for this week is:
Sigourney Weaver is a true talent of our times and her list of acting accomplishments is long.  Born in New York, 1959 she began her career in the mid 70's.  Exploding onto the scene as the no-bullshit-bad-ass Ellen Ripley in Ridley Scott's Alien. Ms. Weaver always looks good whether killing an alien (No one makes crawling half-naked into a space suit look as good.) or playing one, a nine-foot tall one  in Avatar.  You can also see her in the movie, You Again with the larger-than-life Jamie Lee Curtis.  How can you go wrong?
Offer includes 2 tacos, an audience with the 'tacoteurs,' and a free tacotopia t-shirt. Please redeem this offer at Whetstone Graphics on a Friday morning of your choice. Offer subject to cancellation by order of the wives of the tacoteurs.  Enter to win by emailing your name and an extra large pair of Galaxy Quest Special Edition DVD sets to tacos@tacotopia.net.