2650 Waldron Road, Corpus Christi, Texas 78418 • 361-939-7488 Chorizo & Egg $1.55 • Carne Guisada $2.05 • Coffee $1.35
It's was a lonely road I rode this morning, down to the Southland on my morning constitutional. I hear a lot of things from North of here. On one side you've got folks sayin' the revenuer is gonna come and raise our taxes, we should revolt. On the other side they're tellin' us if we don't do what they say it'll be bad for our health.  The two sides are meeting up at a little crossroad they call 'Demon Pass,' and I don't expect it'll be pretty. There's an established protocol they've elected to abide by called 'Slaughter House Rule.' Personally I think they're all working together to take advantage of us little guys who are foolish enough to give them any creedence. So I set out this morning to step away from the coming fight that I can't hope to win – it's all out of my hands – and to watch the sun rise in the East while wolfing down a desayuno del vaquero.  Old Honda, my horse, complained a bit as I spurred him to a fast gallop down South Padre Island Drive before entering Flour Bluff.
At once I saw a sign for the chow stand, hand-painted on wood, a real beauty. My backup, 'the Hat,' had showed up ahead of me and they served him up in short order.  In minutes they had my vittles out as well.  A tall cup of drip coffee and two tacos.  I'd asked for a chorizo & egg, and a carne guisada.  The guisada was pretty tasty with a strong flavor and plenty of cumino. It was big too, and I knew my horse would need some rest after my trip back North. When I got to the chorizo & egg I discovered it had been replaced with an entirely different taco – bait and switch, a tactic those carpetbaggers at Demon Pass might try in the upcoming battle. What I had still looked pretty good, though, and I'm not one to argue with fate, in which case the arguer tends to lose, and I started to eat into what turned out to be a breakfast sausage, egg, cheese & potato taco.  Both tacos were big, and we ate them on the wooden picnic tables set up in the only place there was to eat – an outside covered patio.  The amber lamp of the sun colored everything we were eating with a dusty light, and the wind blew so hard we had to hold down our coffee to keep it from spilling.
The tortillas were handmade, and had blackened patches from the plaqa that were just on the right side of overdone.  There was salsa but it wasn't much to speak of.  Neither of us talked about the upcoming battle, it was going to happen one way or the other, no matter what we thought.  Maybe it'd be better in the long run, but then again maybe it'd just be another lie the government told us so it could go on doing whatever it wants to do – which seems to be working in cahoots with fatcats and tycoons who build their empires on the broken backs of the people they screwed to pay for it. Once they get a taste for that money you can't cure'm, and if you let them run free they'll infect the rest of the herd.  If you ask me we'd be better off if we rounded them all up and stampeded them off the edge of Flour Bluff.
So next time you're out on the trail, and you see someone on an Texas-sized red and white horse with a little bag of tacos, come on up and set a spell.  That is unless you're campaigning, then you might as well head on over to Demon Pass.
From The Hat
Good Morning Tacotopia!  Hope Spring Break has been good to you.  If you're not getting a break, then I hope you're enjoying the weather.  Thanks to all of you who have left a mark on Tacotopia.net, the Facebook Fan Page, or on the Caller Times Website.  Special thanks to those who left a raspberry on the NYT site regarding the recent "Best Taco in Texas" brouhaha.  It's been good to wallow in the much-deserved buzz but it should be noted that no amount of celebrity will keep us from our mission.  That mission had us up dark and early this morning for a trip to the hinterlands – Flour Bluff.
Flour Bluff is hardly the place it used to be.  Historically the butt jokes, usually about shrimpers or missing teeth; The Bluff has seen a renaissance in the last decade or so.  Poised on prime property between the Sparkling City and the Island, it is no wonder that the area has seen population and business growth. I know of one example where people were run out of their ratty residences so the apartments  could be renovated and re-rented to those with more robust resources (Arrrrr!).  While this was an inconvenience for my friend Dicky (Dicky Neely Blues Band), another friend benefitted from the work. I guess that's how it goes in the world, some get work, others get worked. Dickey, a master of the harmonica still plays the Coastal Bend, contributes to local papers and maintains several blogs including one dedicated to the blues. Being in the Bluff makes me think of Dickey and how I haven't seen him in a while. I think I'll do something about that!
The Taco Show Host and I had agreed to meet at Taqueria Almeida #1 on Waldron Rd and I was early.  I had the paper and was looking forward to running through the local items of import, having a cup of coffee, and taking in the atmosphere. Almeida's #1 came highly recommended by many people including noted FB taco specialist, Terry P. who maintains that they were consistently better than their in-city sister. When I arrived, I had to circle the place before I realized there was no indoor dining area, instead was a nice, clean, covered patio area and a steady stream of customers both drive-up and walk-up. There was a bit of a cold wind, and being dressed in CC formal, I decided to wait in the truck. I ordered a papas con chorizo and a nopalitos and egg, both on flour torts at the walk-up window just as TSH was tying up his horse. The tacos arrived quickly and turned out to be pretty good. The tortillas were fresh with a light dust of flour and both tacos were stuffed to capacity with the goods. The chorizo con papas was flavorful with the vinegary taste that I like. The potatoes were soft, but not over-cooked – a fine offering. The nopalitos taco was served a la Mexicana and had plenty of cactus. The mix needed salt, but other than that, it was also a good offering and will satisfy the cactus jones. I give Taqueria Almeida a thumbs-up.
Salud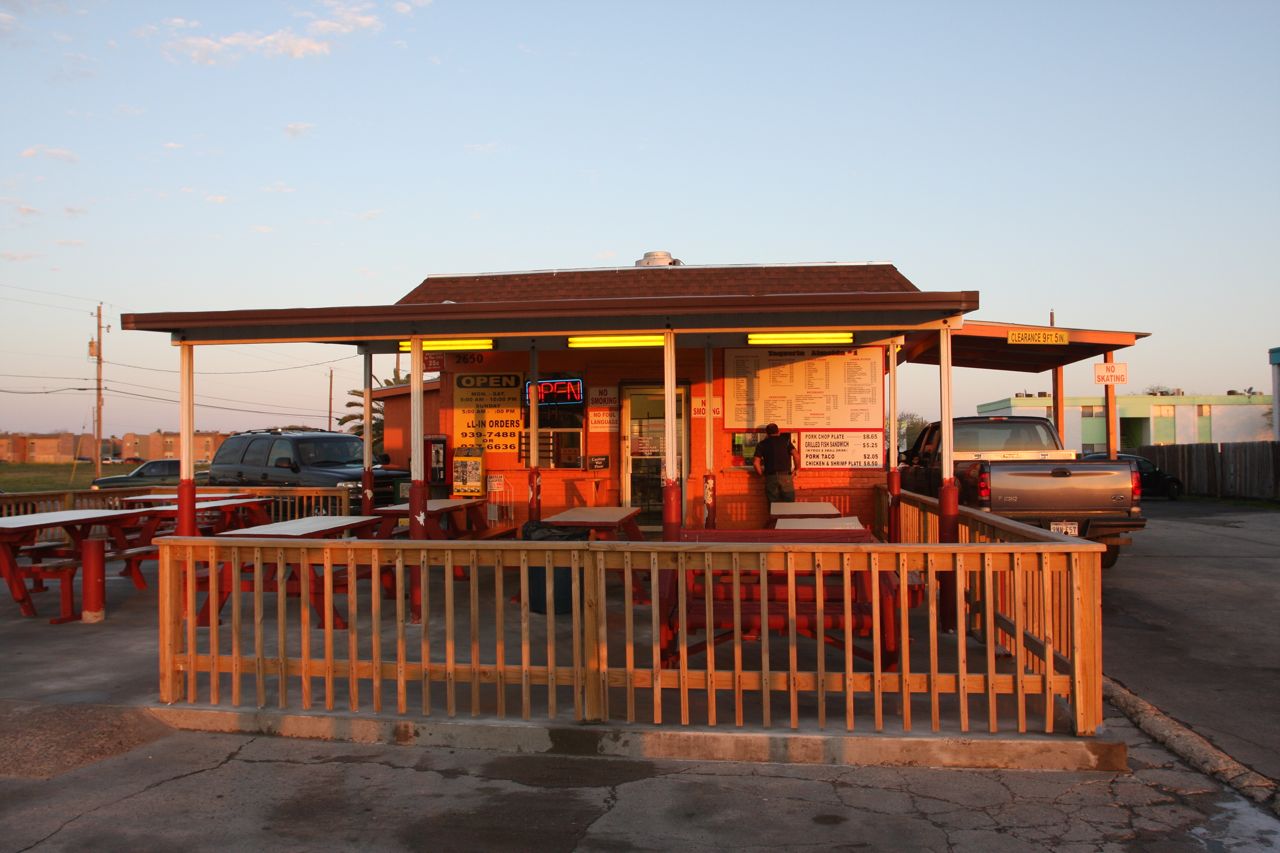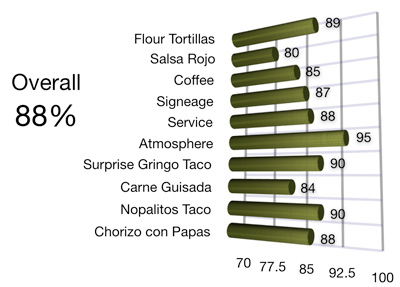 Our free taco winner for this week is:
This Icon of beauty and grace is a writer, activist, actor, filmmaker, philanthropist, model and beauty – looking as good at 57 as many half her age and with but a fraction of her charm. She counts among her lovers Martin Scorsese, David Lynch & Gary Oldman. Her acting career includes roles ranging from the serious (Blue Velvet) to the absurdly funny (30 Rock), and she is presently working on season 3 of Green Porno, a bizarre presentation of the mating practices of animals in which she often portrays, in costume, nature in its most natural act. It is worth noting that Rosselini hails from silver screen royalty, even though they were married to others at the time, her father the director Roberto Rossellini (called the father of the French New Wave) and her mother the legendary Ingrid Bergman.
Offer includes 2 tacos, an audience with the 'tacoteurs,' and a free tacotopia t-shirt. Please redeem this offer at Whetstone Graphics on a Friday morning of your choice. Offer subject to cancellation by order of the wives of the tacoteurs.  Enter to win by emailing your name on the back of an autographed copy of Fearless, or better yet a single piece of thread from the hem of Isabella's garment, to tacos@tacotopia.net.