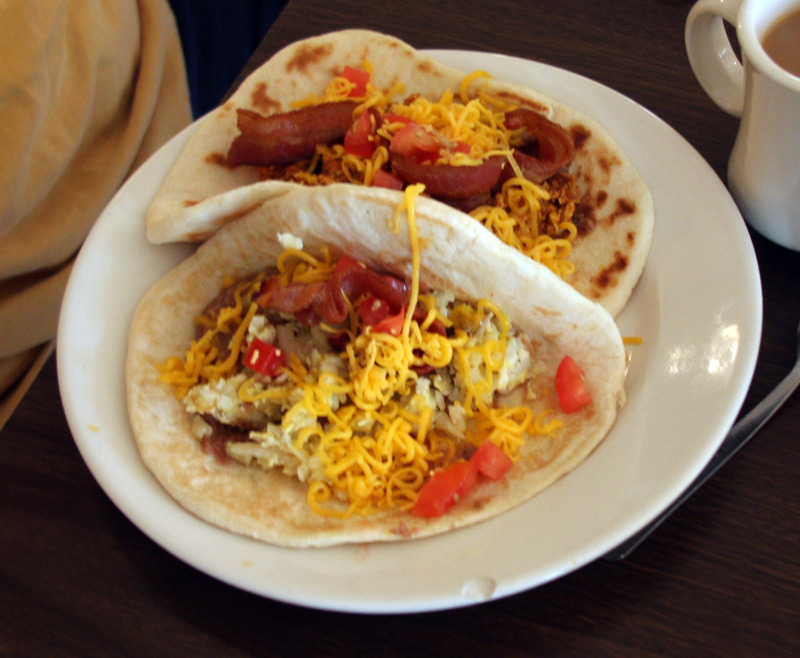 Tacotopia brings us, oh ye sinners, to a gathering in which we celebrate the loss, hopefully temporary, of a Corpus Christi institution.  For more than 25 years Elva's has served up quality in their eatery on Staples, in the heart of old Corpus.  It has changed very little over that time. They still serve up their signature taco, the Destroyer – which has eggs, bacon, cheese, potatoes and more.  It will destroy any hope you have of not making a late morning bombing run at the company bathroom.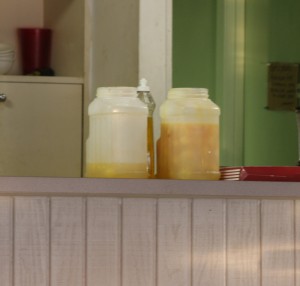 I was accompanied by tacho-nical consultants Kevin & Shelly N. and we arrived at 6:45, only to find it closed.  While snapping a picture, George came out evidently ready to kick some ass and asked us why we were taking a picture.  Elva's is being closed so that he may deal with health issues, although I'd have assumed he was in the best health of anyone there.
The tortillas were excellent – a pillow of floury clouds.  The chorizo was rich sultry – of you can say that about chorizo and in this case I think you can.  You could barely taste the egg because is was so beaten down by the chorizo.  It was better than the destroyer – which was also good.
The carne guisada was less than exciting – with a nearly clear gravy and little flavor but the beef was good, and the tortillas, well, I've already talked about the tortillas.
Elva's will be missed by its regular patrons, and the students of Ray High School (around the corner).
I also discovered, while chiming in on a conversation at the next table, that we have also lost one of the taquerias that shaped my love for tacos – Austin's Las Manitas.
Let's all have a taco in remembrance.