Gabriel's
3825 S. Port Ave.
Corpus Christi, TX 78415
361-814-9299 6:00 AM – 3:00 PM, 7 days a week Chorizo & Egg: $1.50 • Carne Guisada: $1.75
When faced with an impasse, Ulysses S Grant would turn to the right or the left and find another route to his destination – never turning back. I've been on that type of detour for some time now, and I think I can see the road from here. A shadowy international cabal feared I was giving out information that might endanger their anonymity, and conspired to make it difficult to post in the last few years but they can't keep me quiet forever. There is almost nothing that can stand between me and a good taco.
So when I called up fellow tacoteur, now Doctor of Tacology and Salsa Science, the Hat, and asked him to meet me at Gabriel's on Port, he knew what was up. He didn't hesitate to risk life and limb to be seen in public with another flyer of the tortilla flag. This is Texas, where a man can still eat beef face and tongue and woe be to him who tries to stop him.
It's not always easy to get back in the saddle. Both our Dodge pickups have been put out to pasture, or worse. Both of us have undergone serious reevaluation of our physical conditions and undertaken courses of physical rehabilitation to mitigate the middle, both of us running regularly – the Hat much more regularly than me.
But what good is clean living if you've got nothing to clean up? I still eat a taco most days, in my house in the morning. I make a good breakfast taco too, but sometimes I have to get out of my own kitchen. Lest I become humorless and bitter, I've got to avail myself of a taqueria in our city that is home to some of the best taco sellers in the world.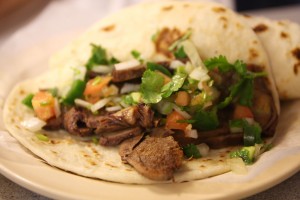 At Gabriel's, I ordered my usual, a carne guisada and a chorizo and egg. Dr. Hat ordered a lengua taco and a barbacoa taco. The C&E was gentle but pressing with it's chorizo flavor, sneaking itself past the flavor profile so that while you didn't notice it in the beginning, by the time you swallowed the flavor of the egg had all but disappeared. The carne G was straight ahead beef and gravy. Like a well made brick wall – nothing fancy, but substantial and humbly well crafted. The tortillas were delicious. Top notch. Still hot from the flat-top. Not quite browned, and soft as a baker's wife's hips, and with a dusting of flower on the surface. They were really the star of the show – as they should be. Like a drummer in a band – if the tortilla isn't good, the rest of the taco can never live up to its potential.
Hat and I discussed important matters, and schemed to persist in our defense of the righteous taco. At the end of the meal, as we parted in the parking lot with a secret handshake, vowing to stay true to the cause, we both left content that no government or industry can get a foothold in Corpus Christi without the favor of the fans of tacos. We won't have to stay underground for much longer.
Our Taco Award Winner for this week is:
Christie Brinkley
If you have read this section before, you know what it consists of. So pardon me for getting meta, but it's usually a georgeous – often buxom, often older – celebrity who I would love to see wearing a tacotopia t-shirt, and with whom I would really enjoy having tacos. It isn't that I have anything against younger celebrities, but there are so many women in showbiz who are overlooked once they turn 30. The women I think deserve recognition are usually older than me, women I grew up admiring, and I'm far from a kid now.
There's usually a repackaging of facts gathered from wikipedia, imdb, and any articles on them in the first two pages of google search results, and a carefully selected photo – one that shows off their visage without being enough to offend too many people. Then I sprinkle some links and puns, perhaps a double entendre, and J'ai fini. So here goes:
This is what 60 looks like, at least on Christie Brinkley. She's had work done, but tastefully. There is no cartoonish baloony duckface, no giant fake boobs, no orange spray tan. What there is is the results of 6 decades of diet, exercise, and making mostly the right choices. I say mostly because she's been married four times. Her second husband was Billy Joel who, once a gifted craftsman of schmaltzy pop hits with heart, failed to write a single great song ever again once the marriage was consumated. Tell her about how blindly commercial your music became, Billy, as you try on musical decades like they were costume changes at a Cher drag show. Okay, maybe he got dosed with Polonium when he went to Russia and his music suffered. It would explain why Christie looks like she's in her mid 40s, and he looks like an apple doll. Okay, I can't lie – I love early Billy Joel, and I'm just bitter about how his music changed as he grew older and more self-important.
I will say that Christie Brinkley was the poster on my wall when I was 14, and I remember thinking about her a lot as a young teenager, after watching National Lampoon's Vacation – thinking of the horrible decision Chevy Chase was faced with at that swimming pool. Sure he did the right thing, but oh the regret.
Offer includes 2 tacos, an audience with the 'tacoteurs,' and a free tacotopia t-shirt. Please redeem this offer at Whetstone Graphics on a Friday morning of your choice. Offer subject to cancellation by order of the wives of the tacoteurs. Enter to win by emailing your name on the back of said poster to tacos@tacotopia.net.