SPAM! – The Spam Edition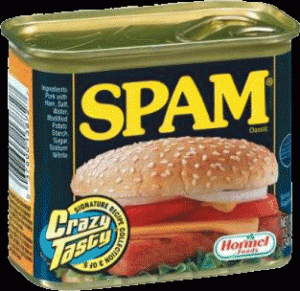 Produced in Austin, Minnesota by Hormel Foods, Spam Classic is an often maligned potted meat.  The name is a contraction of Spiced Ham but is sometimes referred to as 'Something Posing As Meat' or 'Stuff, Pork And Ham' or even 'Special Product of Austin Minnesota.'
Introduced to the South Pacific during WWII, Pacific Islanders consume the most Spam of anyone in the world with it's similarity to salted pork used in much local cuisine. If you're in Hawaii you should try a Spam Loco Moco (1 scoop white rice, spam patty, fried egg, and brown gravy – one on top of the other) or the McSpam sandwich available at Hawaii McDonalds'.
Through countless visits to taco shops around Corpus Christi we've noticed the presence of a little known and controversial item on a number of the menus: the Spam taco. The mention of spam stirs immediate reactions, sometimes horror and disgust, sometimes a perverse voyeuristic interest.  From those who have had more than one there is a guarded camaraderie, no one who doesn't like them would ever eat more than one, if that. Well Kevy the Hat and I are, if anything, omnivores.  We don't shun a food simply for its questionable origins or even the health risks involved. The taco is a perfect environment for spam, with it's overwhelming flavor.  It is mellowed by the interplay with the tortilla and egg or bean, its salt and seasoning self-contained.
As time has passed we've kept track of the places that cater to spamsters and once we accumulated enough we set about a canvass the town and try to provide an objective comparison of the offerings available.  Casting away our usual routine and rating system we thought we'd dispense with our usual format as well, in favor of a freewheeling dialog discussing the process.  My side will be orange and the Hat's end of the conversation will appear in green.
To start out with we drove to Solis on Leopard.  This was the last entry in our list, and i didn't get the name until yesterday after some google earth detective work.  I called and verified they had a spam taco, but then upon arriving this morning a pretty but uncomprehending waitress checked and found the cupboard bare.  It is a taqueria we will be revisiting in the future though. We hit another spot across NPID on Leopard – El Mexicana – and found it closed and roped off with police tape saying 'cuidado.'  My guess is a redo of the cratered parking lot is about to commence.  After the second strike we headed down Padre Island Drive to Kostoryz to Enrique's where we got our first catch of the day.  Tell me, Kevin, what did you think of the place?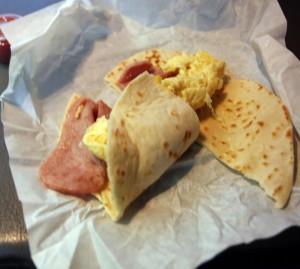 You know I like the place.  A shiny restaurant and wait staff.  Torts were good and fresh.  I might say we found that most, if not all of the places on the trip today had good tortillas.  I really didn't know what to expect from a Spam taco.  I remember the stuff from my childhood.  It appeared on the table over the years.  I was young, so I don't really know if it was a joke or not.  But fried crisp, it's not horrible. I think Enrique's did a respectable job of it.  Think bacon and egg taco with extra slabs of salt.  The eggs were tasty and they outnumbered the can-shaped slices of pig product.  Pretty good start.
After a little rumination on Enrique's Spam taco we bounced down Kostoryz to Yoli's – recommended by bartender extraordinaire and all around cool guy Johnny from the Executive Surf Club.  A barely disguised convenience store, this place was too busy to park in the lot, and it took us a good 40 minutes to get the taco.  Once we got it, it was pretty much the same taco, wouldn't you say?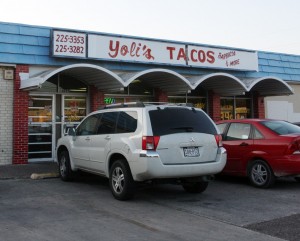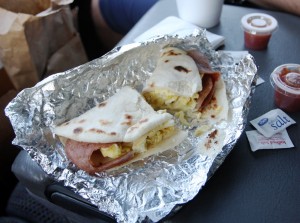 Pretty much the same taco.  Not really worth the wait.  We were definitely not in the smart crowd.  The ticket is to call in your order ahead.  There were many people walking out of that place with large sacks of tacos.  I will say at this point in the trip, I was thinking, "I'm not sure I can eat five more of these."  Were they all going to be the same?  It should be pointed out that we're splitting tacos.  I think we need to go back and give Yoli's another visit though for a regular review.  I think the place is going to pan out to be good.  I'm thirsty and I think my ankles are swelling.
The fourth stop on our spamvenger hunt this morning was Sonny's, which you may remember for it's menudo a few weeks ago.  This place really knocked it out of the park.  Instead of the spam wafers in all the other tacos Sonny's cubed it, like they do their chicharrones.  There's no way to disguise the flavor with chunks this big.  It's like the taco was saying 'I'm Spam, if you don't like it you can go to hell!'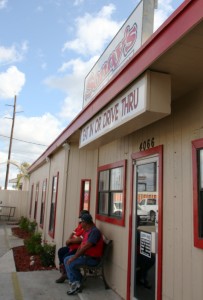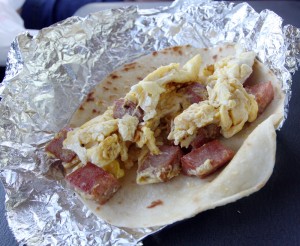 For sure the best gorram taco of the day.  When we ordered, I noticed that they had several salsas for sale so I ordered a habenero salsa to go.  I figured that if I got the same taco for a third time, I'd spice it up a bit.  Sonny's Spam offering was actually good.  And so was the habenero salsa.  Their parking lot sucks though.  You'd have trouble fitting a couple of Smart Cars and a Cooper Mini in that lot.  If I remember right, didn't we start talking about mixing it up a bit?  Beans maybe, or a la Mexicana?
Not being a Firefly fan I don't know wtf gorram is but I can guess it's nsfw.  Yeah, we did start mixing it up with the next spot on the list – Santa Rosa Restaurant on Staples.  This place had so many gorram cars in the lot that they spilled out and filled the streets on two sides.  The hand painted menu in the drive through was a work of art.  What'd you think for the Spam & bean?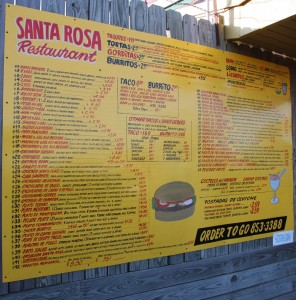 At that point it was a great change.  We definitely have to go back to Santa Rosa.  I'd like to check it out inside.  I got to try somethin' besides the beans.  Which were very good.  It seems weird to season Spam with bacon.  Everything really is better with bacon.  Another good tortilla.  Just what I needed.  I think Santa Rosa is running a close second place behind Sonny's.  I won't eat the rest of the weekend and we still had two more to go.
Yeah, the next stop was Chacho's Tacos #2 and they sent a waitress out to take the order before we even got to the window.  I thought the way the spam was cooked in this one was the best of the bunch: it was crisp on the corners and tender in the center.  There wasn't enough of it though, and it was flat cut.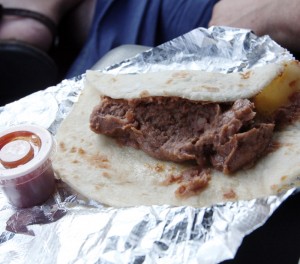 Have to agree on the Spam.  The beans were a bit disappointing, though.  At least it was small.  I think I was starting to come up against the wall.  I can hear your words in my head, "after five of them, there's not a whole lot of difference to talk about."
So then we go downtown to Brandy's, and I have to mention that my company, Whetstone Graphics, did the vinyl sign out front.  This was not the most picturesque taco we had that morning, but it was certainly not lacking salt, of which I am a fan.  Plus, Brandy is the nicest server we saw all day.  We gobbled it down in a spam induced daze back at Kevin's HQ, the rendezvous point.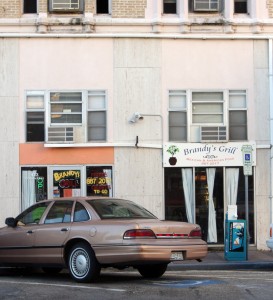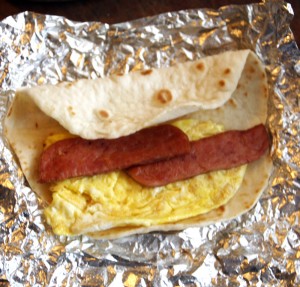 I liked the taco at Brandy's and in all fairness about the salt, how can you tell after 5 other Spam tacos?  I feel like Lot's wife by this time.  Next time we do this, we'll put Brandy's first on the list.  I was never so glad to get home and get a drink of cold water.  I fear drinking too much as I might brine myself over the weekend.  Should have bought some bigger shoes today.  After all of the Spam, I think it was definitely a worthwhile project.  I'm not sure to whom it's worthwhile, but I had a good time.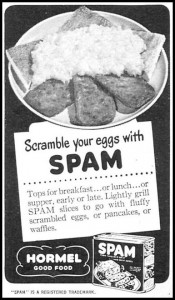 So in the end we lived through it, and in spite of what you might think neither of us has sworn off the Spam.  Sonny's takes the prize, but none of the tacos we ate was too bad.  Now I have to figure out why there's a pressure in my chest and my arm hurts.  I hope I'll see you next week.