Feliz Amanecer

‪8151 Leopard Street, Corpus Christi, TX‬
‪(361) 241-9611‬
 This is a restaurant on Leopard. If you live here you've driven on this road. The Corpus end starts 'uptown', an area that sits on a bluff opposite downtown from the bay. This is an old road, named in the first maps made of the city. Below the bluff, leading into it one way west, is Shatzell which feeds past Coppini's 'Queen of the Sea' fountain, through a 100 year old switchback and into Leopard. Follow it west and you pass through the 15-20 story "high-rises" that sit, aging and neglected but still intact. Continuing west you start to see the ghosts, the old Braslau's Furniture building left empty by attrition, moved to what was once South Corpus, near where my mother lived as a child in the 40s and 50s in a brand new post-war house on Pennington.
Her father was a mechanic for the old Corpus Christi Post Office they tore down on Upper Broadway. My grandfather, a victim of the great depression, wouldn't let a thing go to waste and repurposed a marble slab and trim from the restroom into a 400 pound coffee table that my family moved with us every year or so as a child as we struggled to find a place better than the one we were in before. The irony is not lost on me that I live back here in Corpus Christi, where my family left to find something more.
Keep west and you'll pass the bombed-out Melba theater, then a string of boarded up bars and dance halls, bail bondsmen and then across Staples you'll see City Hall sitting across from a muffler shop and one of the city's best (if ugliest) taquerias, Banda's. Stay westbound, and leopard runs parallel to IH-37. It passes under the Crosstown Expressway, and onwards through the West side, past Padre Island Drive and eventually to Calallen. Amanecer is pretty far out, where most of the people dining are white with oilfield service coveralls on.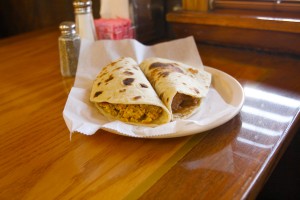 Taco places in Corpus Christi have established a baseline of quality to which other cities just can't measure up. The cornerstone of this is the handmade tortilla, which you must have if you hope to compete. Most even serve handmade corn tortillas, but you have to ask. The prices are cheap and the tacos good, but there isn't a lot to set many of the places apart from one another. They spring up where there is demand, and deliver basically the same tacos as the place closest to them. Feliz Amanecer is one of these places. As such I can't tell you that it stands out, but it's good.
What I can tell you about Feliz Amanecer is this: they're big and neat, the service is quick and thorough, the Carne Guisada is above average and I was brought two very good salsas. Everything else is on a level with what you would expect from any self-respecting taqueria in Corpus Christi.
Our Taco Award Winner for this week is:
Mary-Louise Parker
This South Carolina belle has been acting since the 80s, starting out in soaps and eventually showing up alongside some of the biggest names in the business in productions like Bullets Over Broadway, Fried Green Tomatoes, Red Dragon, The West Wing, The Assassination of Jesse James by the Coward Robert Ford, and her hit Showtime series Weeds which has recently started it's seventh season. I should mention that she was famously abandoned by epic douchebag and glowing-blue-wang-having Dr. Manhattan Billy Crudup when she was seven months pregnant. Yeah, I like Claire Danes too, but I prefer kinky-headed brunettes – and I don't mean just curly.

Offer includes 2 tacos, an audience with the 'tacoteurs,' and a free tacotopia t-shirt. Please redeem this offer at Whetstone Graphics on a Friday morning of your choice. Offer subject to cancellation by order of the wives of the tacoteurs. Enter to win by emailing your name on the back of a brand new MacBook Pro to tacos@tacotopia.net.