Julio's Easy Stop – Like a Sunday Morning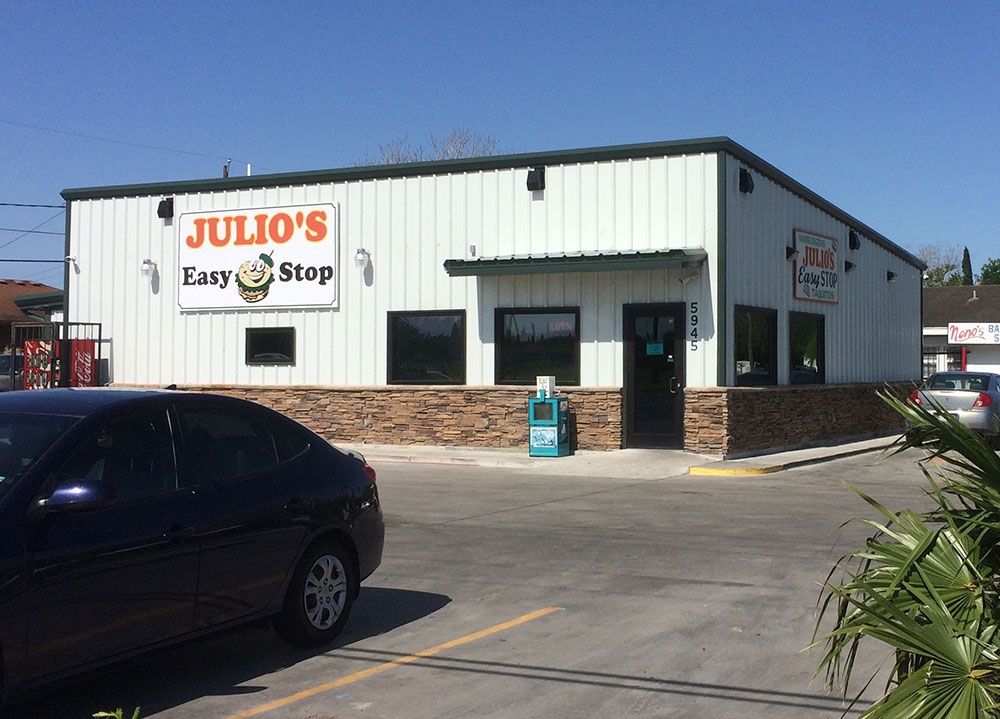 5945 Greenwood Drive
Corpus Christi, TX 78417
361-225-4088
You may have noticed long delays between posts in the last few years. As politicians say, I've had to make a change so I can spend more time with my family. I've also taken a job in the glamorous world of public transportation. I drive a city bus. Two (among many) things bus drivers know, it's how to drive a bus and where to eat. Julio's Easy Stop sits right along greenwood, passed by both the route 25 and the 19. It is personally responsible for an average 1st year weight gain of 15 lbs among rookie drivers – and the food is worth every pound.

There is an air of contemporary South Texas to this place, with a hint of classic Tex-Mex. The relatively new steel building sits adjacent to the outgrown prior home of the restaurant, complete with some of the best hand-painted signs in the city. Even with the lots of both buildings, there's rarely an open spot, and one often has to park on the street. Ordering takes place at the counter where you're given cups to fill on your own before waiting for your food at one of the seldom available tables. But this is all due to the amount of business they do, and you never have to wait for long. The food is turned around quickly, and comes out fresh and hot. The employees are often heard yelling to customers and to one another over the hubbub of conversation.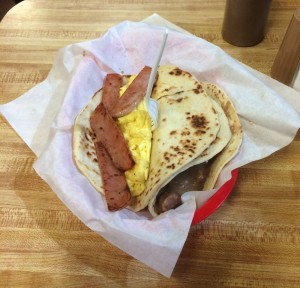 I've been here a few times; I've tried the burgers and the tacos. They're all good. The tortillas are great, each time coming out hot, fresh, and just this side of charlie brown (you can order them charlie brown but there's no need). Again, there's a touch of old-style Tex-Mex with a touch of modern. The carne guisada tastes a bit more flavorful than seems possible – like it's got some 'Season-All' or other MSG enhancement in it. The Chorizo and Egg is great. The salsa is top notch, and quite hot. The coffee is fair as is most taqueria coffee in Corpus Christi.
If you find yourself out this way, you could do worse for a good meal – and you'd have a hard time finding better.
Our Taco Award Winner is:
She st
Doing standup to a Boston audience at 17, this bawdy jewess was a whiz kid, working for SNL when she was 23. She is as beautiful as ever today at 45. She is fearless, outspoken, and well rounded, having written a book, been nominated for a Grammy, and won an Emmy. She's been dating Michael Sheen with whom she co-starred in Masters of Sex, but her romantic pairing on that show was with the fine and fierce Annaleigh Ashford. She's an open atheist and is quite politically incorrect – treading upon the border between racial discussion and ethnic slur. She's a vegetarian, a teetotaler, and I'd argue a serious actress with her parts in I Smile Back and Sarah Polley's wonderful Take This Waltz, which are both roles an actor managed by fear or vanity would recoil from.

Offer includes 2 tacos, an audience with the 'tacoteurs,' and a free tacotopia t-shirt. Please redeem this offer on a Friday morning of your choice. Offer subject to cancellation by order of the wives of the tacoteurs. Enter to win by emailing your name on the back of the June 2007 issue of Maxim Magazine to tacos@tacotopia.net.