The Corporate Taco Chain Gang Edition – An Epic Journey into the Depths of Corporate Opportunism and Tacuerilla Warfare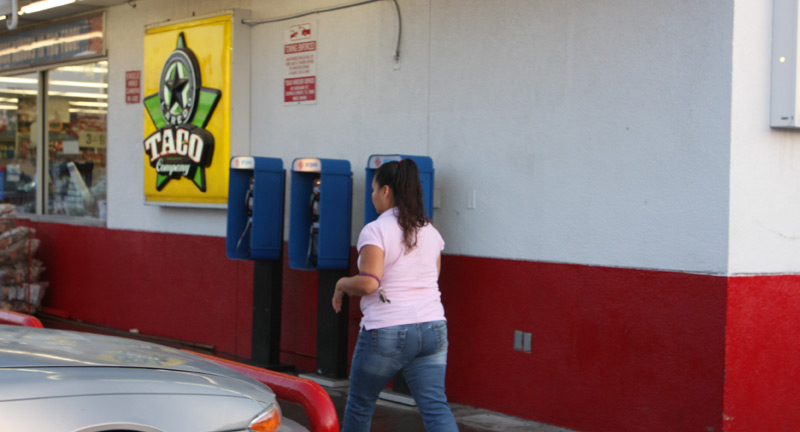 An employee of the Stripes/Laredo Taco Company scurrying back into the safety of the bunker after recording our license plate
Tacotopia – a populist dream of a world with abundant and delicious food available to rich and poor alike.  Alas, it is just that – a dream. And when a dream, or an inspiration, or a great idea starts to take hold the juggernaut of industrial production and insipid, coercive advertising turn the dream into a nightmare.  As true believers we, the tacoteurs, must act if we want to keep the beast at bay. Our taco freedom fighters staged a massive strategic attack on the face of the corporate taco dealers and lived to tell.  We accompany each review with a Haiku, so that we might gain some spiritual insight from our sacrifice.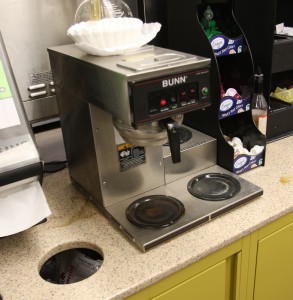 Stripes/Laredo Taco Company
2002 Morgan Ave
Corpus Christi
(361) 881-8780
This was our first stop, and they handled us tidily.  Kicked out without a taco after photographing their neglected coffee station, we didn't escape without having our license plate recorded so that they might radio back to the KGB and put us on a watch list.
Photog offends clerk.
Thanks no arrest resulted.
They took license plate.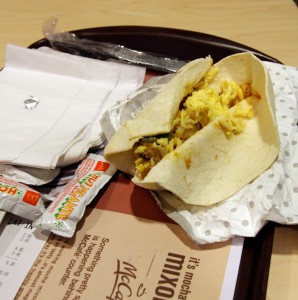 McDonalds
2021 Morgan Ave
Corpus Christi, TX 78405-1541
(361)882-1411
After escaping across Morgan we took refuge in the McDonalds, recently reconstructed in the ruins of – that's right – another McDonalds.  Kevin & I licked our wounds and were lulled into a false sense of security by the clean accommodations, pleasant staff, bountiful condiments and diffused lighting.  We split a McSkillet. Not bad for the food of the oppressor.  It was hefty (like Americans like it) with good fried potatoes, eggs, green & red pepper, and sausage.  The coffee was average.
Service with a smile.
Tacoesque fare not too bad.
Bright, clean, good coffee.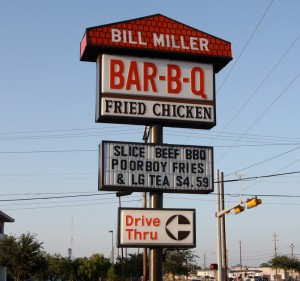 Bill Miller
1240 S Port Ave
Corpus Christi, TX 78405-2308
(361) 884-3777
Almost as good as the real thing.  The aroma of woodsmoke hit us on the way in.  The joint was clean and the staff friendly.  Alone in the giant dining area, we had the carne guisada with cheese.  It was excellent, not quite authentic tasting but still good.   The beef was peppery if tough.  And could it be?  Real tortillas?  Further investigation showed them to be pressed and cooked on the premises.
Q stand serves taco.
Guisada good, salsa fresh
Likely to return.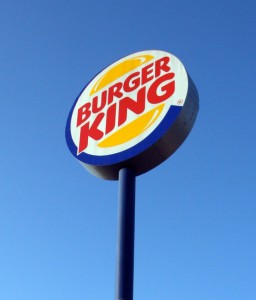 Burger King
3941 Crosstown Expy
Corpus Christi, TX 78416
(361)854-1700
Rarely has the concept of corporate offenses ever been so singularly personified as in Burger King serving a breakfast taco though their legal team helped them avoid calling it that (it's a Cheesy Bacon Wrap).  Cheesy Bacon Crap.  Do not eat this if you're going to be out of range of a bathroom in which you can spend some time.  It left me with one question: how can you screw up bacon?
Cheesy, salty blob
Warning to man for ages
Illness could follow.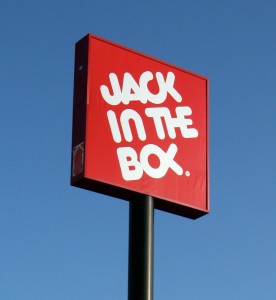 Jack in the Box
3155 S Padre Island Dr
Corpus Christi, TX 78415-1815
(361)225-3746
I don't know if the normally feuding corporations colluded to thwart our anti-corporate campaign, but we were thwarted.  Upon entering the drive through we were told there was only one egg left, and they wouldn't make a taco with it, only a croissant. Curses. No egg for you.
For lack of an egg
Our taco lust was ended
Egg sandwich instead?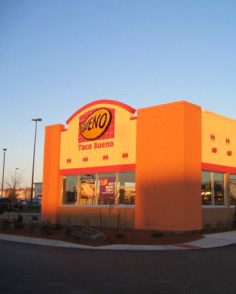 Taco Bueno
5630 Saratoga Blvd
Corpus Christi, TX 78414-4101
(361)993-0622
Again we were defeated by the robber-barons.  Taco Bueno didn't even have breakfast tacos, in spite of assurance from our source that they did.  Are we being infiltrated?
No Taco Bueno,
Closed doors saved us some torture.
Best taco so far.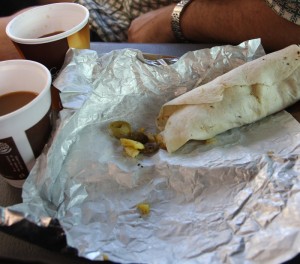 Sonic
6557 South Staples
Corpus Christi, TX
(361)991-9790
Expecting nothing less than pathetic we were impressed at what Sonic did with their paltry components.  The tortillas were bad but not awful, the taco was big and tasty.  The sausage and the jalapeños were good.
Tater tot taco?
Huge wrap, had to gird our loins.
Best coffee of day.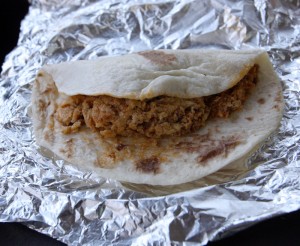 Taco Cabana
5425 S Padre Island Dr # 138
Corpus Christi, TX 78411-5327
(361)994-0246
I'd expected to like this one but it wasn't great.  They did give us 3 different kinds of salsa though, and they did have chorizo – unique in our campaign.
Big Chain, small taco,
Only chorizo on trip.
Several salsas.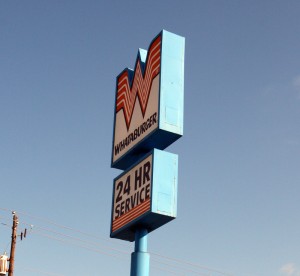 Whataburger
2402 S Padre Island Dr
Corpus Christi, TX 78415-1802
(361)855-0010
We got the Sausage Egg & Cheese Taquito.  We knew it would be bad but we didn't know how bad.  How can that take the same fixin's used in their excellent B.O.B. and make them taste so bad?  At least it's not as awful as Burger King.
Hurray for home town?
Dry, yucky, one of day's worst.
They left bad tacos.
Stripes/Laredo Taco Company
1050 Nueces Bay Blvd
Corpus Christi, TX
(361)884-1581
If we don't give everyone fair treatment, aren't we as bad as they are?  In the spirit of truth and fairness we made another run at the local warlord, and were rewarded.  The barbacoa was quite good, the pico fresh, the salsa hot, the cilantro… well… cilantro-y.  The tortillas are made right there behind the counter, the best of the bunch.  Enough to redeem them from the earlier insult?  Only time will tell.
In line of Nomex.
Hand-made tort and fresh pico.
Barbacoa good.
Transparency is key.  Light is the best disinfectant (thought bleach works pretty well). If we shout the truth loudly enough maybe someone will hear.  That truth is that corporate chain tacos are more expensive and less delicious than the local fare.  As I write this I struggle against the pain to type.  It may be the last thing I write.  If you learn anything from my struggles, it is this:  damn, I forgot.  Oh yeah, don't eat 7 tacos in one morning, especially if they're bad.