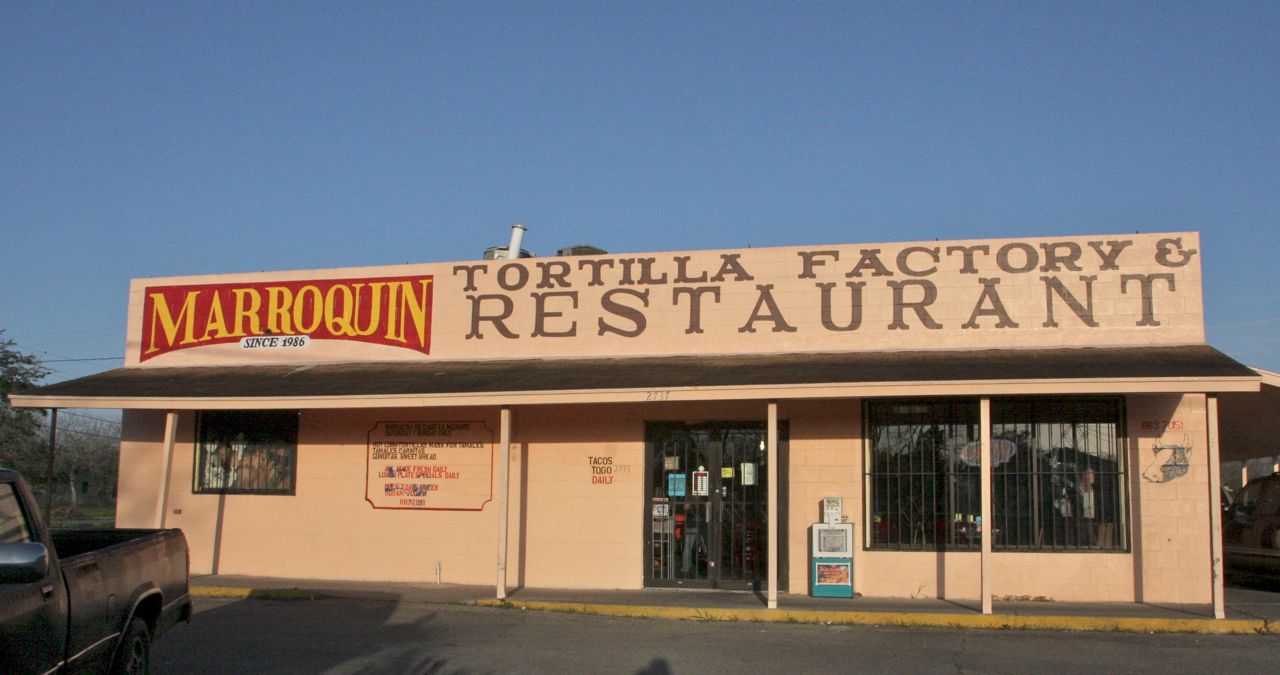 2737 Greenwood Drive, Corpus Christi Texas • 361-883-7051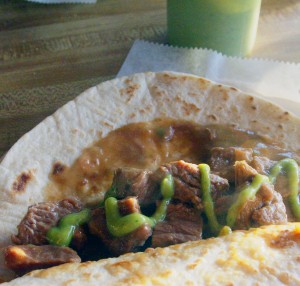 We met up this morning at Marroquin Tortilla Factory & Restaurant on Greenwood Drive not knowing what to expect. Greenwood has a reputation for being somewhat unsavory and a little dangerous. Some of the best places to get tacos are sometimes in the worst places to get tacos, if you know what I mean. In any case it'd been a week since my last taco and I was ready for it. The weather has finally cleared up a bit, and the sun is out. It's cool and drying off, and for a few days (I hope) it'll be about as nice as it ever gets here in Tacotopia.
So I was in a pretty good mood when I pulled into the nearly vacant log this morning. The Hat had already ordered coffee and the waitress came over and spoke to us in Spanish. We both ordered in our pidgin Spanish, and though no one involved spoke the other language well, we all understood each other with no problems. The waitress was very charming, making it much easier to try and speak her language.

Though the interior is neat and has been remodeled in the last few years there are indications that it is still a bit in the hood. I attended a Leadership Corpus Christi event last night that was filled with local socialites and business leaders. Joe Hilliard and I nearly crossed streams in the can at the event, and Casey Lain showed up with his radiant wife Adrianne, and you could spot them from across the hall due to their height, even seated. I'll be checking out the Joe Ely show over at House of Rock this Saturday, and I expect I'll see him there. It could be that they're both tall, or that they're both walking 5 inches off the ground. Cecil Johnson was also circulating and conversating. And while I enjoy these events, I do love to be in a place where a t-shirt is well within the dress code, and where the food is head and shoulders above the level of banquet catering.

The tacos may have taken a whopping 8 minutes to get to the table, but the coffee was good and the tacos were worth the wait. I ordered, as I do every Friday, a carne guisada and a chorizo & egg. The tortillas were good. Not the best I've had, but better than average, and they'd have to be considering this is a tortilla factory that wholesales to other restaurants. The carne guisada was good too, with it's focus being more on the meat than the gravy. This carne g wasn't cooked so much that it falls apart, it was still chewy but not in a bad way; it was chew in the way that reminds you that it's beef. The salsa verde was excellent, among the best I've had, and I had to resist the urge to try and swipe a squeeze-bottle of the stuff.

And then there was the chorizo and egg. In short it was exquisite. This is a food you'd think wouldn't vary much from place to place and mostly it doesn't, but this stuff was out of sight. The egg and the chorizo were grouped into distinct regions such that you could take a bite and taste the chorizo and the egg as separate parts. Plus the parts were both cooked and proportioned perfectly. Add some salt and that salsa and it was satori, illumination, a moment of clarity, the realization of the potential of all human endeavor. I wondered if there was prozac or MDMA mixed in with the eggs that might account for my overwhelming state of euphoria. In fact everyone in the restaurant was smiling and giggling, and the whole scene seemed a bit unreal.

From the Hat

Tacotopia is not all fun and games.  Sure, there's the fame and fortune, and everything that goes with that.  I thank you all.  But there's also a fairly consistent effort in the background.  Today at Marroquin's Tortilla Factory, Ian gave a preliminary report on a taco slinger he'd checked out during the week.  I relayed that Shell and I are going to my other favorite Texas city, Houston, this weekend and plan to catch La Mexicana.  Johnny H., recognized regional taco expert says they have chicharrones that best CC's famed Sonny's.  I'm from Missouri on this so a visit is a must.  (Also a must will be a visit to Udi Pi Café for Indian food.)  Shell rooted out today's spot, Marroquin's in her travels around the city, always a keen eye out for potential tacotourism sites.  And she hit the paydirt with this one.

Marroquin's Taco Factory was clean and bright.  I was optimistic and curious as to whether a "Tortilla Factory" at the taqueria was as good an idea as a brewery at the bar.  (The latter an enterprise that hasn't made it past serial failure here in the Sparkling City.)  The pied tile pattern was reminiscent of a diner but the place was all taqueria.  I ordered a barbacoa on corn and the lengua guisada with cheese and onions on flour.  Shortly I was informed that no tienen the lengua so I ordered a chicharrone guisada instead.  The chicharron taco was very good.  I was surprised to see cheese on it until I realized that they had carried it over from my failed lengua order, and I'm not sure it worked with the chicharron taco.  The texture of the chicharrones was pleasant – some bite, but not chewy at all.  The savory gravy was an interesting reddish brown color and tasted very much of chicharrones.  The flour tort was excellent.  The barbacoa taco needed salt, but once properly dosed, it was very good.  The corn tortillas were made on-site and fresh.  They were in the style of packaged tarps, but so close to the source, I had to give them a try.  It took two to wrap the barbacoa.  IMHO, the star of the show was the green salsa.  It was served in a squeeze bottle and was a green that one rarely sees.  A green so bright that it shouted, "I'm the best salsa you've had in a while so eat me!"  And it was right.  It had good heat, but something else that gave it a really good body and heartiness.  Maybe a bit of aguacate.  I don't really know.  I'm definitely going to have to go back and do a bit more research.  The coffee was café good and Ian only had to bellow once at the Senorita for refill.  There was one other person there, but I've seen the place packed on the weekends.  If you find yourself nearby and need a taco, I recommend it.

Salud
But it was all real (I think). It was really that good. I sat speechless for a while, and when the Hat asked me if I was okay I was speechless. I made small talk to try and pull myself back down to earth, and soon enough we were both stepping back out into the gorgeous morning, ready to do battle with the work week's last fight. I don't want to say that this is the best C&E I've ever had – it could be a fluke. I sure as hell will be coming back to double check it. It may take a lot of investigation.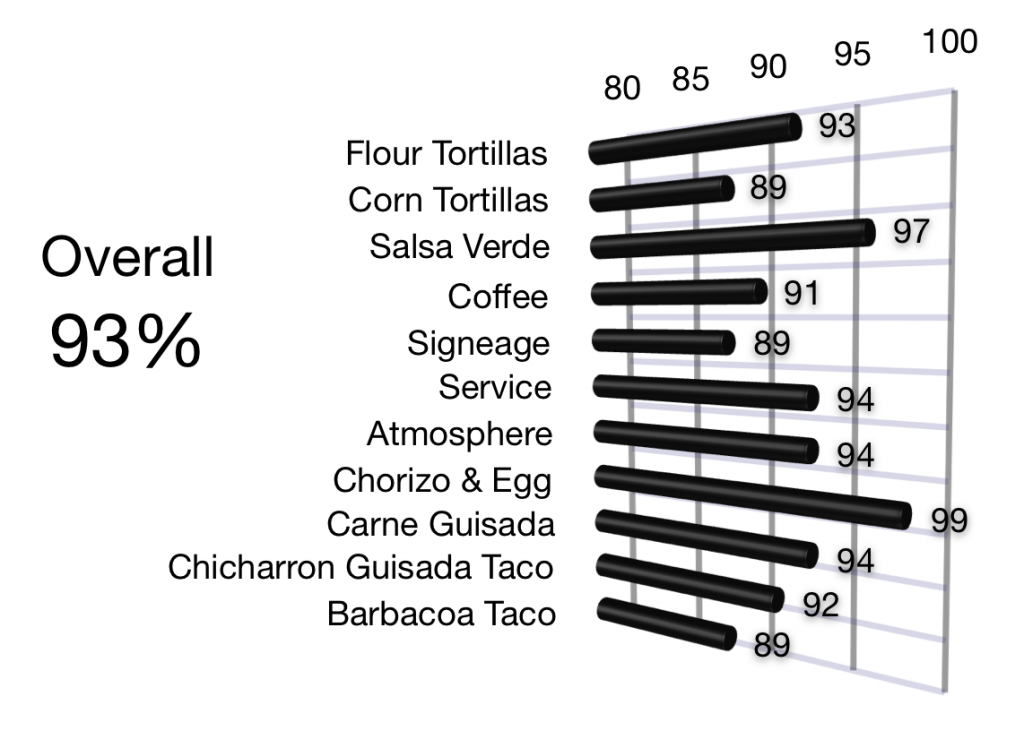 Our free taco winner for this week is:
This Italian-American product of Brooklyn, NY has won and Academy Award and been nominated for two more. This makes her a member of an exclusive club of female actors who win the oscar early in their career, most of whom fail to live up to the subsequent expectations of either/neither their acting or/nor their earning potential (see Mira Sorvino). Tomei, however, has performed in better and better movies, taken on more challenging rolse, has received parts in more lucrative films, and has become more beautiful with the passing of each year.
Offer includes 2 tacos, an audience with the 'tacoteurs,' and a free tacotopia t-shirt. Please redeem this offer at Whetstone Graphics on a Friday morning of your choice. Offer subject to cancellation by order of the wives of the tacoteurs.  Enter to win by emailing your name and an autographed dvd of 'Before the Devil Knows You're Dead' to tacos@tacotopia.net.