Sonny's – Menudo Minute
4066 S Port Ave
Corpus Christi, TX 78415
(361)808-7711
Chorizo & Egg – $1.40
Carne Guisada – $1.95
Large Menudo – $7.00
Small Menudo – $4.50
Menudo is served daily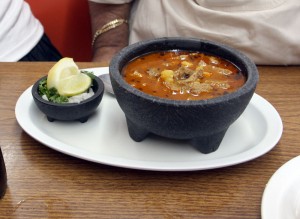 My ancestry is Irish, with a little english, dutch, french-canadian thrown in for good measure.  I am fortunate enough to have been born in Texas, and to have had a lot of interaction with the blended Mexican American culture of Texas.  What I'm trying to say is I'm an outsider, but I'm not an ignorant outsider.  I make these observations with a fair amount of experience – what with having spent more than a little time in Mexico.  Mexico has had a profound effect on my life, both good and in one case tragically. So when you read what I have to say consider this: I am trying to be funny but I am dead serious about what I'm doing.  I think the taco in all its forms is the perfect food.  I have a deep love for tacos and for Corpus Christi where my family goes back on two sides for three generations.
All this said, I'm still a gringo.  I think it helps me to make objective observations but there are things about which I know very little when it comes to Mexican Food.  Take, for example, Menudo.  I know what it is, I know what it tastes like, and I know what it's good for but beyond that I'm still in the dark.  So one fine Sunday morning I called upon an insider – Dee, my father-in-law – to bring his not insignificant experience to bear on the subject of Menudo.
My wife and I met Dee up at Sonny's on his recommendation, and when we settled into the tiny booth (I like to blame the booth).  Haggis, Chitterlings, the Irish Drisheen, Andouille are all dishes that were improvised by cultures who weren't able to get much of the more desirable parts of their livestock.  I related a bit of menudo history I'd read: that during the Mexican Revolution cattle ranchers in Sonora dried all their beef and sent it to the fronts, and what they had left to eat themselves was the tripe from which they made Menudo.  Dee told me 'I don't know about that' but went on to talk quite a bit about his experience with this Mexican delicacy, and how to eat it, and what makes good and bad Menudo. He talked to us about the social import of Menudo – that folks would sit around for many hours telling stories while tending cauldrons of the stuff, and that the reason it's good for hangovers is that it 'gets the blood up.'  I don't know for a fact that it's good for a hangover, but I do
know that it's good, at least at Sonny's.  I got the small bowl and it was still pretty big, though it looks tiny next to the 500 ml bottle of Mexican Coke.  Dee would frequently dip a rolled-up homemade corn tortilla into the soup and eat it.  I ordered a Chicharron and Egg to go with it and it was really good – fried but not fried out.  The service was good and they called Dee by name.  It was almost as if we were eating at a friend's house.
After it was all over we went our separate ways and I'll remember the experience for the stories and conversation, and of course the Menudo. It was so good that I had to go back with 'the Hat' and refresh my memory before I was willing to post this missive.  I could go for a little refresher right now!