El Mexicano
5650 Leopard Street, Corpus Christi, Texas
361-289-2781 (temporarily disconnected)
If you're anything like me, you have plenty to do. Everyday. Day in, day out. My truck has been languishing in disrepair, undriveable for two weeks now, because I've been too busy managing one calamity after another, both at work and at home. None of it is unmanageable, and everything that has to get done will get done – but it's tough. I've been coordinating multiple plumbing companies to work on a situation at my house, and fixing my truck has moved up on my priority list so that I can use it to carry the jackhammer I'm going to rent to break up my slab if that gives you any idea of the kind of fun I'm having.
So it's no surprise that I look forward to these little Friday morning taco runs. Hopping on the bike, and flying South on the causeway with the sun coming up over my left shoulder helps me to rise above all of the tedium that I'm neck deep in lately. And then there's the taco at the end of the ride. Today that taco is inside El Mexicano, and was recommended by Sonny – my wife's primo. I hadn't eaten here before, and I rarely find myself on this side of Leopard. I had noticed the top notch hand painted signage before, however, and when I pulled up I felt like I'd been there a hundred times.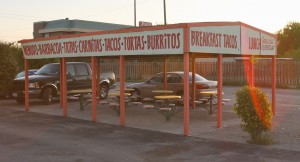 The hat was already there, and he's got problems of his own. He'll be coordinating multiple contractors this week too: electrical and carpentry. As Fritz Kunkel said, 'to be mature means to face, and not evade, every fresh crisis that comes.' and the crisis ahead of me was the choice of which taco to try first; chorizo & egg or carne guisada. This is the kind of crisis I can sink my teeth into.
The carne guisada looked like a typical 'UT' burnt orange stew, heavy on the cumino but there was something else to it. I was very tender, and good quality beef. The chunks were big, and the sauce, though sultry, was upbeat and sharp. With some of the pureed salsa verde it was a serious taco.  On to the chorizo & egg; a visual inspection revealed an optimal level of segregation of the c and the e (you've got to keep em separated). One bite and my suspicion was confirmed, this one was tip top. The two flavors wait to mingle until they're in your mouth, along with the salsa and tortilla. The tortillas themselves were also impressive, fresh but thin and uniform.  You could see some corners of flour coating but for the most part you'd have a hard time distinguishing them from shelf tortillas unless you felt or tasted them, and then there would be no mistake. And there was something else about this taco – a hint of sweetness and spice – like cinnamon, so slight as to nearly be undistinguishable. I don't know if it was in the chorizo, or if it was added in-situ, but I liked it.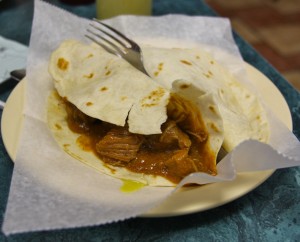 So, on leaving, I felt ready to deal with the challenges laid out before me as I rode down Leopard, toward downtown, directly into the sun, dodging hookers and bums as they shuffle out into oncoming traffic. I love this town.
From the Hat
This morning, the Taco Show Host and I were to meet at Taqueria Mexicana for our usual Friday repast.  I was a little frazzled because I couldn't find my iPhone.  Since the message from the Impossible Missions Headquarters was on my phone, I drove down Leopard hoping my memory of the location was correct.  So preoccupied with my missing appendage I was that I failed to even notice if the working girls were at it on the infamous street.  My memory was correct and I did find the place and settled in to wait for TSH.  While I waited I had a couple of fair cups of coffee and didn't play scrabble, or check my email, or get a quick Facebook fix.
The place was clean and smelled of breakfast.  I figured the place was going to be good because it looked as though the most effective measurement of customers was by the ton.  (The Hat included.)  I heard the red Honda before I saw it and we had ordered before Ian even sat down.  I had two tacos, a nopalitos con huevos (not a la Mexicana this time) on flour and a lengua con cilantro y cebollas on corn.  When they arrived, right away I knew I should've ordered the carne G.  I found myself eyeballing my friend's plate and hoping that he would have to leave for any reason and I could abscond with a bit of his taco. He was on to me so my order would have to do.  The lengua was tender, but grey and tasteless.  The cilantro, however, tasted as if they had picked it fresh moments before so between it, the onions, some salt and pepper, and a hot and spicy green salsa, it was okay.  I did enjoy the corn tortilla.  Warm, corny, with a bit of tooth to it, it was good.  The nopalitos and egg taco was pretty good.  It was stuffed with eggs and cactus.  I've kind of been on a quest for understanding of this particular menu item.  I'm usually not really sure if I'm eating pickled cactus, or freshly prepared nopales, but this morning for sure they were pickled.  This is not necessarily a bad thing as I could still get a strong note of cactus in the dish.  This taco is becoming one of my favorites and in the world of tacos, it's seems to be a fairly healthy offering.  This was a good example, not great, just good.  Still, San Luis rules on the nopales taco.  There's been some talk of running through some of the favorite taquerias to recalibrate our metrics.  I'm all for it.  (Like I need a reason to go to San Luis.)
Some of you will notice (cheering from some, boos from others) a distinct lack of levity in today's taco text.  Recently a skydiver was killed on a dive in Port Aransas.  Shelly and I and a couple of friends had just jumped with him the week before and had the time of our lives.  Shell is still flyin' high.  He was a talented videographer that enjoyed his work filming terrified jumpers – putting together a record of the event that the overwhelmed brain just can't manage.  The divers are a close-knit group that will be saddened at the loss for a long time.  To them, our prayers.
Salud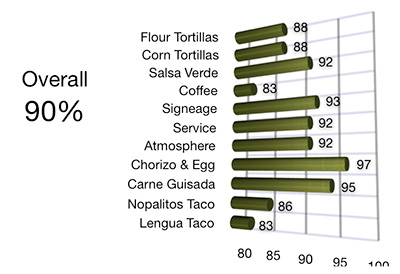 Our free taco winner for this week is:
Ms. King attracted the interest of the Tacotopia Altruistic Taco Award Selectors with her compelling portrayal of detective Lydia Adams on SouthLAnd, one of the many television properties to suffer from the Leno Coco Debacle. Fortunately the show, one of the best shows on tv today, landed at TNT and has recently begun its second season. Regina, as I like to call her, has been on screen since the was practically a tween, appearing in such seminal works as Boyz n the Hood, Friday and Ray as well as 24, Jerry Maguire, and New York Undercover. With hypnotic looks and a physique carved from stone, King is hard not to notice and she has been surrounded by talent for most of her life, attending high school with Nia Long, studying acting with Todd Bridges' Mother Betty A. Bridges, marrying (and later divorcing) the VP of Qwest records, and attending weddings of friends Vivica Fox and Sandra Bullock. (Who would have thought that someone known for being such a classy guy as Jesse James would be engaging in such douchebaggery?) Regina King is truly a queen.
Offer includes 2 tacos, an audience with the 'tacoteurs,' and a free tacotopia t-shirt. Please redeem this offer at Whetstone Graphics on a Friday morning of your choice. Offer subject to cancellation by order of the wives of the tacoteurs.  Enter to win by emailing your name in sharpie on a bootleg dvd of the rough cut of the upcoming big chill remake in which Regina King will appear  to tacos@tacotopia.net.