Daniela's #1 – Bald Ag Taco Frag Finale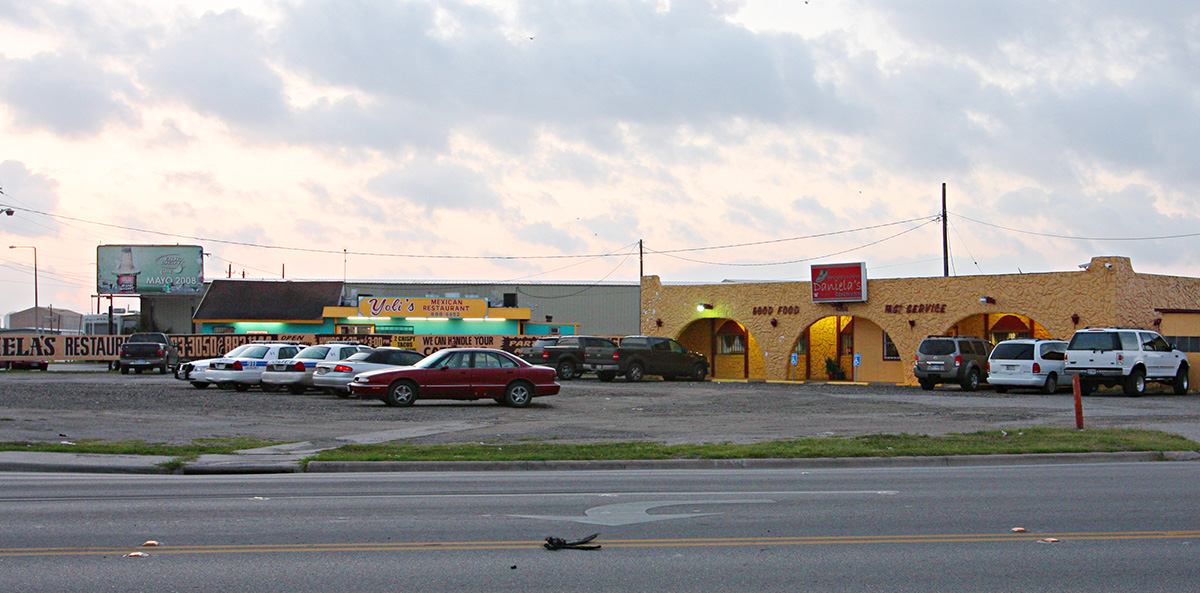 4258 Baldwin Blvd., Corpus Christi, TX 78405 • 361-883-3050
Chorizo & Egg $1.50 • Carne Guisada $1.85 • Bottomless Coffee 95¢
Over the past four weeks we've broken fast at every taco establishment between Old Robbstown and Baldwin on Agnes. In that time we saw a plane crash that killed a significant portion of the government of Poland, and a volcano that ground the European air travel industry to a halt.
This little blog is insignificant in the face for that continuing turmoil and strife so many see day to day. In the words of the late, immortal F. Zappa, "there's no way to delay that trouble comin' everyday." Locally, Corpus Christi (aka Tacotopia) was named by Men's Health magazine the fattest city in the US. While I question the statistical veracity of their half-baked math. Men's Health is typically populated with articles detailing how this or that haircut on a chick means she's wild in the sack so to take this 'study' as anything approaching accurate would be about as smart as taking any of tacotopia's statistics seriously.
That said, there is no denying there is a problem with obesity in Tacotopia. I have a novel solution: eat less and exercise more. Tacos are not the problem, any more than are forks. Processed food might bear some of the blame, as well as sugar – especially in the form of HFCS. You find very little of this in breakfast tacos. Most of the ingredients are not far removed from their source. I'm not saying breakfast tacos are, in a word, healthy but I'd argue they beat the hell out of a McGriddle. Combined with exercise and moderation tacos can be a part of a healthy lifestyle. And ask yourself this: is a world without an occasional taco a world in which you would care to live? I say no.
The final stop on the Bald Ag tour is Daniela's #1.  Located caddy-corner at Badlwin and Agnes this sprawling restaurant has some serious serving capacity.  When I showed up there were the police cruisers in the lot, always a good sign. The walls were peppered with photos of Zapata and Villa. The food came out and we got down to business.
The salsa roja was good, not too spicy but not too bland and with a nice flavor. The flour tortillas were fresh and hot, very light and were little match for the filling, falling apart before the tacos were finished. The chorizo & egg was fair, but rendered good with the salsa and the tortillas. The real star was the carne guisada which had a great texture, a nice rich flavor and even big chunks of bell pepper stewed in.
This place was pretty darned good. It is certainly worth a trip if you haven't been there. I'd say it could go head to head with many of the most popular local favorites. The graph directly below reflects Daniela's numbers.
From the Hat
Is it just me or does it seem to anyone else that the more time you have to do something, the longer it takes?  We tacoed early, so I've had plenty of time to produce some profound prose about pico… or picadillo.  But NOO!  I've even considered taking a right turn towards Damascus for inspiration, but I know that lightning waits down that road.  So I'll do what any good Tacoteur in my position would do, I'll get to the tacos.
Some of you know that TSH and I have been touring the Baldwin-Agnes Taco Nexus – sampling the wares, putting our 2-cents in.  And it's been delicious.  We hit Daniella's this time and did we hit paydirt!  I have to admit; I was hoping to get that mollejas taco for the perfect four-of-a-kind and was a bit disappointed when I discovered it wasn't gonna happen.  After several rounds with the waitress, I began to feel I was getting a bit too "When Sally Met Harry" so I opted for a huevos con chicharrones a la Mexicana on flour and a barbacoa on corn con cebollas y cilantro. When the booty showed up, I was pleasantly surprised at the chicha taco.  It was BIG and stuffed with the goods.  I managed to hold up my lack-of-mollejas-disappointment until the first bite.  After that, I was hooked.  The taco was great. Plenty of fresh sliced jalapenos – perfectly spiced so that it didn't need any salsa at all.  It was difficult not to scarf the thing down.  The chicharrones seemed to be of the dried variety, but they were prepared perfectly – with just the right mixture of chichas and eggs and vegetables.  It was all wrapped up in a damn fine flour tort to boot.  Outstanding.
The barbacoa taco was Tacotopia average.  Served piping hot, the aroma of barbacoa burst out of the foil and made friendly eyes at my nose from the get-go.  It was juicy, but not too fatty.  It needed salt, but the onion and cilantro were snappy-fresh and with a bit of a good, smoky salsa roja, it too was a sound offering.  The corn tort was thin, and perfectly round.  It was fresh and flavorful of corn.  I wouldn't mind checking out their tortilla-making process.  I bet you could determine the value of pi to 10 digits by watching them work.
It was the first time I'd been to Daniella's, and had no idea what to expect.  The food was good, the coffee was good and but for a slight mix-up with the taco delivery, the service was excellent and with a smile.  I'm still thinking that I could have taken a bite of Ian's misdelivered C & E, and traded him for one of mine.  But I'm glad I didn't because I probably would have given away that delightful chicharrone taco.  That would have sucked.
Salud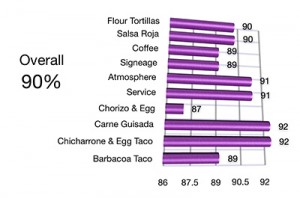 And without further ado, whatever the hell ado means, I will list the rankings of the Bald-Ag Taco Frag.
In 4th place, with a grade of 87.70 is Yoli's
In 3rd place, with a grade of 90.00 is Daniela's
In 2nd place, with a grade of 90.45 is Chacho's
and the winner of the coveted Bald-Ag Taco Title is
El Charro with a grade of 90.78.
.
.
Our free taco winner for this week is: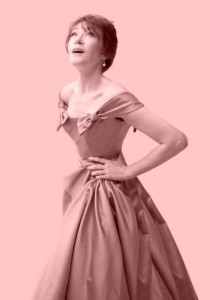 One might find it easier to answer the question what hasn't Ann Magnuson done, than to list the things she has. She's a singer, actor, performer, artist, cultural signpost, raconteur and all around freak. She ran Club 57 in the East Village, a nexus of the NY art scene that influenced the trajectories of such giants as Keith Haring, Kenny Scharf, Fab Five Freddy, Jean-Michel Basquiat, before moving on to acting (Making Mr. Right, A Night in the Life of Jimmy Reardon, The Hunger) and Music with Bongwater and later as a solo act.
Offer includes 2 tacos, an audience with the 'tacoteurs,' and a free tacotopia t-shirt. Please redeem this offer at Whetstone Graphics on a Friday morning of your choice. Offer subject to cancellation by order of the wives of the tacoteurs.  Enter to win by emailing your name on the back of an autographed copy of Cabin Boy to tacos@tacotopia.net.