Taqueria Chapala – A New Hope

1237 Nile Drive, Corpus Christi, Texas, 78412 361-994-8719
I missed the boat last week with Tacotopia. I ate tacos, I took pictures, but then I got to work and the work has not relented from then to now. In fact I'm scrambling to get this out the door so I can break away and get my nose back up against the whetstone.
But as the smoke clears and the dust settles from a week of harried and hurried pushes to finish projects just before (or in a few cases just after) their dealine, there appears to be a light at the end of the sweatshop. I picked up a new embroidery machine after a big order that looked like it would fall apart magically put itself back together, and I hired a new employee to operate it. We had a good turnout at the CC7D casting call where I made and sold the shirts (get yours here), and a good turnout at the Downtown Art Walk last night.
So I was looking forward to a real breakfast this morning when I headed South to Nile, to eat at the recommended La Chapala, past a pastoral sunrise down Ocean Drive and through the smell of Summer. I hadn't eaten here before, and upon arriving I discovered there was no interior dining area, it was walkup only, with a teeter totter picnic table that might have been built for Andre the Giant. It could harldy have been a better morning to sit outside, and the insects may have added some much needed complexity to the flavor of the Carne Guisada.
While the ambience was charming, the food … not so much. The tortillas were like something you'd find on a taco from Des Moines – stiff and tasteless. It tainted the rest of the tacos which didn't need much help to be less than ideal. The chorizo & egg was bland and unremarkable. The carne guisada was not bad, but tasted very much like it was right out of a food service bag'n'boil. The salsa was a bit of a bright spot, but not enough to recover this meal, and the whole thing was topped off with 'construction coffee' – which if you've had coffee from a coffeemaker in a job shack, you'll know what I'm talking about.
As a taco enthusiast I hate to disparage establishments that are furthering the cause of tacotude, but this place may be doing a disservice to the world's acceptance of tacos. After tabulating the scores Chapala has the worst scores to date of any place at which we've eaten. Do yourself a favor if you're trying to scope out an untried taco place and look through reviews of any of the other spots in town and you'll be glad you did. If you're trying to curb your addiction to tacos in response to Corpus Christi's ownership of the title of fattest city in the US this place might help.
It's good to be back in Tacotopia.  Taco Blanca and I just returned from a well-needed vacation in Chicago.  (Expect a special Midwest supplemental edition in the future.)  Nothing makes you think about where you live like experiencing some time in another place.  While we disappeared for a while, Memorial Coliseum disappeared forever.  Sure, there are still remnants, standing like the skeleton of some giant, dead beast, but for all intents and purposes, it's a goner.  The temperature seems to have become angry while we were gone, venting it's frustration on the city, covering it, smothering it like a wet solar blanket.  This summer will be a killer.  The band I was rooting for in the Executive Surf Club's Battle of the Bands, Sarus, didn't win, but I hear Scarlet rocked and was well-deserving of the title.  However, the futbol team I'm secretly following seems to be performing admirably despite being robbed of a couple of goals and a victory.  Go Team U.S.!
I missed the CC7D…again.
And so just like that, it's back to the grind.  Like many in the Sparkling City, I'll be scurrying from A/C to A/C, avoiding the oppressive heat outside like the Pillsbury Doughboy avoids a pizza oven. I want to say I'm glad to be home.  But I'd be lying.  My vacation skills border on professional and I think I'm wasting my talents for the leisure arts.  Spending days strolling through museums, festivals; looking for new places to find a fresh craft beer, and yes, participating in the quest for new and exciting food – are all things I should be doing for a living.  I just haven't figured out how.  So I'll get by, a fact of life made considerably easier by the rich taco environment we are fortunate to live in.  But even that has its ups, and downs, and in-the-middles.  Which is where we found ourselves today.
TSH and I met up at Taqueria Chapala on Nile.  The place is close to the University, so quite often when people bring tacos in, they're from Chapala.  I've never really been impressed and today was no different.  I had two tacos, both on flour – a carne asada, and a pastor.  The torts only need one write-up and I think I'll let TSH handle the dirty deed.   The stuffing in the asada was good.  The meat was well-prepared, tender, and with a good carne taste.  There was a very bright and flavorful sauce on the meat that handled the taco without the need to add salsa.  The cilantro and onions were fresh.  By far the better of the two tacos.  The pastor taco was not my favorite.  The lettuce and tomatoes were fresh, but the meat was bland and flavorless.  It was made better by an addition of salsa, but even the smoky, red picante couldn't bring the taco to life.  The salsa was tasty, rich with chili powder and garlic.  We ate al fresco, fending off the flying fauna, and washing it all down with a cup of coffee.  I've had better coffee during an army field exercise and didn't finish the cup.  I guess Chapala would do in a pinch,  but I'd suggest seeking out another taqueria if possible.
Salud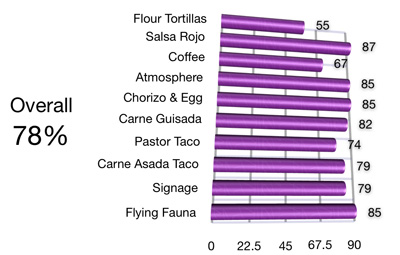 Our Taco Award Winner for this week is:
A stunning beauty who stands above the crowd (at an even six feet) with an intellect to match, Ms. Davis is unlike anyone in showbusiness. Having started as a Victoria's Secret model before moving into acting, writing, and producing, in addition to activities unrelated to the world of celebrity including being a member of Mensa, founding the Geena Davis Institute on Gender in Media, and just missing the mark for the US Olympic archery team in the 200o Olympics after only having taken up the sport two years prior. You may remember her from Fletch, Beetle Juice, the Oscar winning role in Accidental Tourist, the Fly, or the Oscar nominated role in A League of Their Own, not to mention the Long Kiss Goodnight where she kicked some serious ass. At 54, Geena has not been as prominent on the big and little screen after the cancellation of her short-lived but critically acclaimed series Commander in Chief, but we would welcome her intellectual and diplomatic talents to help analyze the problems of gender stereotyping in taco consumption, right here in Tacotopia.
Offer includes 2 tacos, an audience with the 'tacoteurs,' and a free tacotopia t-shirt. Please redeem this offer at Whetstone Graphics on a Friday morning of your choice. Offer subject to cancellation by order of the wives of the tacoteurs.  Enter to win by emailing your name on the back of a VHS tape of Earth Girls are Easy to tacos@tacotopia.net.