Taqueria Garibaldi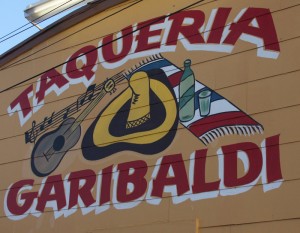 200 N Staples St, Corpus Christi, Tx 78401
361-884-5456
Tacotopia this Friday takes us to the holiest of taquerias, Garibaldi. I have never been to a better taqueria, and I expect I never will. The prices are higher compared to other places in town but you'll still get out paying less than you would for any non-taco serving restaurant. If you were going to be stranded on a desert island with one taqueria, this would be the one to pick.
Our crack team of taco experts assembled at 6:30 to do some serious analysis this morning. Kevin 'the Hat' N. specializes in tacos unusual to the caucasian mouth. Here is his report, in green to match the cilantro: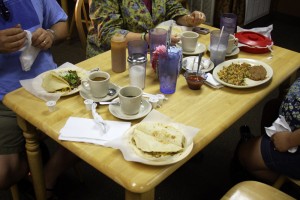 Shelly N. Ordered Egg a la Mexicana and a Egg, Cheese & Bean, both on Corn. The a la Mexicana had good sized pieces of Serrano that balanced perfectly the flavor with the burn. There could have been more bean on the second taco but all in all 'very, very good.'
Monica 'the Audit Master' O. is the lone native tongue and is like to invent her own dishes. This week was no exception; she ordered Migas with Chorizo and found them to be excellent.
I stayed with my default, Chorizo & Egg, Carne Guisada, and Coffee. All of this is good if you get it in the drive through, but there is a difference if you eat it at the table. The service is excellent, with you coffee always full and your food delivered by beautiful and dignified (and apparently entirely female) wait staff. Both of these tacos were about as perfect as tacos can be. The C&E starts out a bit dry but by the end your fingers are red and slippery. The Carne G contains an absurd amount of flavor and it's hard to believe it can be contained within its flour skin.
The tortillas are heavenly. You can barely see the difference between the flour and the corn. They're big, fresh, supple and hot. And the Coffee was top notch. The salsa is one of the few things one can find wrong. It's more a food moisturizer than a flavor itself, and is not hot nor flavorful. Garibaldi's is, quite simply, the best.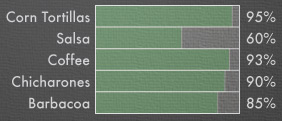 Garibaldi's was suggested by Ian as an acceptable high-bar for judging tacos in Corpus Christi.  As occasional taco talking head, I've decided to be less scientific in my method than Ian.  Instead of the same taco, I'm likely to have something different every time.  Maybe not as comparible as Ian's methods, but this departure will allow me to partake freely from the more ambitious taco ingredients.  While not bizarre by any strech of the imagination, my chicharrones a la Mexicana taco and a hefty barbacoa kept my wife from sampling my food.  The barbacoa was good, though it needed salt.  Garnished with fresh cilantro and diced onions, it was a great-looking taco.  Having eaten barbacoa on many occasions, I felt it could have been a bit fattier.  (Don't tell my doctor).  It was missing the richness and essence of cow that I've come to love in the dish.  The chicharrones a la Mexicana was very good.  The chicharrones were tender, but with a slight bite to them.  All-in-all, very well done.  The pico in the Mexicana was fresh and flavorful.  This was the better of the two morning tacos.  I had both on corn torillas.  A GREAT choice.  They were awesome.  The coffee was exceptional.  Together with friends, I'd say the whole affair was an "A" event.