El Rodeo de Jalisco
126 North Staples Street Corpus Christi, TX 78401-3012 (361) 882-2199 Monday – Saturday 6:00AM – 8:00PM Sunday 7:00AM – 2:00PM Chorizo & Egg: $1.35, Carne Guisada: $1.60, Bottomless Coffee: $1.00
Back to work, nose to the grindstone… This will be the year I realize my life's ambitions, write the great American novel, lose weight, get fit, learn Spanish, publish a comic book, make my internet t-shirt store profitable, host a ifoce breakfast taco eating contest, run a marathon.  Any one of these things would be nice, any two too much to ask for.  Really, last year wasn't so bad but with the cold wind blowing cleanly through my shirt and my nipples harder than the male end of a pearl snap it occurs to me the year may hold some surprises for all of us.
Hat and I had agreed to meet at Brandy's this morning at a later-than-usual 7:00AM. Brandy's is about a block (the long way) from my shop so I parked at my normal spot and walked over.  The wind downtown has little to block it from the ocean and so it was whipping, and then I discovered my coat's zipper wouldn't zip – perhaps atrophied from neglect.  As I walked up to the rendezvous point I see no lights, and then no hours posted.  I was a little early so I waited in the freezing wind, huddled in the doorway of the derelict Center Theater with it's graffiti and dead bird carcasses peering out through the locked glass doors hoping Kevin was eager enough for tacos to be early, if not on time, if not too late.  Sure enough, I see his truck pull up and I hop into the relief of still air and that distinctive Dodge aroma.
We headed up the bluff to El Rodeo de Jalisco which I was pretty sure was open.  A few years ago I was at a family thanksgiving meal and went looking for something open and found this place serving up tacos and coffee to bicycle police, always a good sign. The place is a little dingy, a little funky; none of the walls are quite plumb, none of the corners are quite square.  The ceiling tiles at the front of the last row are about a foot and a half wider than at the back.  None of these things necessarily reflect the quality (or at least the taste) of the fare.  In fact I'd argue a little funk adds flavor to the food.  Some of the best tacos I've had have been produced in grimy holes in the wall, and this place falls well short of the grimy threshold and is merely off-white.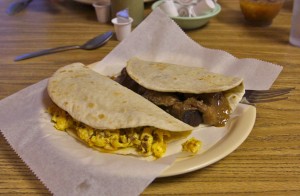 As always I ordered a Carne Guisada, a Chorizo & Egg, and a cup of coffee.  The coffee came in a small cup but I never saw the bottom of it, and our waitress may not have been as conversant in English as in Spanish but she nonetheless conveyed warmth and humor  as she worked expeditiously.  The salsa verde was a jalepeño puree that hit like a brick wrapped in sandpaper – I put as much of it as I could bear on my tacos. The tortillas were excellent: smallish but hefty and fresh as the prince of Bel Aire.  The Carne G was very savory. I've been holding that adjective out of circulation for a special Carne Guisada taco, and this is it.  The beef chunks were huge, and so tender they practically melted in your mouth.  The Chorizo & Egg was top notch as well, and let me explain my philosophy of C&E.
It's like the Marx brothers.  The tortilla is Harpo, and never says anything but he's just as funny as the other two and the music he makes is what sets everything apart – elevating the trio to a state of art rather than base humor like the 3 stooges (don't get me wrong, I love the stooges – especially Iggy).  Then you've got Chico, who's like chorizo: always chasing skirt, with a thick accent and a sharp wit he is the one that provides the spice and the kick – and plays a mean piano himself.  Finally there's Groucho, the egg.  He's got the attenuated lilt, and with his wise if misguided direction and beguiling patter he could convince you to eat a shoe-leather and egg taco, and think it was delicious.
We sat around for another thirty minutes after we finished our food, drinking cup after cup of coffee and hashing out the future, but all good things come to an end. As Groucho said, "I'll do anything you say, I'll even stay. But I must be going."
From the Hat
Happy New Year to everyone.  I'd like first to thank Ian for keeping his taco blog up and running during the Holiday break.  While I fattened myself on the season's bounty, he continued providing mobile mealtime missives for all of the Tacotopia readers.  Good job Taco Show Host.
Driving downtown early this morning felt strangely like a million years ago when I worked there setting type for a Quik Print shop on the bluff.  This week, though it was jury duty that had me by the bay.  I want to complain about the whole thing.  How it was uncomfortable, and boring, and we were treated like cattle.
But I can't
I'd never made it to voir dire much less to a panel before.  And my only experience thus far had been with county or state district court.  And those experiences were, well, uncomfortable, and boring, and we were treated like cattle.   The Feds treated us courteously, with respect.  The courtroom was a meat-locker and I was happy I had my coat, but other than that we were fully coffee-and-doughnutted through the whole process.
It was not a long trial as they go.  I so wanted to hear someone burst out with, "Objection, your Honor!"  But the tone was muted and somber.  After 20 minutes of discussion in the jury room, I was "voted" presiding juror.  I don't know why, but I hope it wasn't just because I had the biggest moustache.  It took us most of two days to come to a unanimous decision.  (I hope that this also wasn't just because I had the biggest moustache).  During that time we were all amazed, frustrated, irritated, and flabbergasted.  Adult stood helplessly by as Parent chided and chased Child around the room leaving me to wonder in the end if I was still OK.  But I was and once we decided, we were out of there in minutes.  I'm happy to have been a part of the process, but I'm even happier this morning to be judging only breakfast tacos.
And El Rodeo de Jalisco was guilty of being good.  I ordered a nopalitos con huevos a la Mexicana on flour and a barbacoa con cebolla y cilantro on corn.  The barbacoa was typical, good but not out of the ordinary.  It was served with the freshest white onion and cilantro.  The corn tortilla was good but a bit more firm than optimal.  The star was the nopalitos taco.  The pear was soft and slightly acidic as if pickled.  But the slices were delicious in the taquito – not overshadowed at all by the generous mix of eggs, fresh onion, tomatoes, and peppers.  The whole business was wrapped in an excellent flour tort.  Of the two salsas, the almost excessively hot green was A+ material, the ranchero sauce, not so much.  I probably drank more coffee than I needed while we talked and bore witness to the cold outside via our .22 window vent.  Still, me gusto mucho!
Salud