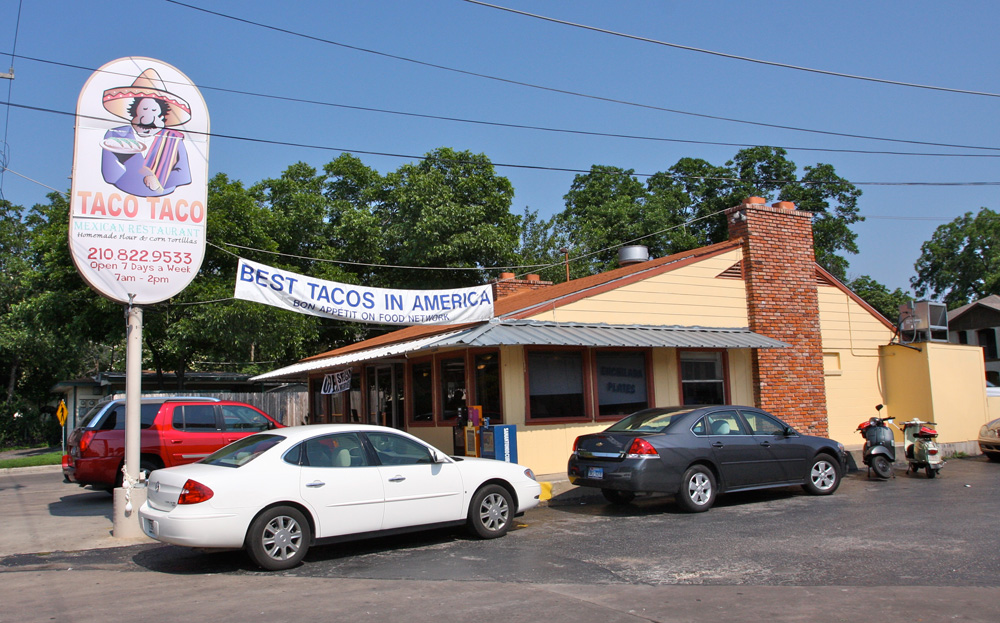 1
45 East Hildebrand Avenue, San Antonio, TX 78212 • (210) 822-9533 Monday-Sunday, 7:00 am – 2:00 pm carne guisada $1.99, chorizo & egg – $1.49, bottomless coffee – $1.49
I live in Corpus Christi, Texas, a town also known has Tacotopia. It is the optimal environment for tacos – close to Mexico, big enough to have real competition between the taco masters and small enough not to assume the pretenses you find in larger cities where they try to corrupt the identity of the taco by introducing elements from other cultures. I'm no xenophobe but I do feel that the breakfast taco has reached its apex, and a standard has been established that can never be bested. If you add Sriracha sauce and fried feta to your Carne G, you'll have something delicious but it's not a breakfast taco.
So a few months back when some ignorant journalist went off all half-cocked and said "When it comes to breakfast tacos Austin trumps all other American cities" I worked hard not to totally flip the fuck out. With quiet reflection, and a stiff drink or five, I assessed the situation objectively and reached the conclusion that this yahoo just didn't know any better, and that the only real contender Corpus Christi has is San Antonio. I know in my heart that we have the best breakfast tacos in the world, but many would argue that title belongs to a little spot on Hildebrand in San Antonio called Taco Taco, a place that was named best tacos in America by Bon Appétit Magazine. Having not eaten there I couldn't be sure they weren't right, and it kept me up at night.
This weekend I came up to the home of the Alamo to find out. Just like most celebrities it was smaller than it looked in pictures, but there was a full parking lot and a line out the door. The 'no photography' sticker on the door had me worried this was going to be a text only review, when a lady came up and asked me if I worked for a magazine.
"No," I said. "I'm a… blogger," I continued, shamefacedly. After she checked my credentials she said "you're a nice man, you can take pictures" and I felt like I'd just gone backstage. The booth was nice, the light was good, the wall of awards stared down at me. The woman who guarded the door turned out to be Helen Velesiotis, the owner, and she revealed that there was no animal fat used to prepare any of the food.
"Even the beans?"
"Even the beans."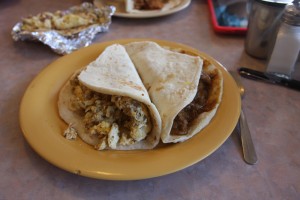 Strike one. While I respect the decision, and the strength of will it would take to make such a decision It can't help but adversely affect the final product, and it did. The beans were good but suffered from lack of pork fat. They were probably as good as they could get without it but was a significant lard deficiency, a terminal condition for beans. The tortillas were excellent, both the flour and the corn. The flour were fresh and fluffy, but dense – and no dry flour on the surface. The corn were thick and heavy, but fresh – almost like a baked polenta. I got the chorizo & egg, and a carne guisada. The chorizo and egg was heavy on the egg and light on the chorizo – to the point where I could barely taste the latter. The carne g was very tasty, with firm rich big chunks of beef and a sauce that had been made better with a long slow cook. The salsa itself was really good, with a strong dried chili flavor but with fresh tomato, cilantro and onion, blended to a sauce that showed nothing but the seeds and the red.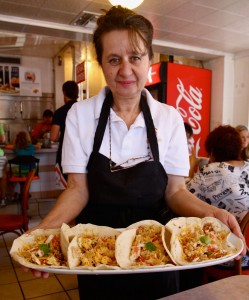 Once I got most of the way through the two tacos, Helen emerged with more food, and then later with more again. First it was a tray of chilequiles, and they were the best thing I had to eat there – a perfect blend of crisp corn tortillas, egg, cheese, fresh jalapeños, tomatoes, onions and cilantro on the same excellent flour tortillas. Then was the Norteño, beans and white cheese on a charlie brown with beef fajita y avocado.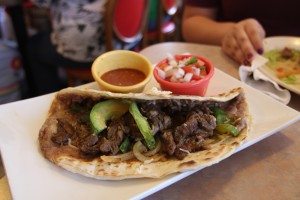 We left the place totally stuffed, and feeling like we had been treated like royalty by the kind greek lady with the excellent Texican restaurant. That makes it hard for me to say this: these aren't the best tacos in America, there are a few taco shops in Corpus Christi that do a better job than Taco Taco, but Corpus Christi is on such a high level, and the two hours difference from CC to SA makes it harder to make tacos as good, simply by proximity to the Rio Grande. You'd be crazy not to eat here if you like tacos and you're in San Antonio. And Helen, if you're ever in Corpus Christi let us buy you breakfast.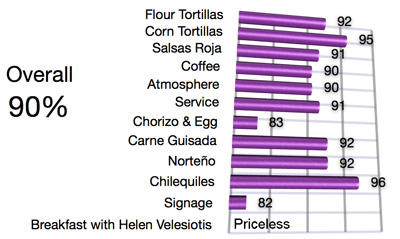 The taco award will return next week.