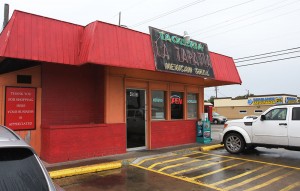 At Home on Taco Row – Tapatia #1
4503 Kostoryz Rd.
Corpus Christi, TX 78415 (361) 225-3551
So as mentioned last time, the Boss and I went and partook in a ritual we haven't done in a while.  I must say, it was good to be back.  It's true.  We are both currently reinventing ourselves in the "healthy" sort of way.  I don't know how The Taco Show Host does it, but I had to drop my daily taco fix to stay under my now year-old draconian calorie limits.  But when the Doc speaks, people listen.  So I do the hamster thing at the gym as regularly as I can and stay motivated by participating in physical events like Tough Mudder, Beach to Bay, and the Harbor Half Marathon Relay.  Humble brags aside, this is not a fitness blog, but a taco blog, and  it was nice to bust a move on a couple of Gabriel's best.
I also must say it was kind of The Taco Show host not to mention that I didn't even ask if Gabriel's had homemade corn tortillas when I ordered my barbacoa.  I faux pas some would consider unforgivable.   In my own defense, I had seen the big, fluffy, floured beauties saunter past under the guidance of obviously experienced porters a half-a-dozen times so I had already decided to have a couple.  I did end up asking if they had homemade torts and in fact they do so I look forward to giving them a spin.
Today we met at La Tapatia #1 at Kostoryz and Gollihar.  It's a small place with that distinct South Texas patina commonly found in taco shops.  There were several other patrons and the place was abuzz with Spanish conversation.  The Taco Show Host ordered as is his custom, a carne-g and a chorizo and egg – both on flour.  I opted for one of my favorites, nopalitos and eggs a la Mexicana, and something a bit more sinister, a SPAM and egg – also both on flour.  La Tapatia has homemade corn torts, but I guess I still have an hankerin' for flour.  We coffeed up and talked tech while we waited.  The coffee was good, and once they got rolling, constantly refreshed.
Once the goods arrived, we set to it.  The nopalitos taco was loaded with cactus.  A generous dose of the a la Mexicana vegetables provided the perfect complement to the vinegary tang of the nopales – all-in-all, a success.  Nestled in scrambled eggs and wrapped in a perfect tortilla, I couldn't have asked for more.  While I don't eat SPAM much, I do consider myself if not an expert, at least a very experienced dabbler in the SPAM taco.  As SPAM tacos go, this one didn't jump out of the pack and scream "I am Taco, hear me roar!"  The technicians out there would have noted that it was for the most part well-executed, but it could have used more canned pig.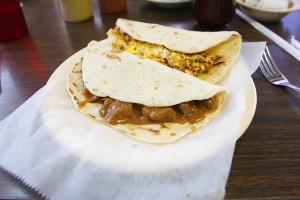 The accessories on the table were impressive.  Both hot sauces, a green, and a wonderfully-orange sauce were delicious.  I also ordered fresh chiles and between the three, almost managed to get my heat on.  Speaking of hot, I got into a text conversation the other day with a long-time friend – an army buddy I've known for 30 years.  He lives in a beautiful part of Wisconsin.  We don't see each other much, but I'm always happy to hear from him.  He mentioned that he was corning beef.  Now I love me some corned beef.  Mostly because cold, wrapped in a good tort, it makes a great breakfast.  He was using a good recipe, Alton Brown's, and I mentioned that I preferred it tweaked a bit on the spicy side.  Now, I'm not one of those people that think nothing's too hot.  In fact, I know hot.  I'm not a big fan.  Hot is different for everyone.  Hot for me is pleasurable up to about habanero.  After that, moderation is a must.  I was recently reminded of this when a friend gave me some tabascos he'd grown in his back yard.  We all know tabasco…as in Tabasco – that delicious, fermented pepper concoction made on Avery Island.  I like the sauce, usually not that hot.  (But it comes in several levels of hotness.)  So I figured I'd pop one in my gob and give it a go.  I was on fire!!  The flojo moco, the hiccups, tears.  I had it all for 20-minutes.  Once again, a reminder to look before you leap.  I say take a look into La Tapatia #1 if you find yourself in the area and in the mood.
Salud
Our Taco Award Winner for this week is:
Olivia D'Abo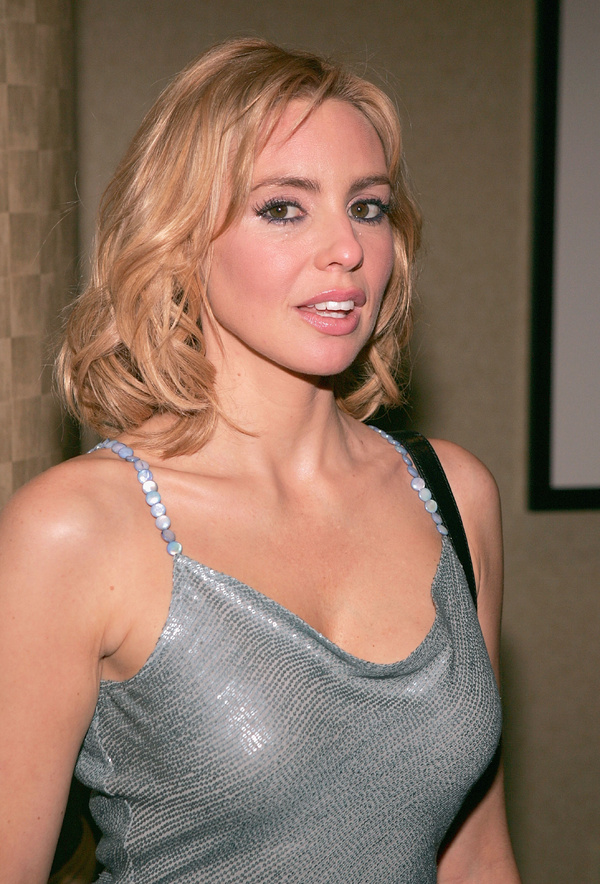 I'll always see Ms. D'Abo as a member of the Q continuum on Star Trek – The Next Generation, or maybe as a spoiled princess in Conan the Destroyer, but either way, through the eyes of a teen-aged boy.  However, she continues to be active in her crafts acting and music.  Her long filmography includes many television series, voice acting roles, movies and the theater.  She has had success as a singer-songwriter, teaming up with music luminaries like Leanard Cohen.
Offer includes 2 tacos, an audience with the 'tacoteurs,' and a free Tacotopia t-shirt. Taco Award winners may claim their prizes by responding on  the Tacotopia Facebook Page, or by emailing tacos@tacotopia.net.
Offer subject to cancellation by order of the wives of the tacoteurs.