3002 South Port Ave, Corpus Christi, Texas • 361-885-7705
I drove down Port recently and spotted four taquerias I'd never been to. I pulled into parking lots and emailed myself names and gps locations for each. One of the rationalizations I've had for not blogging every week was that I'd picked all the low hanging fruit. Well, the crazy thing about fruit is it grows back. Sure enough, close to HQ there are a bunch of new (at least to me) places to get tacos.
Pulling from the top of the list, I pulled my Valkyrie into the lot of the Merequetengue, which is inside the Q.C. Meat Market, and narrowly avoided an ankle-biting from a local dog who took issue with my mode of transport. Walking into the place, one is overwhelmed by the smell of a meat market: disinfectant and blood. I was bit apprehensive, but I ordered from the lady behind the counter and sat down at one of the tables that didn't have chairs stacked upside-down on top of them.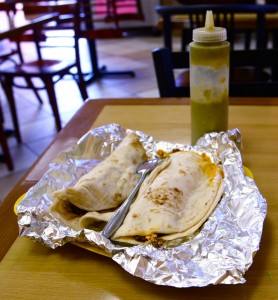 The tacos were made to order on fresh handmade tortillas, and brought to the table by a waitress whose English was about as good as my Spanish. She pulled some sugar and a salsa verde from another table and set it in front of me – there was a red salsa, but not for me apparently. My routine when trying a new place is this; try the carne guisada with a fork, try the chorizo & egg with a fork, try the salsa with a spoon, add salsa and salt to the tacos, evaluate. Every step in the routine was satisfying here. The carne g, as you might expect from a restaurant in a meat market, was really good; toothy but not tough, and well seasoned. The chorizo and egg had good separation, with really good spicy chorizo and made so fresh to order that it was hard to distinguish the heat from the chorizo and the heat from the hot eggs. Add to both of these an excellent green salsa – a bit creamy, a bit hot, and good handmade tortillas. Merequetengue exceeded my expectations.
Our Taco Award Winner for this week is:
Debi Mazar

When I first watched Goodfellas, there was one thing – above all others – that made me wish I were Henry Hill and that's Sandy, his guma, with a few pounds of cocaine, a tight dress, and an insatiable appetite. Cocaine is an evil drug, but if it were the 70's and Sandy was offering it to me, I might be persuaded. Debi is now in her late 40s, is married to a tuscan cook who is inexplicably skinnier than she is, and she looks better than she did when she was in her twenties. You can see them working out who wears the pants in the family on Extra Virgin on the Cooking Channel.

Offer includes 2 tacos, an audience with the 'tacoteurs,' and a free tacotopia t-shirt. Please redeem this offer at Whetstone Graphics on a Friday morning of your choice. Offer subject to cancellation by order of the wives of the tacoteurs. Enter to win by emailing your name on the back of the '93 Vogue Italia in which Debi appears to tacos@tacotopia.net.