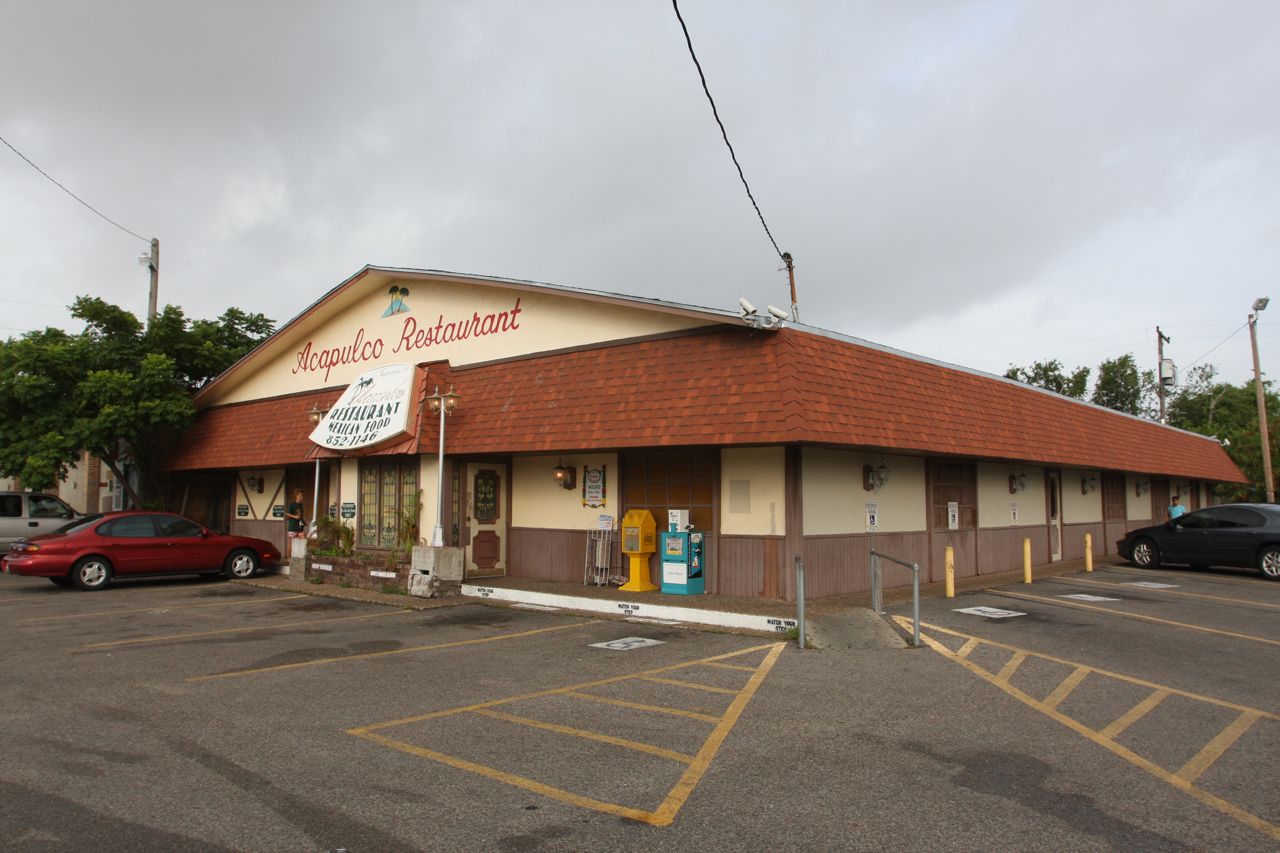 4425 Weber Rd, Corpus Christi, Texas 78411 361-852-1146
We dodged a bullet this week. It's hurricane season, and hurricane Alex decided he liked Mexico more than South Texas. We've also avoided any of the oil from the Deepwater Horizon which is still putting out 30-60 thousand barrels of oil a day with no end in sight. All of this, and my biggest complaints are too much paying work to do and a bad sunburn.
I've got it good, and even though the strain of operating a small business during a recession in a city where recession is piled upon existing recession (re-recession?) is difficult to manage some days, there are always folks who have it worse. As Marc Maron said to Dane Cook on his podcast WTF, "Every day is a heroic struggle for most people." And though I'm not doing anything truly heroic, like disarming IEDs or exposing abuse of children, I do sleep well at night after a long day of work, and I do look forward to that most perfect of meals on Friday morning in our city, Tacotopia, the home of the best breakfast tacos in the world.
So the Hat and I met up at Acapulco #2 this morning, and this would actually be our second time to try and write this up (the first attempt was aborted after a disasterous coffee deficiency related mixup. This time looked like it might end up the same way when after waiting for 15 minutes for the other we spotted each other waiting for the other in separate booths.
We consolidated our booths and ordered. It's easy to see how we missed each other, the booths are enclosed by wood or etched glass floor to ceiling – providing some real privacy. The atmosphere is mostly related to train kitsch, I'd guess left over from the previous occupant, with some 70s stained glass around so that it really invokes an atmosphere of 1976 – although the aroma of the place has not weathered as well as the decor.
I had a chorizo & egg, and a carne guisada – with coffee. The food came out in short order, and the Hat seemed to be hell bent on having as many different salsas on the table as possible, ending up the the standard in a ketchup squeezer, a super hot of the shelf jalapeño salsa, a pickled but ostensibly in-house red super hot, and a ranchero for the faint of heart. I tried both the reds, and satisfied with the house standard applied it liberally to my two tacos.
They were both good, each on a fair homemade flour tortilla. The tortillas weren't outstanding but a damn sight better than anything off a shelf. Carne guisada, after you've tried 50 or 60 different ones in as many weeks, doesn't vary that much – at least in this town. There's a continuum of red to brown that usually reflects the amount of cumin used in the cooking. This one sat squarely in the middle, and the chunks of meat were slightly larger and more plentiful that many. The meat was a bit chewy and dense, but not in a bad way.
The chorizo & egg has a powerful and sultry flavor, like Penélope Cruz in Vicky Cristina Barcelona, a taco unconcerned with the expectations of people who don't have the vision or appetite to appreciate what it has to offer. This was the star of the breakfast, but the cast had another great supporting player – the coffee. With nothing but food service plastic thimble creamers and caked in the diner dispenser sugar this coffee held it's own, frequently bolstered by the expeditious waitress.
A cornerstone of a good breakfast taco is good conversation and we tried to make sense of the mess that is being thrown at the gulf coast. I talked about my brilliant idea for inductive automobile infrastructure to solve the battery issue with electric vehicles (some jerks beat me to it), and Kevin talked about the dearth of decent tacos in Fort Worth. Satisfied with the fare we hoped it would satisfy the craving for tacos for another week.
From the Hat
"Two shitty tacos for seven bucks, where t f r u?"  Yes, good tacos are not a given.  This totally appropriate quote was from Taco Show Host upon receiving my picture of the menu from a downtown Fort Worth eatery.  The tacos were so tempting that I opted for a seven dollar bowl of steel cut oatmeal instead.  It just goes to show you that we live in a great place where one can find a delicious taco for a reasonable price – and just about anywhere in the city to boot.  These facts should not be taken for granted.
One shouldn't take airline travel for granted either.  All know about the recent hurricane, Alex.  While I don't want one to spank the Sparkling City, I have to admit that I love weather – tropical weather especially.  And when the Shedevil in el Gulfo spurred tornado warnings in Tacotopia, the airlines cancelled all flights to the area.  So instead of good, cheap tacos and exciting weather, I had crappy, expensive food and drizzly, grey, boredom.  I was never so glad to be back.  While I was too damned tired to do much of anything when I got home, (Thank goodness for Taco Blanca's delicious spaghetti and meat sauce.) I knew that I'd be participating in Tacotopia's breakfast ritual the next day and so slept like a baby.
I was primed for today's adventure and hoping for a gulp of gastronomic greatness.   I'll try my best not to overrate today's taco treats.  I worry that so many days stranded in downtown Bad Food, messed up my calibrations and almost anything will get a good rating.  Taco Show Host and I ended up at Taqueria Acapulco at the corner of Weber and Gollihar.  We'd been before, but due to a transportation SNAFU, weren't able to properly review the place.  I ordered two tacos on flour, a papas con chorizo, and a machacado y huevos a la Mexicana.  The machacado taco wasn't a home run, because it started a bit bland.  But there was plenty of the carne seco, and with the addition of a tiny bit of salt, the taco brightened right up.  The vegetables in the Mexicana were fresh, but might have benefitted from a bit more serrano to the mix.  (Maybe due to the fact that I had trouble getting my heat on in downtown Fort Worth.)  While I'm on the subject of heat, Acapulco served two salsas, a Ranchero, and a fresh red, both good, but neither packed any heat.  I asked the pretty waitress if they had anything Really Hot.  She developed a mischievous smile and disappeared into the kitchen, only to return with a commercial bottle of something green, and a smooth puree-like red salsa made on site.  The red is definitely worth asking for.  Blazing hot, vinegary, with the texture reminiscent of mole, it didn't take much to get the taco where I wanted it.  Satiated, I passed on the commercial green.  My second taco was the morning star – plenty of potatoes and rich, red, vinegary goodness that is chorizo.  The potatoes were cooked to the perfect consistency and the spicy, oily chorizo really hit the spot.  The flour torts were good – fluffy and light.  Backed up by really good café coffee and conversation the meal recalibrated me back into control, readying me for the day.  I'll be back.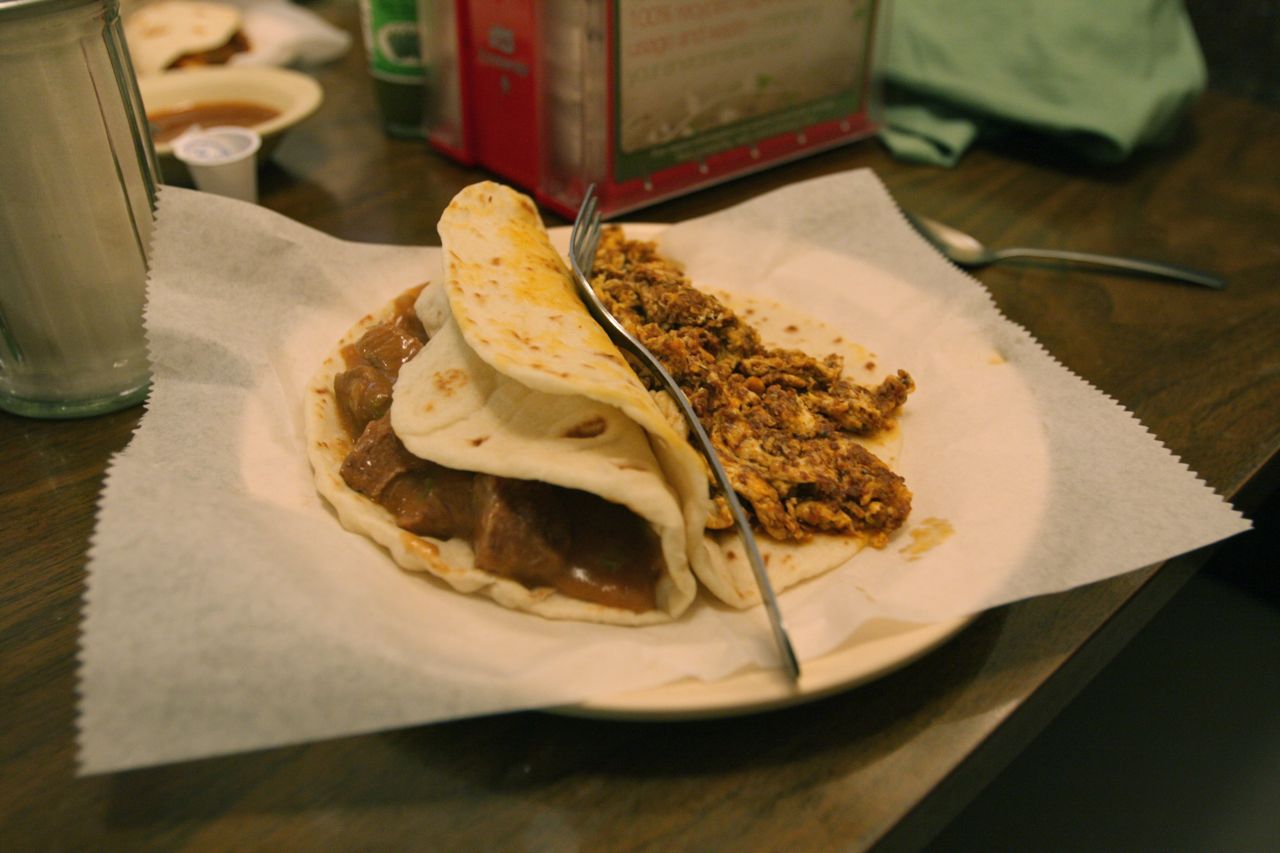 Our Taco Award Winner for this week is:
Frank Rich on her official website describes her as an actress, singer, comedienne, and all around warming presence. I'd have said hot. Ms. Peters (nee Lazzara) looks good for a 45 year old, or for a 50 year old, or a 55 year old for what it's worth. For a 62 year old, though (really?) she's smokin', that is when she's not doing song and dance on broadway, starting charitable organizations to benefit dogs with Mary Tyler Moore, or redeeming gingerdom. Did I mention she wrote a children's book? About dogs? She's got two, one a Pit Bull, and normally children and Pit Bulls are a bad combination but it's always the owner and never the dog and I don't think Bernadette (I like to call her Bernadette) has it in her to mistreat anything. She's two years older than Bill O'Reilly, and she looks awesome while he looks like someones pinky finger that's been soaked in lemon juice and dipped in steel wool, so someone's been living right.
Offer includes 2 tacos, an audience with the 'tacoteurs,' and a free tacotopia t-shirt. Please redeem this offer at Whetstone Graphics on a Friday morning of your choice. Offer subject to cancellation by order of the wives of the tacoteurs.  Enter to win by emailing your name on the back of  the December 1981 issue of Playboy Magazine to tacos@tacotopia.net.