Taqueria Mi Ranchito – New Year's Revolution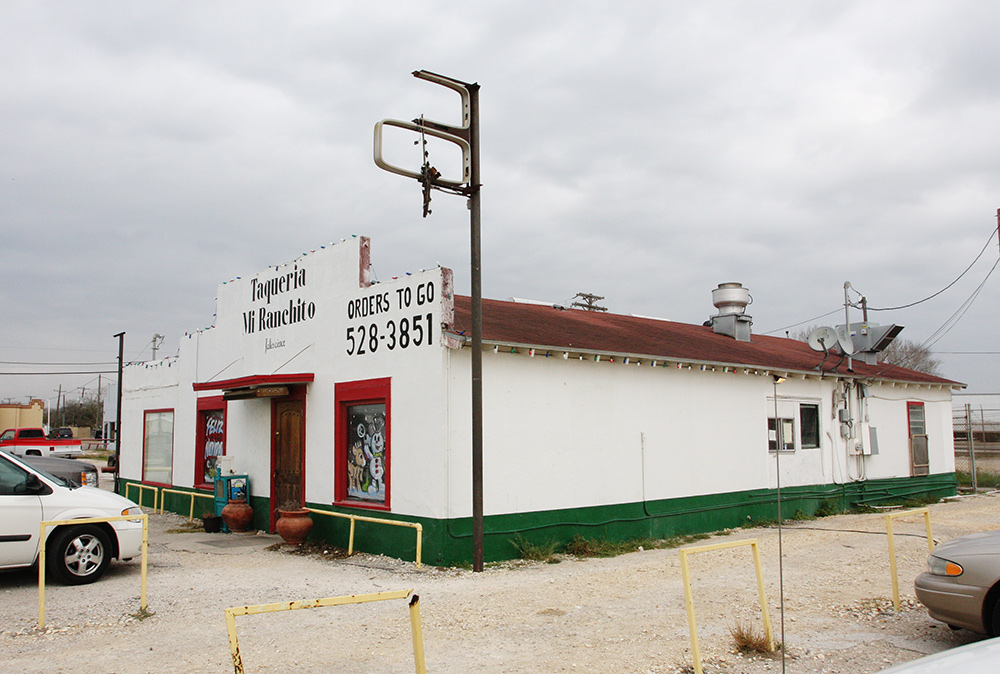 418 US Highway 181 • Taft, TX 78390
361-528-3851
It's the end of 2012. Fortunately for us, it's not the end of the world, despite the confused folks who'd gathered at the Pyrenees on the 20th. That's the good news. The bad news, is now we have to deal with the real world, and the problems we have to look forward to now that it looks like we'll survive the end of the cycle of the Mayan calendar. Personally, I prefer to believe in the Aztec calendar art of Jesus Helguera. And while there are real, tough issues we have to deal with in the coming year, as a city, as a nation, and certainly for me personally, I look forward to it. I think 2013 is going to be a good year. I hope so, 'cause 2012 was a bitch.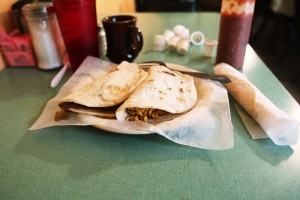 And while there was considerable difficulty in the past year, I can always take comfort in the ultimate comfort food: Tacos. This morning I had my regular – a Carne Guisada and a Chorizo and Egg – at Taqueria Mi Ranchito in Taft. I had business to take care of in Sinton, and I was glad to take some comfort after that. The place is old, beat-up, and worse-for wear. As Tom Waits put it in his song, 'Small Change,' "Cause the dreams aren't broken here, no, they're just walking with a limp." My waiter could barely understand my order in English, and less so in Spanish – as bad as my Spanish is, but it came to the table in about two minutes, steaming hot. Everything was pretty good. The carne guisada was good, with the stew meat cooked to tenderness, and good homemade flour tortillas (the corn was quite good too). The chorizo and egg was nice, with a good stream of red gravy (read grease) steadily escaping the back of my taco as I ate. Both tacos were slightly larger than average, and the fresh coffee kept coming. The people in the small-town eatery all seemed to know each other, and treated each other like one big family, greeting one another as they came and left in Spanglish. It was a real, un-coaxed expression of the holiday spirit of family we all hear so much about this time of year. I prefer a place with a little character to a place that's new and sterile, and this place was certainly not that. I'll stop in again next time I'm up Taft way and need a taco, or a warm feeling.
Our Taco Award Winner for this week is:
If you've watched Firefly, you no doubt share Captain Mal's burning attraction for the ship's 'Companion' Inara. Malcom hides his love for her, but I will proclaim mine. She's a transcendent beauty. Hailing from Rio de Janeiro, Morena moved to New York at 10, where she went to PS 41 with her castmate in Homeland, Claire Danes. She is a living argument for people of Brazilian and Italian descent, for Science Fiction, and for girls with short hair (Long Live Short Hair), and perhaps for sheer fabrics, as you see to the right.
Offer includes 2 tacos, an audience with the 'tacoteurs,' and a free tacotopia t-shirt. Please redeem this offer at Whetstone Graphics on a Friday morning of your choice. Offer subject to cancellation by order of the wives of the tacoteurs. Enter to win by emailing your name on the back of a bootleg copy of the pilot of It's Always Sunny in Philadelphia to tacos@tacotopia.net.