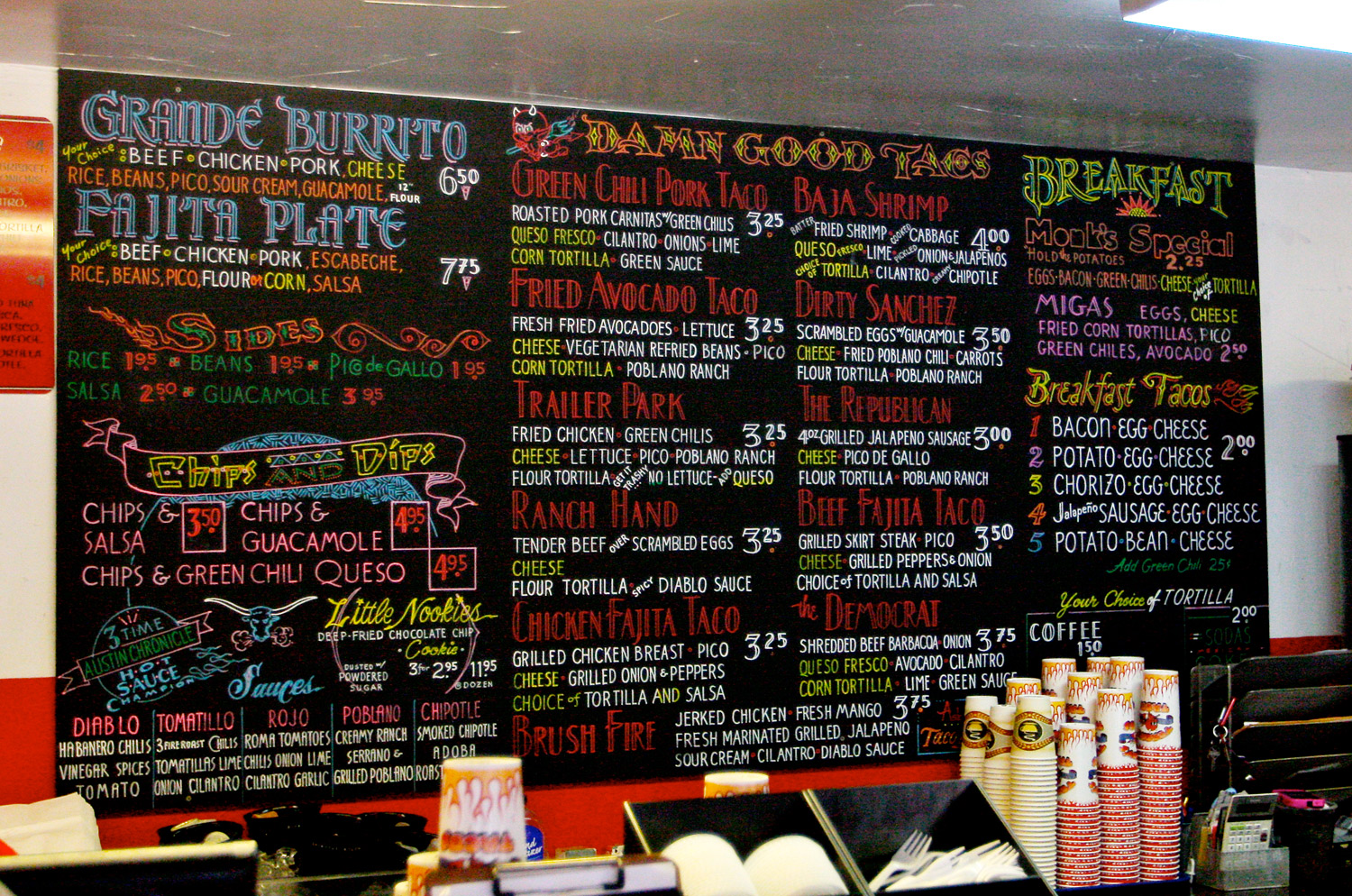 ‪2809 South 1st Street‬, ‪Austin, T‬exas‪ 78704‬ • ‪(512) 444-0300‬
Austin's got a lot going for it. I should know, I spent most of my adolescence there. I went to six different schools around the city. I worked at Thundercloud Subs and Tower Records, and about 100 different print shops around town. I used to hang out at Liberty Lunch, and buy NO2 at the Smoker's Needs next to Inner Sanctum, then sit and get a sandwich at Les Amis. I would walk nightly to the I Love Video on Airport (The first one, next to Eric's Billiards). I lived on the South Side, the West Side, and Hyde Park. I've been rolled by thugs on East 6th. My family ran a high-tech recruiting firm, and I watched the birth of Austin's tech sector from a unique vantage point. I can tell you a story about something that happened on almost every street in that town.
I moved away in '95, moved back, and then moved away for good in '02. The way I saw it, Austin was too big for its britches. The cost of living was too high compared to the average salary, and Austin sure loved itself. I go back once or twice a year now to visit friends and family and each time I'm astonished by the amount of change. Most of the things I knew are gone, torn down, and in their place stands a shiny new hipster tech startup or chipotle grill. In the 80s and 90s buildings were prohibited from standing any taller than the capitol building (source needed), but that restriction has been lifted and the height of the skyline has doubled in the last decade. You can't swing a cat without hitting five food trailers, and you can't drive five feet without getting stuck in traffic for half an hour while you watch be-dreadlocked college kids lament the tragedies of the world over local craft beer and some of the best bar-b-que on the planet.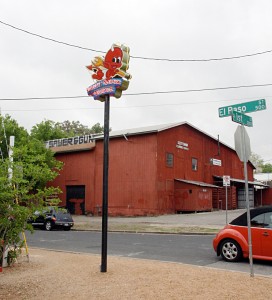 Corpus Christi is in no eminent danger of patting itself on the back too much. I mention to people here that I moved from Austin and they look at me, perplexed, as if to say 'don't you mean you are moving to Austin?' And while Austin has a long list of things we don't (Indian restaurants, tolerant attitudes, bike lanes, glass recycling, Flipside, the Alamo Drafthouse, Boyar Automotive, the Continental Club, Threadgill's, Miller Blueprint, Hut's, Whole Foods, Multiple bowling alleys, SXSW) there are some things here that Austin just ain't got. We've got the beach, and we've got way better tacos. They wouldn't admit it; they do have a better variety of tacos, with asian/tex/mex fusion tacos, and whole wheat tortillas, and all kinds of stuff that might be better on a tortilla than by itself, but we have better tacos.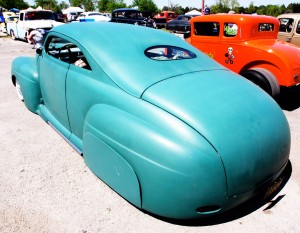 Take for instance the big daddy of the current Austin taco scene: Torchy's. They weren't around when I lived there, and though we in Corpus are a bit isolated, I do get wind of the prevailing taco trends – and Torchy's has a lot of buzz. They were first on my list of taco shops to visit when I made the trip north to see the Lone Star Roundup. A bit hungover, and in need of some satisfaction I stumbled in to the low-slung building and got in line. This location is on South 1st, so it was not surprising to hear Spanish spoken across the counter, always a good sign in a taqueria. I ordered my ususal: a chorizo & egg, and a carne guisada.
"A what?," said the entirely too cute girl behind the counter.
"Carne Guisada," I repeated.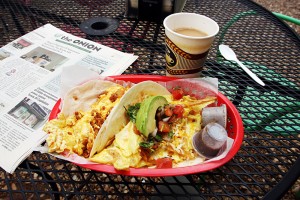 "Where do you see it on the menu?" she asked. Crap, are you kidding? After scanning the menu with bloodshot eyes and determining there was no Carne G, and my baseline for comparison was shot, I ordered a migas taco. She then asked if I wanted the chorizo & egg with cheese. No. I love cheese, but c'mon. Every breakfast taco on the menu doesn't have to have cheese on it, as is the case at Torchy's. I got my coffee and in minutes I had my tacos. The coffee was head and shoulders above what you'd get in any taqueria in Corpus Christi. As Jules would say, "some real gourmet shit!" and I got to drink it while reading a paper copy of the Onion News. The chorizo & egg was made to order, with the egg more fried than scambled. The chorizo was excellent. The Migas were good too, and the avacado was a nice addition. The salsa was tha-bomb, and loaded with garlic. The weak spot were the tortillas which were not quite shelf, but would get any tacotopia eatery disqualified. Some investigation revealed their supplier is El Milagro. This is Austin, they can't be compared to what we have in Corpus Christi. While they have innovation, and demand, we have a foundation of history and tradition that cannot be beat, in spite of Texas Monthly's unspeakable failure to include a single CC restaurant in their Best Mexican Restaurants in Texas.
So be proud, Corpus Christi, to be the breakfast taco capitol of the world. No one else may know it, but we do, and they're ignorant.
Our Taco Award Winner for this week is:
Callie Thorne
You've probably seen her before. She's played cold and distant as McNulty's ex on the Wire, and she's played psycho-sexual as the cousin's widow on Rescue Me. A native of Boston, she now calls NYC home. And though she's a beauty, she's not just another pretty face, appearing with acting heavyweights Sam Rockwell and Eric Bogosian in the Phillip Seymore Hoffman directed play Last Days of Judas Iscariot.

Offer includes 2 tacos, an audience with the 'tacoteurs,' and a free tacotopia t-shirt. Please redeem this offer at Whetstone Graphics on a Friday morning of your choice. Offer subject to cancellation by order of the wives of the tacoteurs. Enter to win by emailing your name on the back of a bootleg of the last season of Californication to tacos@tacotopia.net.