There is little better than a taco fresh from the cocina, with steam coming out of a fresh tortilla. If there is a heaven, it will have fresh tacos. Sometimes, though, it's just not convenient to herd a crew into a taqueria. They can be crowded, sometimes less than squeaky-clean, and occasionally intimidating to people who aren't locals. Maybe you want to have breakfast ready for your family when they wake up so they can eat a taco in their payamas. Maybe you want to spike your coffee, and don't want to carry an open container with you to work. These are all times when the ubiquitous drive-through becomes invaluable.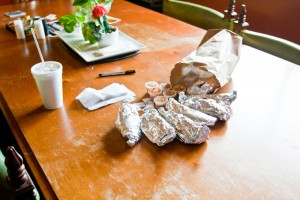 Many people in Tacotopia don't have the luxury of time to sit down to breakfast. This is one of the reasons Stripes' Laredo Taco Company does so well; you can get in and out while someone else on your crew fills the work truck with diesel, and when you show up at the job site, you're the hero for the rest of the day. Nothing makes a roughneck smile like a hot juicy taco. This is the genius of the taco as a food: it is one of the most portable foods known to man. You might spill some juice on you but you can eat on the road, in a kayak, on a tractor, on a jetty, or anywhere else you feel the need for breakfast. Try that with a salad.
My parents are visiting me. They're actually renovating a new wing of the taco bunker so they'll have somewhere to stay when they make their annual 1500 mile taco run. There were hairy construction workers and a gaggle of tiny dogs that hadn't yet worked out the pecking order at my house this morning. I had tacos to eat, but I needed to be home. I pointed my trusty dodge across the causeway and drove through Bandas.
Before you knew it, my family and I were eating great tacos, right at our table, and with my wife's superior homemade salsa. Everyone got their fill, and the cleanup was a breeze.
Our taco award winner for this week is:
Chicago area native Melissa McCarthy is a big girl. She's also hot. We live in a fractured culture where it's difficult for many to have both of these ideas in their head at the same time. Tune into Bravo (which should be renamed the Real Housewives channel) any night of the week, and you'll see a series of trainwrecks who are doing everything they can to be skinny while making certain parts of themselves fat. None of their boobs are small, or real, and their lips are unnaturally puffy. This schizophrenic quest has landed some of them in the loony bin, and made it impossible for most of them to even make simple facial expressions. The problem is so widespread in the entertainment industry that directing styles are having to adapt, focusing on script and editing to make up for the inability of many leading ladies to emote. Fabienne in Pulp Fiction put it best in saying "It's unfortunate what we find pleasing to the touch and pleasing to the eye is seldom the same." Melissa McCarthy, though, is pleasing to the eye. She's all natural, and all beautiful. It helps that she was born with a  great face, (Jenny McCarthy is her 1st cousin) but there's more to her attractiveness than that. She's smart. She's funny. She's often cast as the overweight wallflower with the heart of gold, and this works because she does have an accessible quality, like you could call her late at night if you were in crisis and she wouldn't hang up on you. She hasn't returned any of my calls, but I still love her. Let's hope she lifts that restraining order so I can buy her a taco.
Offer includes 2 tacos, an audience with the 'tacoteurs,' and a free tacotopia t-shirt. Please redeem this offer at Whetstone Graphics on a Friday morning of your choice. Offer subject to cancellation by order of the wives of the tacoteurs.  Enter to win by emailing your name in on a dvd of GO to tacos@tacotopia.net.