5201 Richmond Ave, Houston, TX 77056 • 713-621-3088
There's a lot going on this weekend in Corpus Christi. There's the Greek Festival starting tonight. There's one of the greatest movies the Coen Bros have made playing in one of the greatest settings in which you could watch it – At the Ride-In Theater at the Water Gardens in front of the Art Museum. There's the First Friday Artwalk which is always awesome. I hear people talk about how there's nothing to do in Corpus Christi, I'd argue there's too much to do for this overweight middle aged tacoteur. The coolest thing happening this weekend by far, though, is the airing at 9:00PM CST of the Corpus Christi episode of Hairy Bikers which features yours truly and my trusty cohort pointing these professional eaters at some of the best tacos in the world. Sure, it's not Ken Burns' Civil War, but it's a fun, unpretentious show that deals with something we can all get behind – local eats.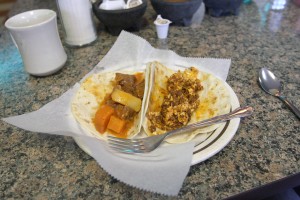 It is, however, the Civil War that has drawn me away from the vibrant nucleus of activity that is Corpus Christi to attend the exhibition Discovering the Civil War at the Houston Museum of Natural Science. I couldn't come to H-Town without trying some of their tacos. I Urbanspooned up a nearby taqueria with an 80+ rating that serves breakfast and cruised over with my wife and in-laws in tow. Ruchi's has numerous restaurants around the Houston area, but I can't quite figure out why. I suppose I'm accustomed to a higher level of tacotude living in Tacotopia, but this place was a real disappointment. The waitress was pretty, but irritable. She grudgingly brought out our cold coffee, and eventually took our order. Chips and two salsas were brought out, thankfully, to keep us company while we waited for the food – which was serving an extended sentence in the kitchen. The ranchera salsa was tasty, as was the avocado fireball which packed some spice – but both tasted more like something that came out of a jar of dip you'd get in the chip section of the HEB than from an abuelita's cocina. When we finally got our food, the tortillas were reheated shelf tortillas. The chorizo & egg was not bad. The carne guisada might have been Dinty Moore Beef Stew but the meat was a little too chewy for this to be the case. With some expert negotions en español by my father-in-law we secured a second cup of coffee. I'm usually good for 4 or 5, but at this rate we'd have to stay there all 24 hours this place is open to get that many refills. It was even hard to get her to bring us the check, if that gives you any clue as to the quality of the service.
I like Houston. I don't think of it as a soulless pastiche of freeways, slums, and high-rises as do many of my friends. I think it's a world-class city, but all the tacos I've had here are strictly bush league. Of all the things I wish I could be doing in Corpus this weekend, the one that brought a single tear of despair to my eye as I waited in vain for that 2nd refill of my coffee-thimble was a plate of tacos with steaming fresh tortillas as delicate as new snow. If anyone knows of a taco spot in this town that can compete please let me know about it.
Our free taco winner for this week is:
You'll recognize her as Hilda from Ugly Betty, or more recently, as the best kind of police brutality in HBO's Hung. A dancer who couldn't stay en pointe, Ana has a dancer's grace, and a borricua's mouth. She's got those little dimples underneath her mouth that say 'I can chew you up and spit you out.' Born in 1971 she grew up in NYC and Philly, half Puerto-Rican and half Irish. It's hard to believe that someone who you could bounce quarters off of is also a baby factory, currently pregnant with her 2nd child. For those about to drop, we salute you.
Offer includes 2 tacos, an audience with the 'tacoteurs,' and a free tacotopia t-shirt. Please redeem this offer at Whetstone Graphics on a Friday morning of your choice. Offer subject to cancellation by order of the wives of the tacoteurs.  Enter to win by emailing your name in on Ana's discarded holster to tacos@tacotopia.net.