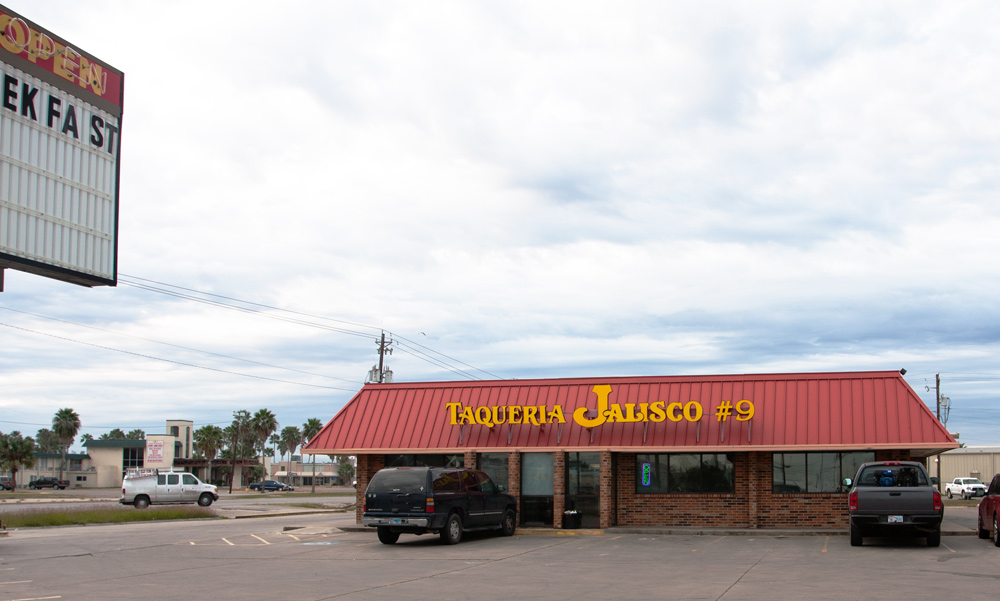 6301 IH-37, Corpus Christi, TX 78409 • (361) 299-1121
Chorizo & Egg $1.49 • Carne Guisada $1.89 • Bottomless Coffee $1.10
I started writing this entry this morning and ended up with a 750 word screed against partisanship and the two party system. While it is important to me to keep myself at a distance from the lascivious nastiness of politics it is also nearly impossible. It is very much like compulsive overeating. I can't continue to eat like my brain chemistry tells my I should, but I can't quit entirely without dying. I will try to keep it to a minimum here in the blog. If you want to read the redacted post, go to www.ianokeefe.com.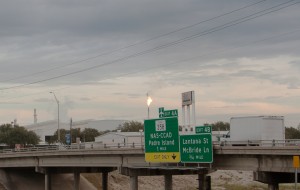 If you're here for taco talk, I can give that to you too. The way I do this blog is very hush-hush. I don't tell the people at the restaurants that I'm a blogger. I don't want to skew the quality or service of the establishments by alerting the taquerias to my presence. I come in cold, order, pull out my huge camera, and get out before anyone is the wiser. I'm on a mission to try all the Jaliscos in the area. Jalisco #9 is up IH-37, in the heart of refinery row. From my booth I could see a plum of fire escaping a flare stack. What I've been told is that whenever you can see the flame, something is out of whack with the refining process. No matter, I live here, in for a penny, in for a pound.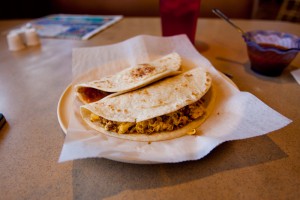 I ordered my usual, a carne guisada and a chorizo & egg. In the time it took to walk to the kitchen and back I had two tacos. The tortillas weren't made to order, I'd guess not even on site, but were fresh. The carne guisada was not so good, with some chunks less fresh than others – which makes the whole thing taste funky. The chorizo & egg was pretty good if light on the chorizo. The salsa was a ranchera, and provided some salvation to the arthritic guisada and a welcome boost to the chorizo & egg. The coffee was excellent, and was frequently refilled by the two pretty waitresses.
It's not the best taqueria in Corpus Christi, or even the best Jalisco, but I walked away satisfied.
Our free taco winner for this week is:
Born in Mazatlan, Mexico, Sara Ramirez moved to San Diego, then to NYC where she graduated from Juilliard. She's Mexican with a little Irish in her, which is a pretty beautiful combination. My wife is a big fan of Grey's Anatomy. While it's not the first show I pick to watch, it is one of the few shows that she and I both like. One thing I like about it is Sara Ramirez who plays Dr. Callie Torres. In any sensible world Ramirez wouldn't be considered plus sized, but we live in a world controlled by morons, and this is especially so in entertainment media. Plus size or not, Sara is hot, with her sultry arched eyebrows and her curvaceous figure. I'll watch all the wife-friendly tv in the world if Sara Ramirez is in it.
Offer includes 2 tacos, an audience with the 'tacoteurs,' and a free tacotopia t-shirt. Please redeem this offer at Whetstone Graphics on a Friday morning of your choice. Offer subject to cancellation by order of the wives of the tacoteurs.  Enter to win by emailing your name in on a bootleg copy of Spamalot to tacos@tacotopia.net.