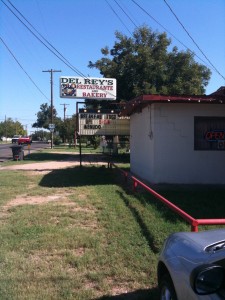 Brady, TX
You know how when you're eating something divine – something so good that everyone's mute, lost in a private world called delicious – that there are really no words to describe the experience.  Sure you can list the ingredients, spices, textures, and colors – but you can't describe the emotion in it.  At least not without using an emotion to do it:  I love this.  This makes me happy.  But the love and happiness can't be described.  We know 'em when we see 'em.  I guess that's true for all emotions come to think of it.  So I guess that's why I'm having a bit of trouble describing my trip.
I recently I mentioned on these very pages that I'd be going up to the World Championship Barbecue Goat Cook Off in Brady, TX.  And I did.  The trip was a success.  I hung out with friends, cruised "The Drag" a couple of times and Razzooed the park where the cook off was held.  (Razzoo, v. to amble the campgrounds of a public event such as a cook off, or camping area with little or no purpose other than to see and to be seen, to visit, and to generally take in the experience.)  It was a light crowd this year, some said 'cause of the economy.
Now when you're cooking a goat, you're included in a cohort of cookers.  There's some willingness to share recipes, stories and beverages with other cookers so there's a fairly good chance that you can find a good taste of goat.  I didn't have that opportunity this year but I was counting on a barbecue goat taco from the contract cooker on site.  In preparation, I stopped at Del Rey's Restaurant and Bakery Saturday morning and picked up a bag of tacos to take back to the crew at Ricks Home Furnishings.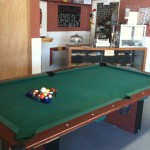 Now the regular readers of Tacotopia will have heard the proclamation that Corpus Christi is the breakfast taco capital of the world and every now and then we get the opportunity to sample the breakfast taco offerings from that world.  It's not just an opportunity, but it's an obligation to sample, evaluate, and in some cases pass that experience on to other breakfast taco lovers.  I picked up some bacon and egg tacos, a chicharrone taco, and one filled with something red.  The tacos were big and the flour tortillas were pretty good.  I took a bag of the tarpoleans to go in preparation for the lunch-time cabrito taco I was planning to build.  Maria was very friendly and offered a taste of the chicharrones before I ordered.  They were spicy, and kind of spongy.  The seasoning was good, but the chichas were not prepared my favorite way.  Not enough to scare me away, though – kind of messy to eat, but nothing like the pig taco.  This taco filling was kind of a pork guisada, but bright red.  Fire engine red!  Monkey-butt red!! The meat was tender, but nothing stood out about it. I think I got a hint of garlic, maybe black pepper.  The salsa was lackluster.  But still the trip was worth it just to see a taqueria with a pool table.  Been to many in Tacotopia, but never seen that.  If I had to put a label on the place, I'd give it a C.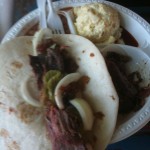 My lunchtime goat taco on the other hand I'll give a hearty D-!  I won't spend a bunch of time going on about how I know something about barbecuing a goat.  I don't think you have to know a thing about it.  The outfit out of Sonora that did the job had an adequate set up, but I'd have to say that the pits needed a cleaning.  Goat has a pretty distinguishable taste and this was overpowered by what seemed to be the smoking fumes of several inches of burning brisket fat.  Not even wrapped in a tortilla, with a pretty good pile of fresh onions and a liberal dosing of an excellent XX Red salsa from Corpus Christi's La Familia Salsa Company could save this taco.  I was disappointed, but maybe I was just hyped up and nothing could have met my expectations – but I don't think so.  Many years of cabrito cooked by the Brady Chamber of Commerce, and later by Hard Eight BBQ in Brady
are enough for me to know that this was not good eats.  In a way I'm glad that words can't describe my emotions.
But the rest of the event was really good.  There was a broad selection of vendors hawking their stuff, the music and dance opportunities were some of the best I remember, and to see the town and remember younger, simpler times was well worth the trip.
Salud