Restaurant El Charro – Getting Lucky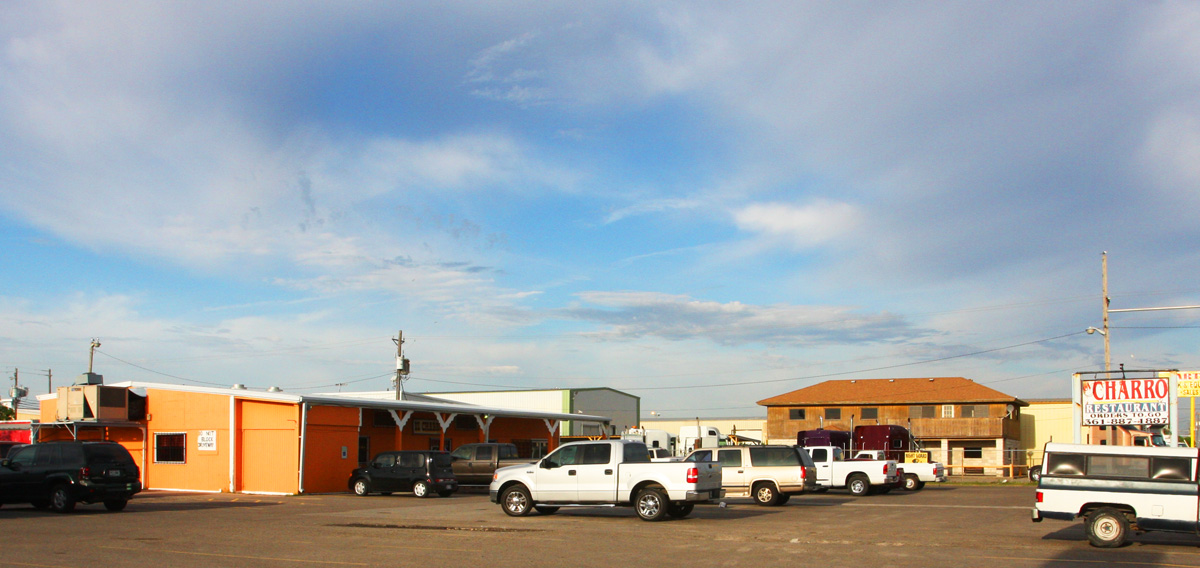 4105 Agnes Street, Corpus Christi, Texas • 361-881-6076
I'm in the midst of a case of snakebite, not a real snake, but the bite of the snake of fate. This happens to me every 9-12 months. I lost a valuable employee (though my other guy has picked up the slack well), my truck broke down, my newly remodeled bathroom backed up full of raw sewage. So I fix the truck, drive it for one day and it breaks down again. I get a plumber, he brings in a second plumber, and now it looks like we'll need to bring in a tunneling crew that is likely to cost an amount comparable to a new car. Equipment at work is breaking down after years of trouble-free service.
I can hardly complain though, looking at the situation with a wider angle. I'm walking, breathing, working for myself, and I'm married to a lovely and charming woman, I've got a stepson who can nearly out-play me on the bass. I live in the greatest state in the country, in the greatest country in the world, in a time when the human race possesses the technological capability to do things we'd have assumed were miracles in olden times. In my life I have had some bad luck, but I've had some very good luck too.  Some would call it by another name; blessing; favor; fate.  I don't presume to understand the hand of any power higher than myself – I know enough to know that I don't know what I don't know. Another thing I know is that it could always be worse. It just doesn't feel like it that much this morning.
So in spite of (or perhaps because of) late nights of work all week and a steady stream of bad news I carved out time this morning to have some tacos. Of course I slept through the alarm (bad luck for the Hat, who waited for half an hour for my late ass to show up) but I eventually made it to the spot, El Charro on Agnes. This is the first of a four part series showcasing a cluster of taco shops located at the delta of Agnes, Baldwin, and Airport/Old Robstown – an area I call Bald-Ag.  We'll review the local taco shops, and at the end a winner will remain standing – to go up against the winner of the next cluster (Kostoryz), and the next (Staples/Leopard). El Charro was scrappy this morning, though, and the rest of the boys on the block better step up if they have any hope of taking the title in the 'Bald Ag Taco Frag'
Here's the tale of the tape: the tortillas were tip-top, and the tacos were big. The carne guisada ("beef & gravy" according to our server) was very good – flavorful and dense while still having some spring in the beef, and I don't think any caught in my teeth. The chorizo & egg was not quite as good but still well able to defend itself from all but the best in the city. There was good definition between the egg and the chorizo, everything was fresh to order, and there was a hint of sweet and spice. With some of the good burnt orange pickled salsa it was an A, if just barely. The atmosphere was nice too, big and comfortably clean – but not too clean.  I'd been here before on a weekend and it was packed tighter than a hong kong subway, but today is was good.  There were some snaking lines para llevar, but they seemed to move quickly. The coffee was fair, and refilled frequently.
All in all this place put its all into this fight. We won't know until the other challengers get their licks in, but El Charro has nothing to be ashamed of. Maybe all this misfortune has started to turn around, starting with a couple of simple tacos.
Good luck!
From the Hat
Man, it's my Lucky Day.  Got a couple of Scrabble games going with friends and havin' a pretty lucky run.  On the way to the university this morning, I was lucky the driver texting in the car in front of me hadn't caused an accident on our run down Ocean Drive. I dreaded  having to pass his meandering vehicle, but lucky for me, once he finished his mobile missive and hit send, he sped up to 60 and I didn't have to deal with him.  Not the luckiest day I've had, but pretty good so far. Better than an unlucky day hands down.  Somewhere back in the distant past, I broke my neck.  Now that's an unlucky day. Or was it lucky that I didn't end up dead or paralyzed? Luck is interesting that way, depending on how you look at the same event, it can be either lucky, or unlucky.
Now before I run down a rabbit hole (in 3D) with this, it should be noted that I don't believe in luck any more than I believe in astrology or their love child, "My Lucky Stars". I understand the belief, but it just not sensible. When something bad happens, especially when several somethings bad happen, it's all due to Bad Luck.  But if instead it's a string of good things, it's my Good Luck that's responsible. We are creatures that by nature need an explanation. If we don't have one, we'll make one up.  Viola! Luck.  But as explanations for what goes on in the world go, Luck is pretty lame. I mean, let's say I go to Cousin Clint's Poker Night for a bit of Texas Holdem'.  If I have an unlucky night and loose all my money, someone else must have had a lucky night to win it.  So not only can the same event be lucky and unlucky for the same person, it can work this way for different people. Oh my achin' head!  So was it bad luck that I broke my neck?  Absolutely not. It was stupidity that was responsible. Was I lucky that things turned out so well? Absolutely not. Brilliant surgeons, the care of countless nurses and the love of my family were responsible. And all of these people would have been there doing their thing regardless of my luck.  On the other hand, I had the best mollejas taco I've ever had today. Lucky?  Hmmm.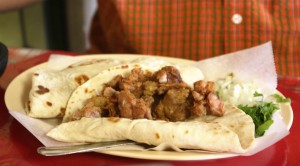 I did have the best mollejas taco I've ever had today at Charro's Restaurant this morning. Fried very crispy – they were the texture of a perfectly fried oyster. Crispy on the outside, and soft and juicy on the inside. They came on an excellent flour tortilla with fresh onions and cilantro. Pure joy!  I also ordered the barbacoa taco. It was good, but missing the taste of cow's head expected in an excellent barbacoa. It was lean and there was an unusual, but pleasant spice to it. Familiar, but I'll have to have more to put a name to it. The salsa was served warm and colored that way too – spicy and orange with just the right amount of heat. A very pleasant breakfast and I thank My Lucky Stars.
Salud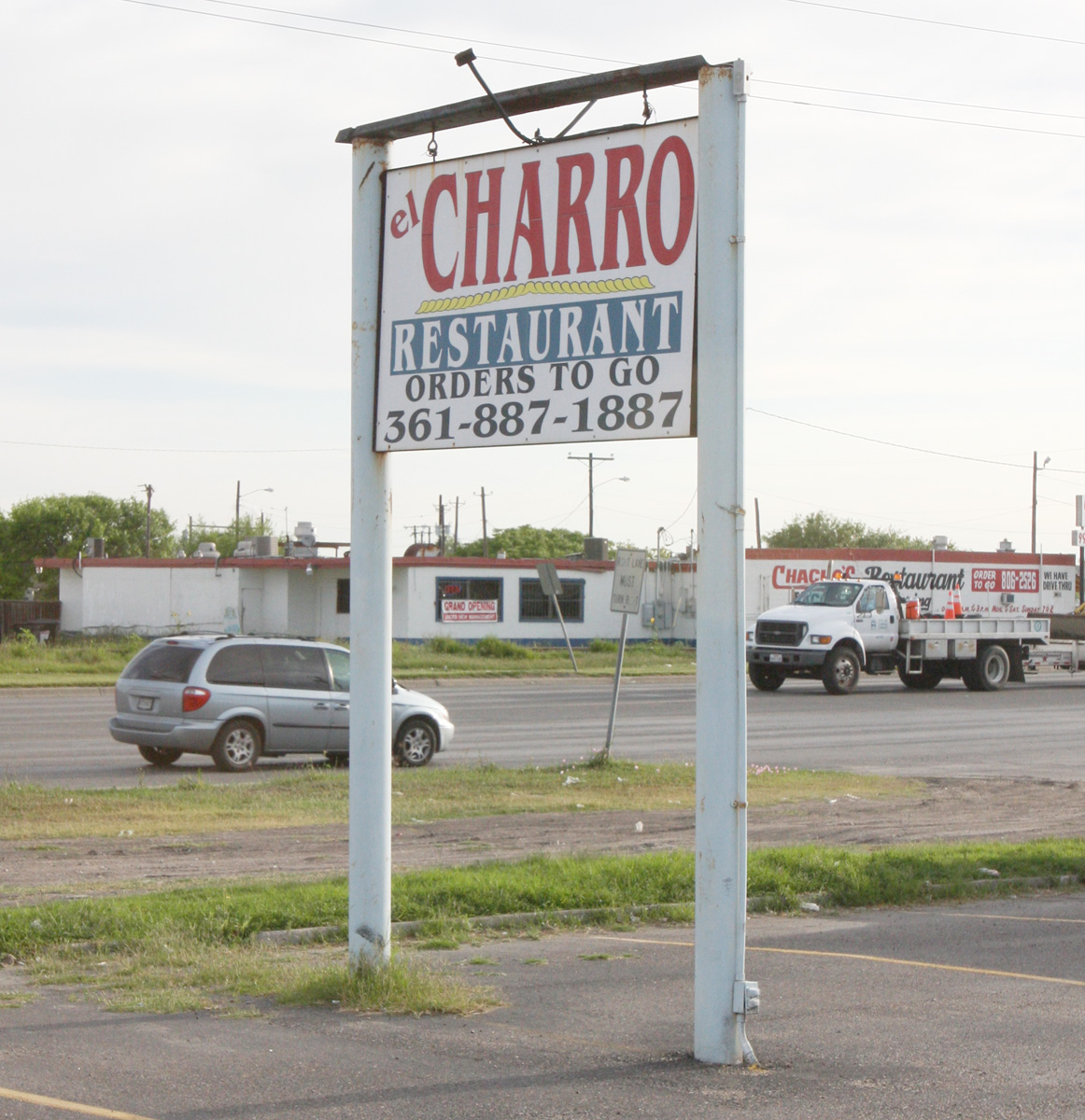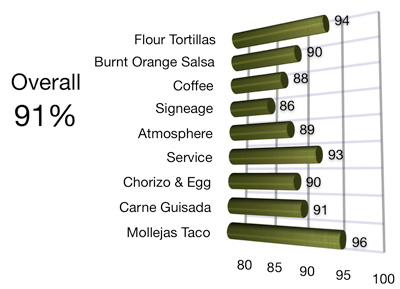 Our free taco winner for this week is:
We mentioned Ms. Tilly in the Eddie's Review, and noticed a strange thing soon afterwards: about half of our traffic comes from google searches for Jennifer Tilly (née Chan). Since then we've awarded free tacos to a number of very impressive women but none has inspired such interest as has Jennifer. A compelling argument in favor of blended marriages, she is part Chinese, and all American. Some might confuse her squeaky voice as an indication of a lack of intellect, but they'd be stupid to do so. Though briefly eclipsed by her sister Meg after a casual interest in acting turned into an Oscar nomination, Jennifer has stood the test of time taking on brave and challenging roles in movies like Bound, Dancing at the Blue Iguana, Fast Sofa, and Bride of Chucky. She nearly stopped acting altogether after taking up professional poker playing, winning at Ladies-Only No Limit Texas Hold 'Em in the World Series of Poker.
Offer includes 2 tacos, an audience with the 'tacoteurs,' and a free tacotopia t-shirt. Please redeem this offer at Whetstone Graphics on a Friday morning of your choice. Offer subject to cancellation by order of the wives of the tacoteurs.  Enter to win by emailing your name on the dvd case of a copy of Bound to tacos@tacotopia.net.