Yoli's – Bald Ag Round 2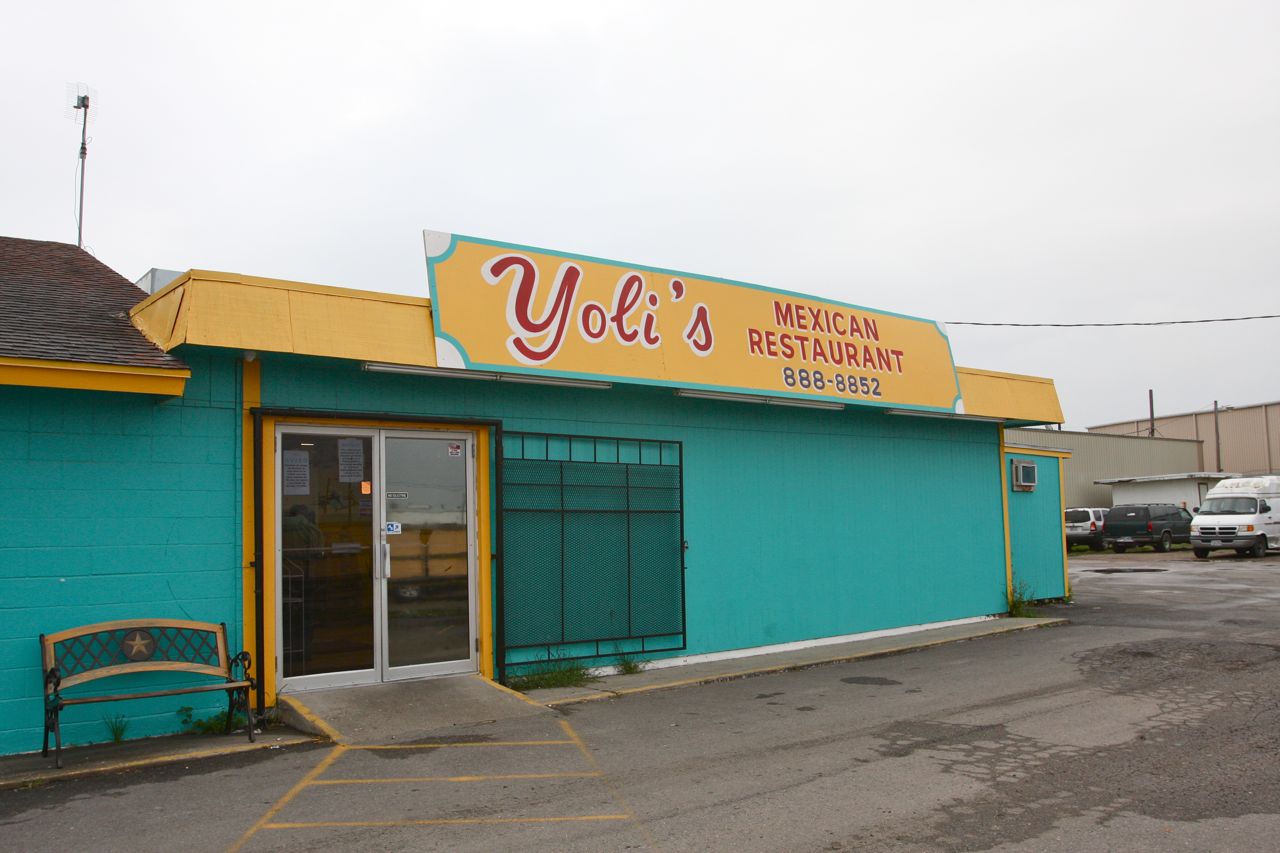 4217 Agnes, Corpus Christi, Texas • 361-888-8852 Chorizo & Egg $1.30 • Carne Guisada $2.00 • Bottomless Coffee $1.35
Part two of our Baldwin/Agnes Taco series, The Bald-Ag Taco Frag, takes us to Yoli's. Our goal with this series is to judge the best taco shop in a number of neighborhoods, and then to pit the winners against each other. This is not the first Yoli's we've been to: there's one on Kostoryz where we stopped during the Spam Marathon. It is, however, the first full review of a Yoli's.
While Corpus Christi has a lot of taquerias There are certain areas in Corpus Christi that have a lot of them close together, like mushrooms. Here at Tacotopia we've often wondered why this is. Some of these clusters aren't even located in places where there would seem to be reason for exceptional patronage and yet they exist. Agnes, if you aren't familiar with it, is a street that runs from downtown all the way out to Robbstown. Much of it is industrial, home to steel vendors, muffler shops, salvage yards, and abandoned buildings.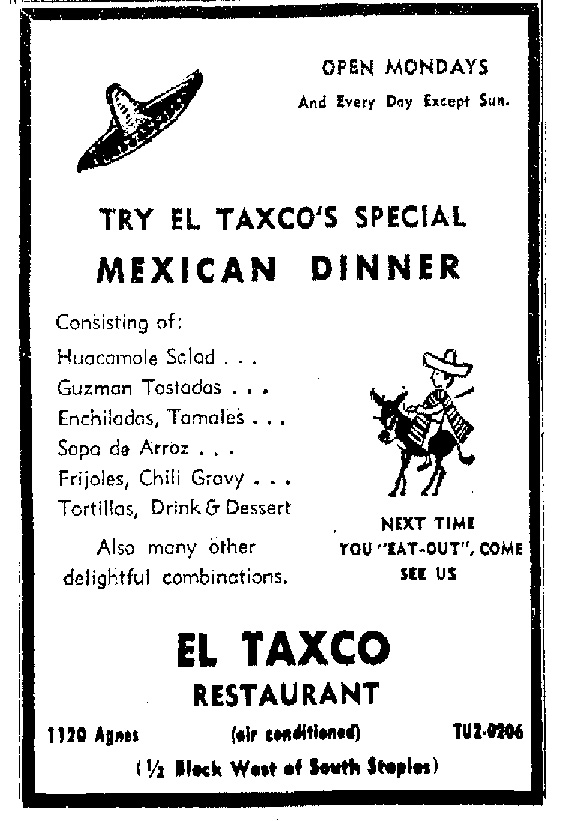 As you can see in the 1962 ad Mexican food has been a part of Agnes since restaurants advertised air conditioning and the phone number prefixes started with letters. These restaurants seem to pull in a lot of oilfield workers, but what restaurant in Corpus doesn't I guess.
Brian had the table staked out when I showed up, and we commenced our warmup for the eating. This consists of some sitting exercises, stretching, and about 45 seconds of cardio. Before long the Hat showed up with Shell in tow, and we ordered.
The food, altogether was okay. Not great, not as good as El Charro from Last week. My carne g was serviceable, The chorizo & egg fair. Flour tortillas were good, and the salsa was bad. There was nothing really that I could put my finger on that set this place apart, though compared to most mexican restaurants I'd eaten at before I moved to Corpus Christi it'd be among the better.
The nicest thing about this place, I'd say, is the hand painted signage. They were also on the spot with fresh coffee any time our cups were low, and we must have put away two pots between the four of us. The environment was conducive to discussion and we talked about plumbing, cars, foundation repair (both literal and figurative), triumph and tragedy.
Next week we continue our spotlight on the Bald-Ag taco cluster. Tune in! Turn on! Taco out!
From The Hat
It's been a rainy, windy week in Tacotopia, and I have to tell you, I'm ready for a taco. Today is the second installment of the BaldAg Taco Frag and we're convening at the Yoli's on Agnes. The Taco Show Host was early. I wondered immediately what we in for when I saw that TSH was driving the RV. Was he thinking that the taco-throwdown-about-to-go-down was going to wipe him out so that he would need to sleep it of on the parking lot?  Or had he been there all night to get the jump on his Carne-G?  I worried. I put my worries aside once inside where Shelly and I found TSH and Brian W., another taco aficionado deep into their coffee, yacking about recent manly exploits I'm sure. But the conversation ended like it had been doused by a bucket of ice water when we sat down.
Yoli's is an attractive restaurant. Fresh paint, nice signage (IMHO anyway – I'll leave the expert judgment to the experts). There was a pleasant mélange of aromas wafting from the kitchen – breakfast tacos at this time of day, no doubt, but the menu was extensive.  As I worked my way through the taco listing, I noticed that Yoli's served mollejas and barbacoa. You might remember that I kicked off the BaldAg Taco Frag with these two tacos and I figured I'd order the same again. Maybe this wasn't the best idea. Maybe I was trying to relive last week's exceptional mollejas taco (The best I've ever had), but I promised myself that I would not let past performance prejudice my palate. I ordered both con cebollas y cilantro on flour as Yoli's doesn't have homemade corn torts. The tacos arrived in foil and we set to opening them like kids at Christmas. First to the mollejas. The mollejas taco suffered from a technical error that influenced every part of the experience. The pieces of sweetbread were very large. So large that while they were crispy-to-perfection on the outside, they were slightly underdone in the centers. This threw off the the texture and flavor. I will definitely go back and try them again to make sure it wasn't a one-time problem. The barbacoa was Tacotopia-average. It was a bit lean and needed salt, but all-in-all, pretty good. Both tacos were well-endowed, stressing the tarpoleans almost to failure, but they held firm. The tortillas were pillow-like – a pleasure to eat. Aside from the mollejas faux pas, there were a couple of detracting elements to breakfast. The onions and cilantro were not stale, but the meal would have benefitted from a bit fresher produce – still not a show-stopper, though. The salsa left me wanting. It was fresh, but with no heat or flavor. "Falsa" I think says it all.  Hoping to hot it up a bit, I ordered some serranos. They arrived, minced in a pile that filled a saucer. They were beautiful and could have showed the onions and cilantro a thing or two about freshness. The experience was rounded-off by a never-ending cup of coffee and joking and laughing with friends. Not a bad way to start the day.
Salud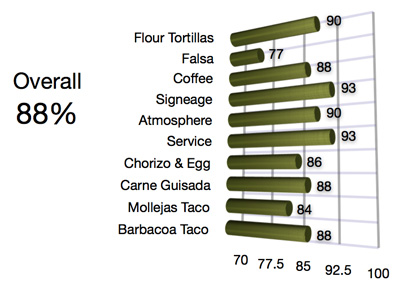 Our free taco winner for this week is:
Though she's a yankee vegan, she is undoubtedly an expert on eating tacos. Jett was the headliner of the first real concert I attended, at age 12, in 1983 in Fayetteville, Arkasas on the floor of the Razorbacks basketball arena.  I pushed my way up within 2 people of the stage before collapsing from exhaustion, excitement, and armpit stank inhalation. Still one of the most ass-kickinest rockers on planet earth, Ms. Jett is coy about her orientation, though it is was clear early on with her cover of Crimson & Clover, and many of her later more 'descriptive' songs that while she appreciates a broad menu of culinary fare she is partial to tacos. Coming from humble beginnings, Jett embodies the DIY spirit rising out of the ashes of the Runaways and starting her own record label after being reject by a score of record companies. Constantly touring for more than thirty years can take a toll on someone less centered and driven, but one only has to look at Joan Jett's set jaw and chiseled abs to see she just gets better with each passing year.
Offer includes 2 tacos, an audience with the 'tacoteurs,' and a free tacotopia t-shirt. Please redeem this offer at Whetstone Graphics on a Friday morning of your choice. Offer subject to cancellation by order of the wives of the tacoteurs.  Enter to win by emailing your name on the back of an autographed copy of Joan Jett's Greatest Hits to tacos@tacotopia.net.