Chachos – Bald Ag Taco Frag Part 3

101 Old Robbstown Road, Corpus Christi, TX
Chorizo & Egg $1.75 • Carne Guisada $1.95 • Coffee 99¢
Welcome to Round Three of the Bald-Ag Taco Frag. Today's contender for the title of Champion of the Baldwin-Agnes breakfast taco corridor is the young Chachos Tacos.  It was been open for about a month at this location, though there are two others – one of which we reviewed before, and also mentioned in our spam taco marathon.
Sitting across the tracks on Old Robbstown, off Agnes, Chachos has an interesting atmosphere, with motorcycle posters and minature hand-made steel models, eschewing the typical traditional styling of most taco shops for a more modern and purely texas theme. The signage is some of the best sign-writing I've seen in this town. The entrance is flanked by an impressive array of gumball machines.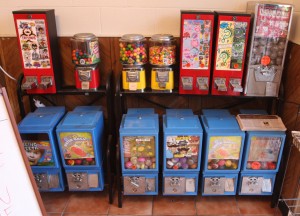 I showed up with Matt the Hoople, and this was the rare occasion where I was at the rendezvous point before the Hat. On a side note, I am back in the dodge in case you were wondering, and expect another 100000 miles from it. My wife is in Chicago, and I'm on school bus detail while she's away which is good and bad for Hoops – good 'cause he gets sit-down tacos on a Friday morning before school, bad because he's got to get up early for them. I didn't have to get up early, hadn't slept in fact.  I was running a copy job all night and barely made it home in time to change clothes and splash some water on my face before I whisked the ready kid out the door and into the heart of taco country.
We live in Portland (no not Oregon or Maine, Texas dammit!). The closest restaurant to my house is a drive through only taco stand with two windows on opposite sides and both drive throughs are often found spilling out into traffic on weekend mornings. And while I like convenience (and some killer horchata) I almost never get tacos from here because the tortillas aren't fresh.  There's another taco joint here, I think it's called plaza Guadalajara, but they've got the same problem. Then there's la Iguana, ditto. Other than that there's Taco Bell. This is why you haven't seen a review of any taquerias in Portland. I expect when the pickin's get thinner I'll do a Portland roundup but no time soon. So we met this morning out on Agnes for another week.
On to the tacos. I had, as I always do, a chorizo & egg and a carne guisada. The tacos were slightly larger than average, and presented in the double D formation. The chorizo & egg was not spectacular; it was light on the chorizo. The tortillas were quite good. I suspect they aren't made on site, but were still pretty fresh and dense – strong enough to stand up to any filling thrown at them. They also had a bit of flavor to them, that could be tasted even through the stronger flavors on top of them. We were given both green and red salsa.  Both were chopped fine, not quite pureed, and both were very hot. I choked up on the green. The flavor of both were also good, and revived the less than lively chorizo and egg. The carne guisada, on the other hand, was excellent. Especially with the Chachos tortillas and the killer salsa. The coffee tasted a little burnt, but was plentiful and refilled frequently.
Chachos is well worth the trip.
From the Hat
Life is good.  Today's taco tour takes us back to the Baldwin/Agnes area for our third competitor in the Taco Frag.  I'm always relieved to find more cop cars than you can count on one hand in the parking lot of a taqueria. I mean, it's much more likely that their presence is due to good food than to a hostage situation.  TSH was there when I arrived and since he wasn't sitting on his hands in the back of a cruiser, or hiding from gunfire behind the open door of his mighty Dodge Ram, I figured the coast was clear.
My earliest memory of this building was when it was the Manhattan Steak House.  I'm dating myself because it hasn't been a steak house for a very long time.  The building fell into disrepair and became the target of vandals after the Manhattan closed.  In the recent past, the place has been several Mexican restaurants, none of which lasted very long.  The current incarnation is as a Chacho's.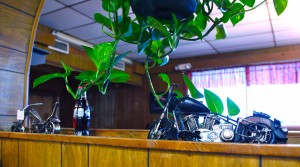 So far I've been on a roll.  I'd been able to order mollejas tacos, and barbacoa tacos at both of the previous contestants.  I wondered whether I could keep up my streak since not all taquerias have mollejas on the menu. But this is Tacotopia and sure enough, both tacos were listed.  The place was comfy and even I could tell the quality of the signage and the motorcycle motif to the interior was kind of cool.  Not often does one get to gander at the gams of some gal splayed on a motorcycle while eating tacos, but it worked.  I was far enough away that I couldn't tell who the blonde beauty on the bike was, but Matt the Hoople, who also ordered Mollejas, thought it was Paris Hilton. I liked it better not knowing so I didn't take a closer look.  But I did take a close look at the tacos.
Both were ample.  A peek at the innards of the innards taco found some good-looking mollejas.  Like El Charro across the street, they were fried to perfection.  The texture was good, again like a perfectly-fried oyster, but they weren't quite up to those of their neighbor.  But they could be.  The frying oil was a bit past prime.  There was a hint of burn to it, not too bad, but it was there.  And I hate to garner a reputation as a hater, but the onions were just short of as fresh as they could be.  Neither were terrible violations, but this is serious business.  The barbacoa, was Tacotopia-good. It had that cow head flavor, (mostly due to more cow head fat) found in a good barbacoa.  It also had a noticeable barbacoa aroma that spurred my desire to dig in.  Both were served on really good flour torts.  Sorry corn tortilla lovers, no hand-made corn tarps here.  But the flour tarps were dense and tasty and more than up to the task of keeping the goodies corralled to the very end.  The salsas verde and roja were excellent.  The green had a sharp twang to it as well as plenty of heat and the red, while not as hot, was plenty spicy.  Both were fresh and delicious.   I'm hoping Chacho's sticks around the neighborhood.  They make a mighty fine breakfast.
Salud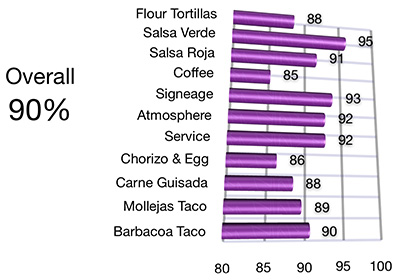 Our free taco winner for this week is:
Born in London, and descendent from Russian nobility Dame Helen Mirren is remarkably hot at 64. One might not realize after seeing her in so many prim and proper roles, winning awards for playing queens Elizabeth I & II, that in the earlier part of her career her choices were decidedly anti-establishment. I first saw her in Boorman's Excalibur (which is being remade with Brian Singer to direct) where she played Morgana le Fay. Were one so inclined as to google image search her with safesearch turned off one might get an eyeful of any number of movies in which she was typecast as a woman not fond of wearing clothing, including Caligula, a film produced by Penthouse publisher Bob Guccione. In her personal life she has been uncompromisingly independent – choosing not to have children, cohabitating for more than a decade out of wedlock, getting a tattoo on her hand at a time when tattoos were only for bikers and sailors, and in a profession where a tattoo on the hand could end a career. Other great performances by Ms. Mirren include the Mosquito Coast, the Cook the Thief His Wife and Her Lover, and 2010 among others. Helen Mirren is one classy broad.
Offer includes 2 tacos, an audience with the 'tacoteurs,' and a free tacotopia t-shirt. Please redeem this offer at Whetstone Graphics on a Friday morning of your choice. Offer subject to cancellation by order of the wives of the tacoteurs.  Enter to win by emailing your name on the back of an autographed copy of Calendar Girls to tacos@tacotopia.net.